Kyleb Howell was skeptical when he heard from his North Texas teammates about a young wide receiver who was starting to flash his potential a few years ago.
Jaelon Darden certainly didn't look all like a future NFL draft pick walking on to the practice field at 5-foot-9 and 174 pounds.
"The guys were telling me, 'He's a real dude,'" said Howell, a senior linebacker who transferred to UNT midway through his career. "He really didn't look like much. He's not super tall and, especially back then, wasn't very big, but then I saw him play.
"If he doesn't get drafted, then something's wrong with the system."
UNT's coaches won't go that far, but they've been touting Darden's chance to break the longest draft drought in major college football that dates to 2004.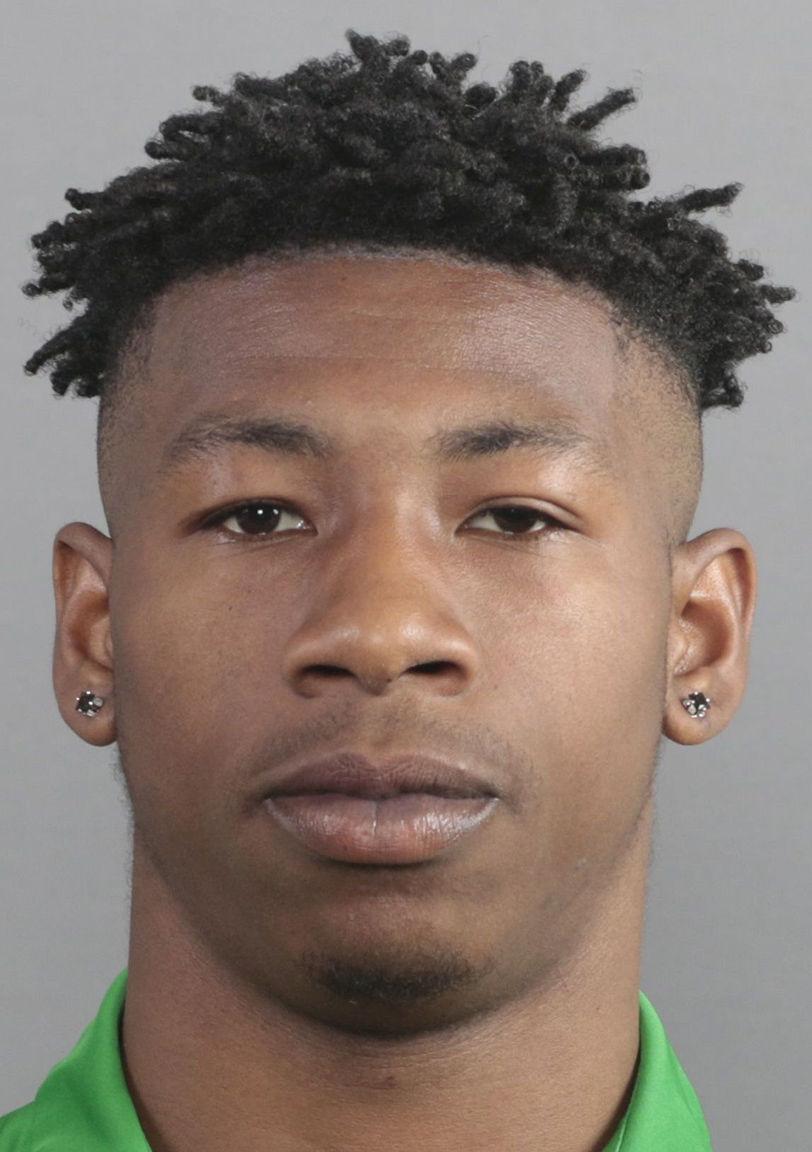 The challenge for Darden and Novil is convincing an NFL team they are worthy of being picked at a time the coronavirus pandemic continues to cut into their opportunities to display their talents.
Five UNT games have been postponed or canceled this season, including the last three. Games at Texas A&M and Houston that would have offered both a chance to shine against a higher level of competition were wiped off the schedule.
By the time the Mean Green kick off their game against Rice on Saturday at Apogee Stadium, they will have been off for 34 days since starting 2-3.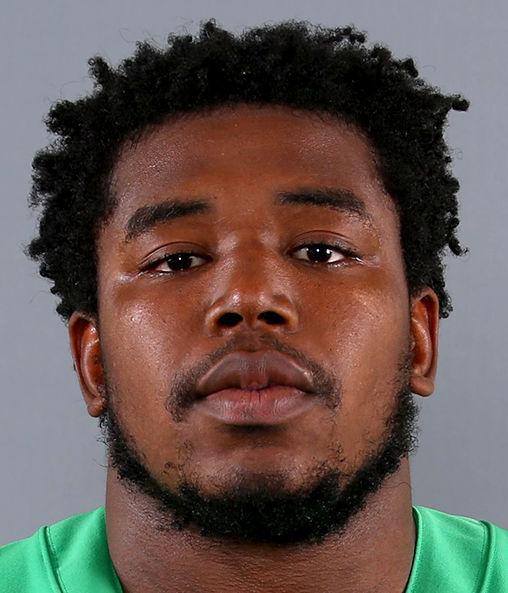 That's far from the optimal scenario when it comes to UNT's chances of breaking through after seeing NFL teams go on the clock annually for 16 years without selecting one of its players. Linebacker Cody Spencer was taken in the sixth round by the Oakland Raiders in that 2004 draft and is the last UNT player to be picked.
"Playing in the NFL has always been a dream since I was young, but I can't control anything other than the way I play," Darden said. "If I do that, everything will work out. I can't worry about anything else."
College coaches often say a player's film equates to a resume. Darden's tape as well has his production are impressive. He leads the country with 10 touchdown catches, despite playing in just five games. His averages of 137.8 receiving yards and 9.2 receptions per game rank third and fourth, respectively, on the major college level.
Novil has prototypical size for an NFL defensive lineman at 6-foot-4 and 330 pounds. He has racked up 24 tackles, including 3.0 for loss, and 1.5 sacks on the season despite facing constant double teams.
Coming up big when UNT does play is the best option Darden and Novil have to add to their resumes.
The pandemic has interrupted the NFL scouting process just like it has other aspects of the sports world.
"We usually have teams come out to practice daily," UNT coach Seth Littrell said. "With all the different protocols, scouts aren't out on the road. It's all about what you put on tape."
Littrell and his staff believe Darden and Novil have done enough to elevate their draft prospects before tackling a tough decision.
The NCAA granted players an additional year of eligibility to compensate for an interrupted season. Both Darden and Novil could come back for a second shot at their senior campaigns in 2021.
Darden has yet to decide if he will use that additional year.
"I'm just playing football and giving the team all I have," Darden said. "When the season ends, I'll make that decision. Right now, I'm trying to give all I can to my teammates and coaches."
Darden has given the Mean Green plenty throughout his career and is within striking distance of several program records with four games left on UNT's regular season slate. Darden has 29 career touchdown catches, two shy of the 31 Ron Shanklin posted from 1967-69, while his 202 catches are second to the 229 Casey Fitzgerald amassed from 2005-08.
"He works and trains like a professional," UNT wide receivers coach and co-offensive coordinator Tommy Mainord said. "He's mentally and physically as impressive as anyone I have coached in my career."
Littrell noticed that drive from the time Darden arrived at UNT.
"He's always out there on his own running routes," Littrell said. "He has a lot of grit and determination. He's undersized and has always been told that he doesn't have the size to play Division I football or go on to play in the NFL. He has that chip on his shoulder to prove people wrong.
"There's no doubt he has a future in football beyond North Texas."
Darden has made his case each time he has played this year. He has at least one receiving touchdown in each of UNT's games.
Darden finished with five catches for 66 yards and two touchdowns in a loss to SMU, a team that was nationally ranked earlier this season.
"I guess you could say that," Darden said of his performance this season landing him on the radar of NFL teams, despite having limited opportunities. "I'm really just controlling what I can, taking this opportunity and smashing it."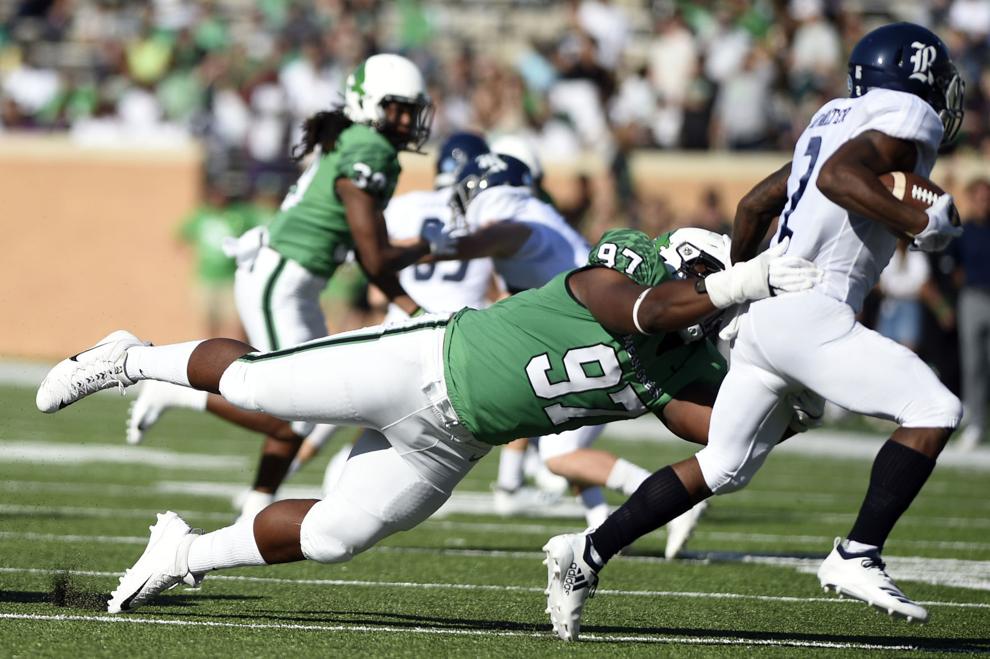 Novil is doing the same, albeit in a less flashy way as a run-stuffing nose tackle.
"I don't have to do anything spectacular that the coaches or the team don't already ask me to do," Novil said. "I'm not going to stress about it. I know I'm going to be in the right position. God willing, someone will see my skills."
Littrell believes Novil's production will garner attention.
"Do I think he has the potential to be picked?" Absolutely," Littrell said. "If you want to play at the next level, you have to start preparing and training like a professional. He's doing those things."
That work ethic helped Novil develop into an impact player just like Darden. The former Abilene Wylie standout came to UNT as a defensive end before moving inside to tackle.
Littrell has had his offense stop working on certain running plays in practice when Novil is on the field. UNT's offensive line can't block him.
"He can do it all," said UNT running back DeAndre Torrey, who faces Novil in practice. "He's quick, sheds blocks, is very strong and can push a double team into the backfield and blow up a play."
Novil is amazed by how far he has come since arriving at UNT and credits the school and its coaching staff for helping him land on the radar of NFL teams.
"I owe everything to North Texas," Novil said. "I came here without a high football IQ or good technique and got to where I am now. It's actually pretty cool to see the transformation."
The question now is if NFL talent evaluators have seen enough to from Darden and Novil to spend a pick on either one and have him go down in history as the player who breaks UNT's draft drought.