North Texas athletic director Wren Baker looked into his past on Thursday to put into perspective what could be in the school's future.
UNT had officially made the jump to the American Athletic Conference from Conference USA just hours before, putting the school in the same spot Memphis was in a few years ago.
Baker was an administrator at Memphis when it joined the American. The Tigers were terrible then, at least when it came to football.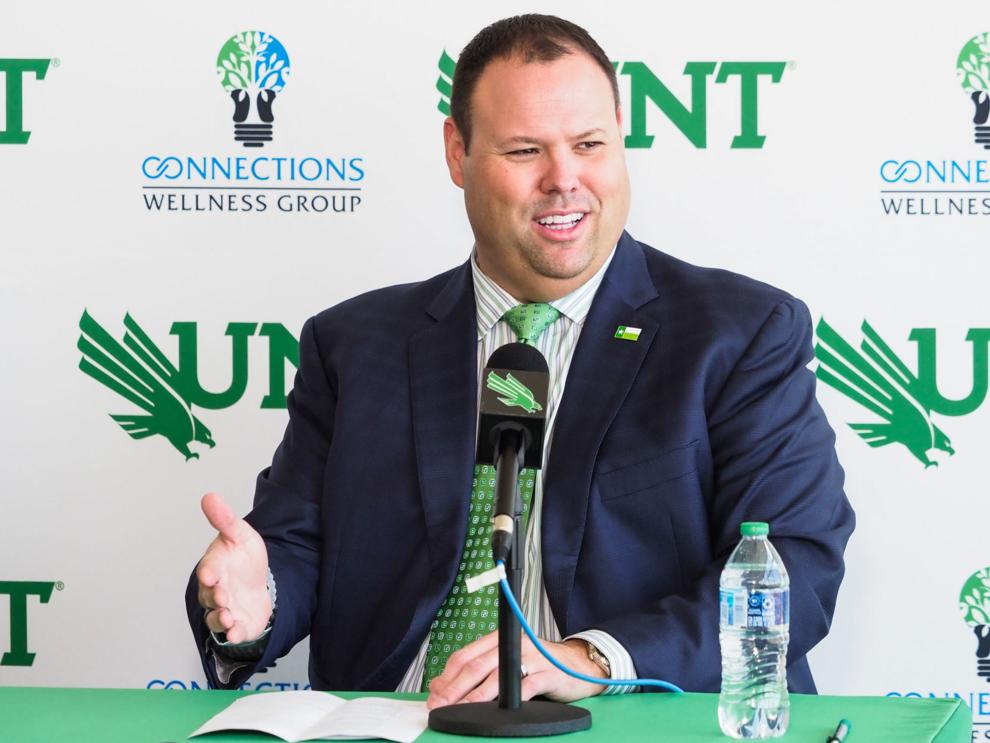 Memphis finished 4-8 in their last year in C-USA before going 3-9 in their first year in the American.
Memphis went 19-7 the next two seasons, finished the 2014 campaign ranked No. 25 nationally and were suddenly on their way to better days as a program.
"We had a bad Conference USA football team when we made this transition to the American," Baker said. "The opportunity allowed us to grow that program."
UNT officials have long believed the school has the potential to make a dramatic jump if it could capitalize on its potential the way Memphis did. It's been a struggle for UNT at times to get there in a variety of sports, and that is putting it mildly.
UNT is where it is today after one of the notable days in program history because school officials and the Mean Green's fans aren't the only ones who can see the program's potential in football and other sports that matter.
Officials at the American can see it as well.
"There's no question potential was a big factor," American commissioner Mike Aresco said during Thursday's press conference to introduce UNT and five other schools that joined the league from C-USA. "It means an awful lot. We're a conference that wants to continue to grow, improve and be a factor at the highest levels of college athletics."
The American has made waves in college athletics over the last few years with its Power Six campaign. The league and its members aren't satisfied being left on the outside looking in at the elite Power Five conferences in college football that garner a lion's share of the attention and opportunities.
The American wants to be a part of the club and isn't afraid to say it. Baker jumped on board with that campaign just hours after UNT joined the league.
"The American has clearly established itself under commissioner Mike Aresco as the Power Six," Baker said. "They've done that through vision and through evidence. And they've backed it up."
The challenge now for UNT is to contribute to that effort. The Mean Green may seem like they are a long way from reaching that goal now — heading into a game on Saturday against Liberty at Apogee Stadium.
The Mean Green are 1-5 on the season and have lost five straight. If there is one lesson Baker has learned from his experience in C-USA during his stay at Memphis, it's that the league provides an opportunity to improve in a hurry.
The challenge is to capitalize. UNT has a great home in Apogee Stadium and terrific facilities. Now they have a great conference home as well.
Baker has always been confident that UNT could inch toward its ceiling as a program. Now UNT has a stronger foundation to do what Memphis did a few years ago as a member of the American. He isn't the only one who has confidence in UNT's potential.
The Mean Green would still be in C-USA if he was.
"What we feel strongly about is we are investing in people we think have that vision," Aresco said of the people at the American's new schools, including UNT. "After going through this process, I am more convinced than ever that they will not only make the investment, but they also have the vision."