Wren Baker has spent years studying every detail that goes into what makes an athletic program successful.
North Texas' fourth-year athletic director can rattle off the combined winning percentage of his teams and has a detailed plan of where he'd like to see his program head in the next five years.
One would think that with all the information at his disposal, Baker would have a complicated formula when it comes to his assessment of why programs succeed or fail.
That is far from the truth.
"My core belief is that you win with people," Baker said.
That simple philosophy helps explain a spending spree that saw UNT lock up football coach Seth Littrell and men's basketball coach Grant McCasland to five-year contracts with a total value of more than $12 million in the last year.
Littrell signed a deal in May that will pay him more than $9 million should he remain at UNT through the 2023 season. UNT followed up by signing McCasland to a contract in August that will pay him more than $3 million through the 2023-24 season.
Both deals are the most lucrative UNT has ever given out in their respective sports.
Littrell ranks among the top 10 football coaches working at the Group of Five level that includes schools in Conference USA as well as the American Athletic, Mountain West, Sun Belt and Mid-American in total compensation, according to USA Today's database of coaches' contracts. McCasland ranks among the top third of men's basketball coaches in C-USA in compensation.

"Investing in people is critical if you want to have consistent success," Baker said. "You have to attract really good people and keep them. Compensation isn't the only factor, but it would be foolish to think that it isn't critical in the recruitment and retention of staff."
Baker likes what he's seen from Littrell and McCasland and has largely tied UNT's future in athletics to that of the coaches guiding his two most prominent programs. He couldn't be more confident in that decision, despite the fact that neither coach has won a conference title or reached the milestones most often associated with success in their respective sports.
The Mean Green lost bowl games in each of their first three seasons under Littrell before a 4-8 finish this fall ended that bowl run. McCasland has posted back-to-back seasons with at least 20 wins. He led the Mean Green to the College Basketball Invitational title at the end of his first campaign but has yet to guide his team to an NCAA tournament in two seasons.
UNT improved to 5-7 with Saturday night's 86-53 win over Arkansas-Pine Bluff.
Littrell is 27-25 in four seasons at UNT, while McCasland is 46-37.
"With the resources and people that we have in place, we can do special things here," Littrell said. "It's a matter of making sure we continue to build, grow and get better."
Baker is confident UNT will do just that after betting big on its top two coaches. Littrell was still under contract for four years when he signed his new five-year deal. McCasland also had four years remaining after signing extensions after each of his first two seasons at UNT.
"I'm absolutely confident in those two coaches," Baker said. "We have already seen signs. They are young coaches who have had tremendous success."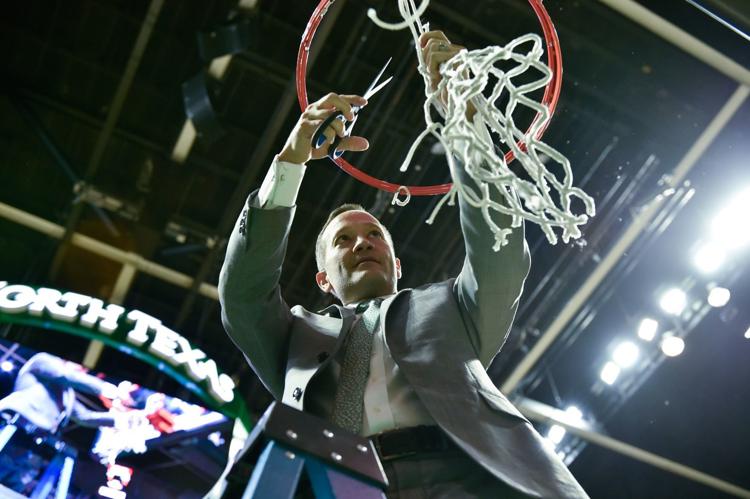 Turnaround prompts investment
To understand Baker's confidence in Littrell and McCasland, one must look back on the turnarounds they have engineered.
Littrell arrived shortly after the 2015 season and took over a program coming off a 1-11 campaign. UNT had played in a bowl game just once in the previous 11 years and appeared to be going nowhere fast, despite opening Apogee Stadium, its $78 million home venue, in 2011.
UNT was also in a tough spot in men's basketball when Baker hired McCasland in March 2017.
The Mean Green finished under .500 in all but one season in a five-year span under Tony Benford. UNT went 8-22 in 2016-17 and was one of two teams among 14 in Conference USA that failed to qualify for the league's postseason tournament the season before McCasland arrived.
What both Littrell and McCasland have accomplished since taking over struggling programs gave UNT confidence to invest in them.
The Mean Green won nine games in back-to-back seasons in 2017 and 2018, putting Littrell in the same class as legendary coach Hayden Fry.
Fry, who died last week, is the only other coach to win at least nine games in consecutive years at UNT, a milestone he reached in 1977 and 1978.
McCasland's run to the CBI title helped revive interest in UNT's men's basketball program.
What Baker saw in terms of wins and losses was just part of the reason he went to the university's administration and discussed signing lucrative extensions with Littrell and McCasland.
Baker has been forced to fend off multiple schools that were interested in Littrell during his time at UNT, including Kansas State in 2018. McCasland has also garnered interest from other schools during his short tenure at UNT.
The interest both coaches have received reinforces Baker's evaluation that he has two coaches worth investing in.
"I'm not reactive to a play or a season," Baker said. "I look at the totality of a program. Most fans only get to see one metric that you judge coaches by, and that's the scoreboard. I get to see interactions daily, the difference they make in young people's lives, the number of people we are graduating, team GPAs and charitable work in the community."
UNT gave Littrell an extension after each of his first three seasons because of his performance across the board. His latest contract elevated his base salary to $1.35 million per year with incentives that pushed the total yearly value of the deal past $1.8 million annually.
Littrell acknowledged that expectations at UNT are rising along with the school's financial commitment to him, and he is ready to tackle that challenge.
"The standards have grown as we have won games," Littrell said. "Now we have to win bowl games.
"The resources are in place to have success."
What Baker has seen from Littrell and McCasland gives him confidence UNT made the right decision when it signed both to extensions.
Littrell fired both his offensive and defensive coordinators after this season's four-win flop and cited his and the UNT athletic department's high expectations as a factor in his decision.
The success UNT has enjoyed in recruiting has also bolstered the school's confidence in Littrell.
UNT has seen significant improvement in the quality of players it is bringing in and has the No. 2-ranked recruiting class in C-USA for 2020 following the early signing period earlier this week, according to 247Sports.
Having Littrell entrenched at UNT after signing a long-term deal played a role in the program's ability to put that class together.
"I definitely had a great feeling up in Denton regardless, but being able to have such a great coach in Littrell available for the long haul definitely was a deciding factor," Christian Lee, a tight end from Friendswood, said of his decision to sign with UNT.
UNT's yearly financial commitment to McCasland is also significant, coming in at just over $685,000 annually.
That investment has helped McCasland build his program.
"Knowing that there is a commitment on both sides as a basketball coach allows you to recruit the right guys and not cut corners," McCasland said. "For me, that is hugely important because I want the right people in our program."
UNT landed highly regarded redshirt freshman guard Larry Wise largely because of that commitment.
"It was a game-changer for me and my decision to come here," Wise said of McCasland being signed to a long-term deal. "I knew that he would invest in my game long-term."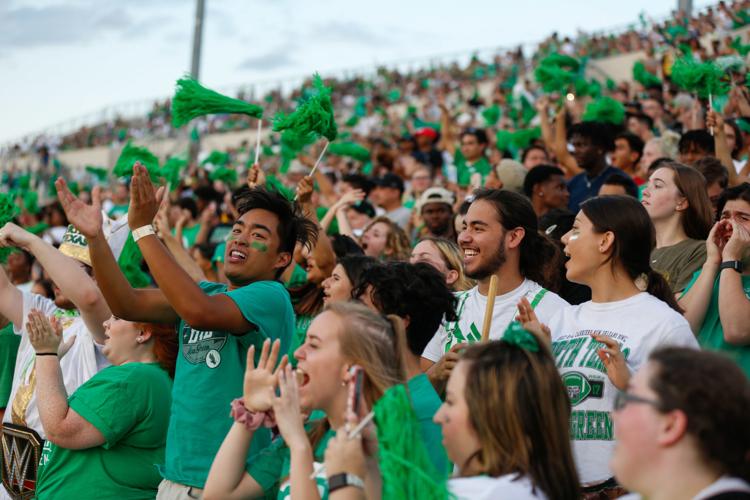 Increasing revenue gives UNT confidence
Baker acknowledges the question several UNT supporters have asked since the school signed Littrell and McCasland to lucrative extensions.
Baker believes UNT can afford both contracts without sacrificing in other areas.
The school's revenue from ticket sales has more than doubled from $768,011 in 2016 to $1.9 million so far for 2019. That total does not include donations required by UNT to purchase premium seats.
Revenue from licensing and donations are also up, Baker said.
UNT took that information into account when it signed Littrell and McCasland to extensions.
Baker is quick to point out that UNT hasn't committed all of its additional revenue to coaches. The school has also invested heavily in support personnel, including trainers, strength coaches and academic support staff.
"We put a lot into supporting our student-athletes to make sure they are having success in all areas of life," Baker said. "We put a lot into our head coaches because we believe they are a very important part of our success."
Baker believes that if he can recruit and retain top head coaches and provide the proper support, UNT will be in position to compete for conference titles. He wants all of his coaches to rank in the top third of C-USA in terms of their salary and provide each program resources that also rank in the top third.
While Baker is confident in the decisions he has made, he has protected UNT by including mitigation clauses in his coaches' contracts. If UNT elects to fire Littrell or McCasland, they will be required to look for new jobs that would reduce what the school would owe them as part of their buyouts.
Florida State, Ole Miss and Arkansas are among several prominent programs that have fired coaches recently and are paying hefty buyouts.
Baker said no school is perfect when it comes to hiring and retaining coaches, but UNT officials are confident they have made the right decisions in locking up Littrell and McCasland.
The level at which UNT is winning in all sports has bolstered Baker's confidence. He took over a program in the summer of 2016 that had seen its teams' combined records exceed the .500 mark just three times in the previous nine school years.
UNT has finished over .500 as a total program in each of the last two years and is on pace to extend that run to three years.
UNT is hoping that trend will continue with Littrell and McCasland leading the way.
"The first question I get asked by recruits is, 'How long do you plan on being here?'" said McCasland, who jumped from job to job throughout his career and spent just one season at Arkansas State before taking over at UNT. "To be able to tell someone this is a place I want to be for a long time allows you to build a program the right way."
The situation is one Baker feels good about, not only with McCasland but Littrell as well, after making a significant financial commitment to both.
"In a perfect world, it's a rapid ascent to the very top, but that is not usually the way it works in college athletics," Baker said. "You have to take two steps forward and occasionally one step back. As long as you feel like you are putting the pieces in place to build a championship program, that is what you want to do. I feel very confident that is where we are headed. I have confidence in those two guys to get us there."