Derrick Murray often finds himself transfixed as he peers out of the window of his home office at the Apogee Stadium lights cutting into the nighttime sky.
Murray spent untold hours during his time as a North Texas student talking to any of his classmates who would listen about what a new football stadium could do for the program and the university.
This fall marks the 10th anniversary of what seemed like a dream more than a decade ago coming to fruition.
Murray helped convince UNT students to approve a fee that helped fund construction of the $78 million venue that opened for the 2011 season. He is just one of the people who were involved in the process of seeing Apogee move from concept to reality who will look back ahead of UNT's season opener against Northwestern State on Saturday.
Those pioneers agree. Replacing a crumbling Fouts Field 10 years ago elevated the program.
UNT jumped from the Sun Belt to Conference USA two years after Apogee opened and has played in five of the 12 bowl games in program history since. Reaching those landmarks sets UNT up well at a time when the landscape in college athletics continues to change.
"The things we told the students 10 years ago would happen did happen," Murray said. "We got into a better conference. Who knows what's going to happen with realignment? Maybe we can jump to the American Athletic Conference. We'll see what happens, but we're certainly in a better position than we would have been had we not built that stadium."
No one has a better perspective on the impact Apogee has made for UNT than Rick Villarreal. UNT's former athletic director arrived at the school in 2001 and spent nearly 16 years in the job. Villarreal was the guiding force behind the drive to build Apogee.
He knew from the day he arrived at UNT that the school had no hope of getting to where it wanted to go in athletics without a new football stadium.
Fouts, which opened in 1952, was crumbling by the time Villarreal arrived.
"When we showed up in 2001, I had my doubts about the future of the program because of facilities like Fouts," Villarreal said. "At a lot of schools, football is the crown jewel. When you have a facility like Fouts, it speaks of what you think of your program."
UNT officials decided almost immediately that it would be impossible to upgrade Fouts and put into motion a long-term plan to replace it.
UNT turned the old Eagle Point Golf Course into a campus for athletics and built the North Texas Athletic Center that could double as an end zone facility for a new stadium. The 45,000-square-foot venue that houses UNT's football locker room, weight room and coaches' offices opened in 2005. The addition of the athletics center set the stage for the push for a new stadium a few years later.
"The reality of it is, without Rick controlling the movement of the project from the very beginning, it wouldn't have happened when it did," longtime UNT donor C. Dan Smith said. "He had to fight tooth and nail to get the things done for Apogee to become a reality.
"A lot of people didn't think it would happen, but Rick stuck with it."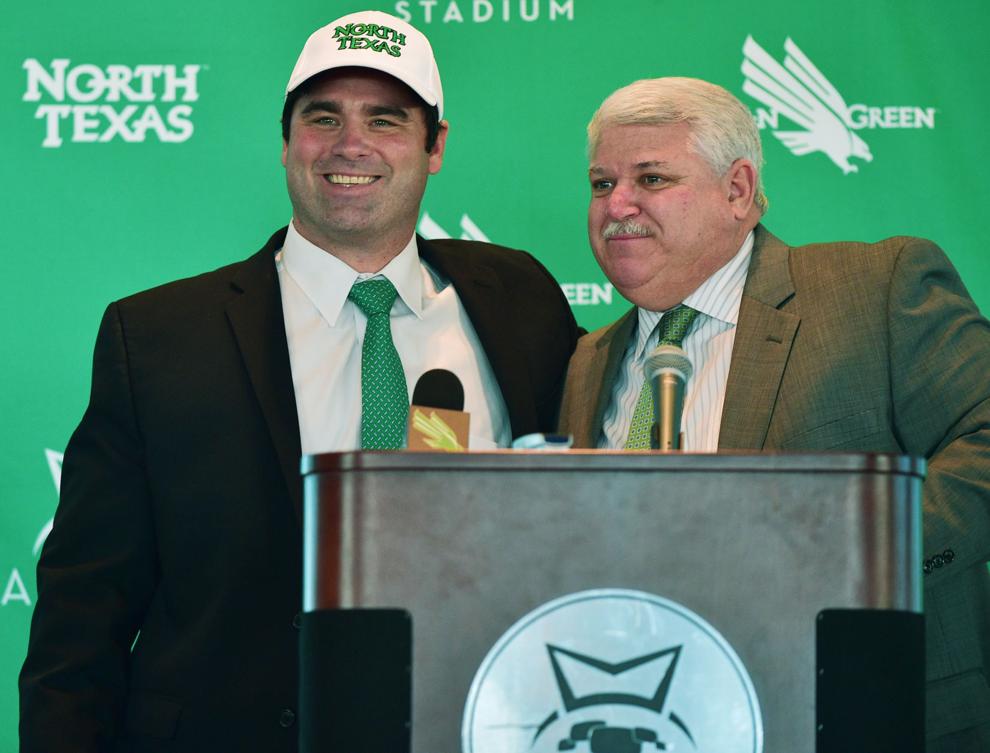 The push for a new stadium
The only viable way for UNT to fund construction of a new stadium was to convince students to approve a new athletics fee.
Villarreal and a handful of student leaders banded together and staged a campaign to push one through.
All delivered the same message.
UNT's floundering football program needed a new home to remain viable at the Football Bowl Subdivision level. UNT's leadership also touted the publicity a successful program could bring the university.
It was a tough sell. UNT was well on its way to a fourth straight losing season in the fall of 2008 when the vote took place.
Villarreal and members of the student government spoke to student groups. Murray started Students for a New Stadium, a Facebook group that had more than 2,000 members the week of the vote.
In the hours leading up to when the results would be announced, Murray thought the vote had a 50-50 chance of passing. There was a large and organized group of students who opposed the fee.
The vote passed, setting off a celebration in UNT's athletics department. What stunned Murray was that it flew through with 58.1% of students voting yes.
"That vote let the Board of Regents know that the student body wanted to see improvements in athletics," Murray said.
The student fee was just part of the fundraising process.
Villarreal and his staff also convinced a host of donors to contribute to the project that would have never gotten off the ground without their support. Ernie Kuehne gave $1 million to the project. Don and Patty Lovelace purchased one of the suites in the stadium and later donated $2.5 million toward an indoor practice facility.
UNT also secured a 20-year, $20 million naming-rights sponsorship from Austin-based networking firm Apogee Telcom Inc.
"We didn't have million-dollar donors until Rick came in and started pushing athletic facilities and Apogee Stadium," said Smith, who donated $1 million toward construction of the venue. "Since then, it's multiplied."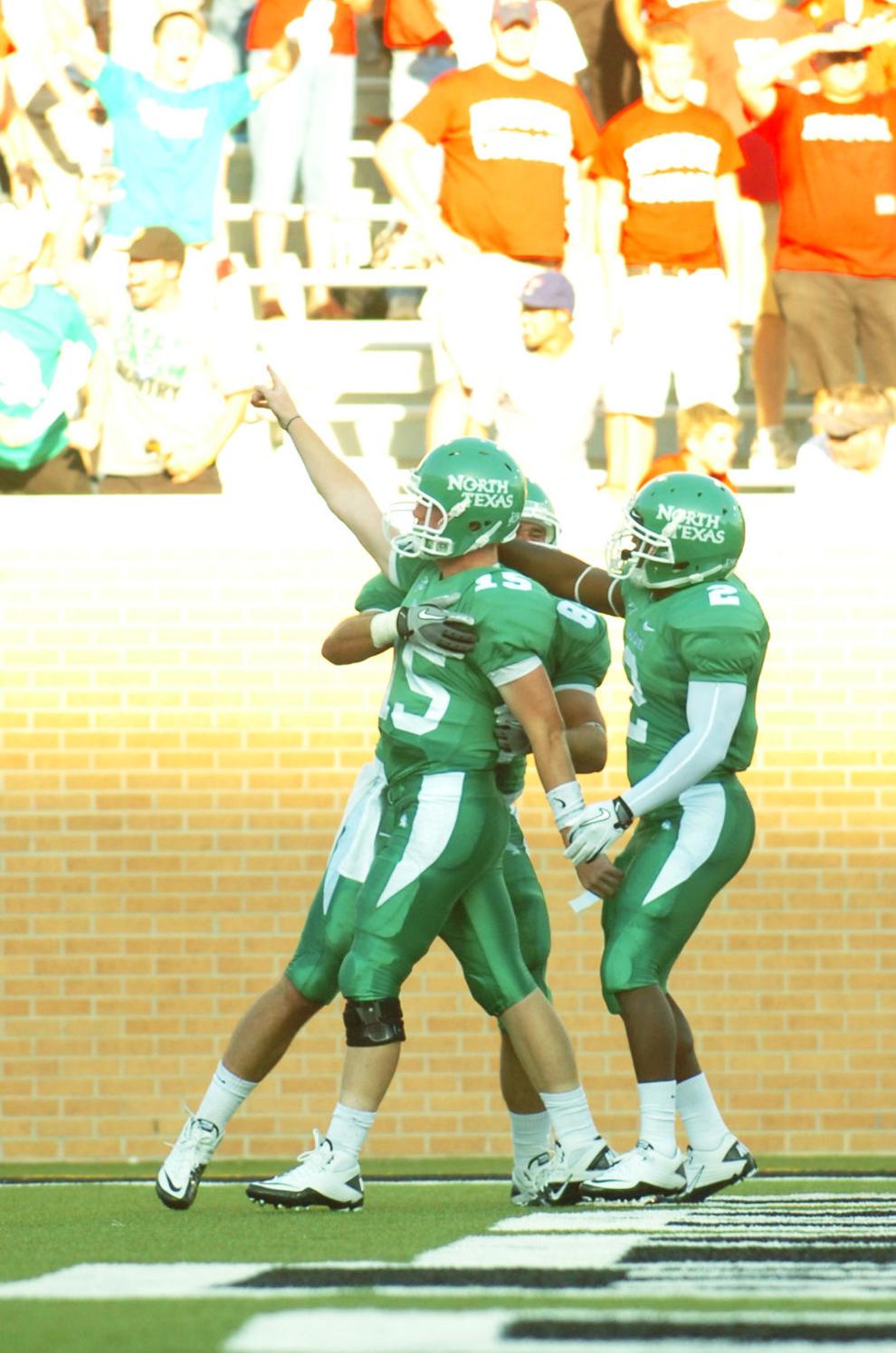 Payoff was worth the price
Blake Windham, a fourth-generation UNT student, was the student body president in 2011 and helped cut the ribbon at the grand-opening ceremony nearly three years after the students voted in favor of the stadium.
"It was an awesome feeling," Windham said. "We were entering a new era."
UNT's players felt the same way.
"It was exciting for the players and the fans," former UNT quarterback Andrew McNulty said. "The fans got to attend games in the new stadium. The players knew there was a buzz and were hyped up. You always get excited at the beginning of a new season, but that added a little extra to it."
McNulty sent UNT fans into a frenzy when he scored the first touchdown in Apogee history on an option play in a game against Houston. McNulty had a clear path to the end zone from 10 yards out when the Cougars' defense took away to the pitch to star running back Lance Dunbar.
"The fans went crazy, and I was mauled by my teammates," McNulty said. "It was pretty fun."
There have been plenty of memorable moments in Apogee since.
UNT beat Middle Tennessee in its first home game as a member of C-USA in 2013 after 12 years in the Sun Belt. The move to a new conference represented a significant improvement for UNT. C-USA includes three other Texas schools — Rice, UTEP and UTSA. UNT was the only Texas school in the Sun Belt.
UNT clinched the 2017 C-USA West Division title with a 45-10 win over UTEP on its home turf, where the Mean Green also posted a rare win over bitter rival SMU in 2018.
Wren Baker took over as UNT's athletic director in 2016 and has built on the momentum the opening of Apogee established. The school has opened several facilities in Baker's tenure, including the Lovelace & McNatt Families Practice Facility, a $16 million indoor venue that debuted in 2019.
UNT has also upgraded its schedule by adding home-and-home series with Cal, Texas Tech, Colorado, Baylor and Missouri during Baker's tenure. He said adding those series would not have been possible without Apogee.
"Apogee continues to be a showpiece for the university," Baker said. "We host a lot of games and events over the course of a year. It's a real credit to the people involved in the design and construction of the stadium. It's one of the best venues in the country for its size."
UNT football coach Seth Littrell didn't tour Apogee before accepting the job ahead of the 2016 season but quickly came to appreciate the venue when he arrived.
"It's an unbelievable venue and atmosphere," Littrell said. "When our students and fans get in here, it's rocking and loud. The suites and club level and the hospitality there makes it a great atmosphere not only for our fans but also our players. It's a place that should give you a competitive advantage."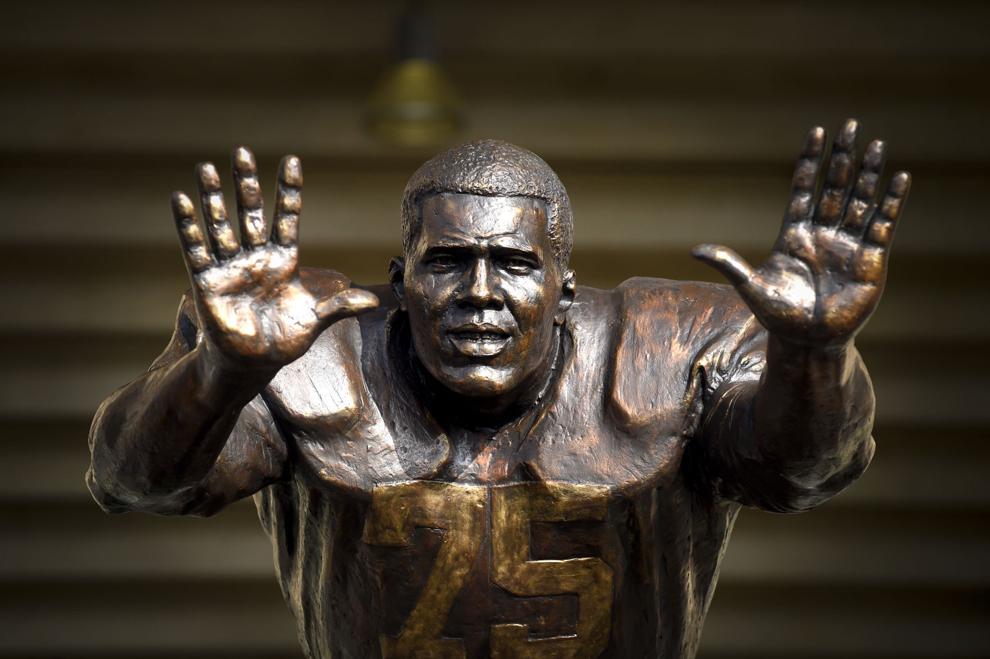 Looking back 10 years later
Villarreal was looking through some old pictures two weeks ago when he came across a photo of when Apogee opened.
Seeing that photo led Villarreal to reflect on his time at UNT and what went into the planning and construction of Apogee. He made several calls to former staff members to thank them for their contributions to the project.
One reason he believes Apogee has stood the test of time is the effort he and his staff put in during the design process to ensure the stadium is exactly what UNT needs.
"I am just happy that 10 years ago we were able to put something in place that is the kind of facility our kids deserve to play in," Villarreal said. "Over the years, it has helped in a number of ways, from the kids we can recruit to the coaches we can attract. It was a vital addition to the program."
Murray is just as proud of the role he played. He stops by the statue of UNT legend "Mean" Joe Greene that sits by Apogee's front gate and touches it on the way to his seat before the first game of each season.
Murray is still an avid football fan and UNT supporter. He sees the changing landscape in college athletics with teams poised to shift conferences again and players being paid for the use of their name, image and likeness.
Those are changes he never imagined when he helped in the push for a new stadium.
"I don't think anybody knows what's going on with college football the next five years," Murray said. "But we're certainly in a better position now not just with the football stadium but the other facilities as well."
The effort he, a host of UNT officials and students made in the months and years leading up to when Apogee opened a decade ago guaranteed that.