Ever since the end of a disappointing 2019 season, one question has hung over North Texas. Who is going to replace Mason Fine?
Tre Siggers certainly doesn't jump to mind.
Siggers is the Mean Green's battering ram of a running back. He isn't going to replace one of the greatest quarterbacks in UNT history in a conventional sense.
Siggers won't take snaps. He won't throw touchdown passes.
What he very well could do is emerge as UNT's leading offensive player, someone the Mean Green lean on as they look to bounce back from a 4-8 season.
UNT coach Seth Littrell took over as the Mean Green's play-caller in the offseason. If one looks at Littrell's history, his approach is abundantly clear.
Littrell gets the ball to his best player when the opportunity presents itself. Former UNT running back Jeffery Wilson had 212 touches in 11 games in 2017, when he rolled up 1,383 total yards and 16 touchdowns.
UNT has several good running backs on its roster, including DeAndre Torrey.
When it comes to a player the Mean Green could lean on in a time of change for the program, though, Siggers stands out.
Here are 10 things UNT fans should know about the junior.
1. Siggers had to ask to play running back
UNT's coaching staff wasn't sure what to do with Siggers when he arrived on campus in 2017. The Mean Green recruited Siggers as an athlete. He started out at running back before UNT's staff shifted him to safety, where he played sparingly in 2018.
Siggers went to Littrell following the season and told him he felt he was meant to play running back.
"If you have a player who is that passionate about it, you listen," Littrell said last season. "He did his part and gave it everything he had at safety for a year. He was just more passionate about coming over to the offensive side of the ball."
2. UNT figured out quickly the move was the right one
Siggers didn't waste any time showing he was right about where he could make the biggest impact.
He made his debut at running back against SMU in the second week of last season and rolled up 164 rushing yards on 18 carries in a loss to the Mustangs.
"It was exciting," Siggers said the week after the game. "Running back is where I belong. I feel comfortable and am having fun playing the position I want to play. This was what I envisioned. It just took more time than I expected."
3. Siggers was one of the best backs in C-USA last season
Siggers' performance against SMU was just the start of a terrific season. He went on to rush for 853 yards and six touchdowns on 152 carries, while adding 11 catches for 60 yards.
Those totals are impressive considering he made just seven starts while appearing in 10 games.
The coaches in Conference USA named him honorable mention all-league.
4. Siggers played for two Dallas-area high school powers
More high school standouts are playing for multiple programs during their careers now than ever before.
Siggers is one of those players and holds the rare distinction of having played for two powers in the Dallas area. He started out at DeSoto and was named the District 8-6A Defensive Sophomore of the Year in 2014 after excelling as a linebacker. He transferred to Duncanville and sat out his junior season in 2015 before playing for the Panthers as a senior.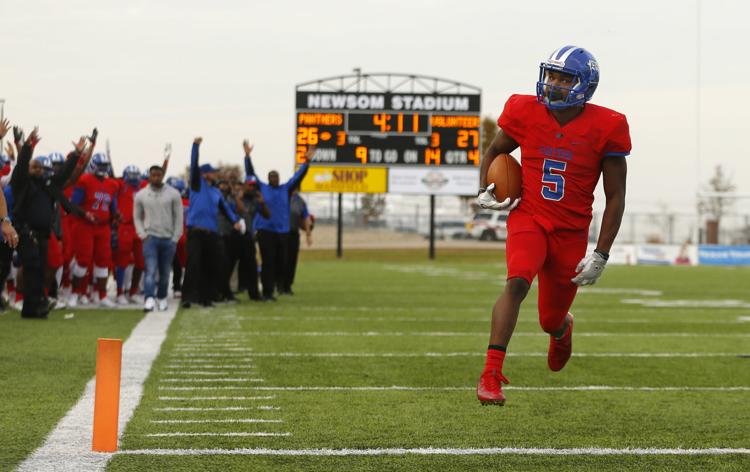 5. Siggers shined in an all-around role at Duncanville
Siggers showed remarkable versatility in his one season playing at Duncanville. He rushed for 634 yards and nine touchdowns on 85 carries and caught 76 passes for 772 yards and three touchdowns.
6. UNT hasn't signed many prospects who were rated as highly
Siggers was a consensus three-star prospect during his senior season at Duncanville and was included on The Dallas Morning News' list of the top 100 prospects in the area.
Scout.com rated Siggers as No. 91 on its list of the top athlete prospects in the class of 2017. 247Sports listed him at No. 217 among in its composite rankings of the top wide receivers in the class.
7. A host of programs across the country recruited Siggers
Texas Tech, Louisville and New Mexico were among the schools that offered Siggers a scholarship.
UNT had to wait until late in the process to land a commitment from Siggers. He committed to the Mean Green just hours before he signed his national letter of intent.
8. Athlon Sports rates Siggers among the best backs in C-USA
C-USA has yet to release its preseason all-conference team, but there are a few publications that have put out their rundowns of the top players in the league.
Athlon Sports is among those publications and named Siggers to its third-team offense. Charlotte's Benny LeMay was the only one of the four running backs named to the All-C-USA first or second teams after last season who was a senior.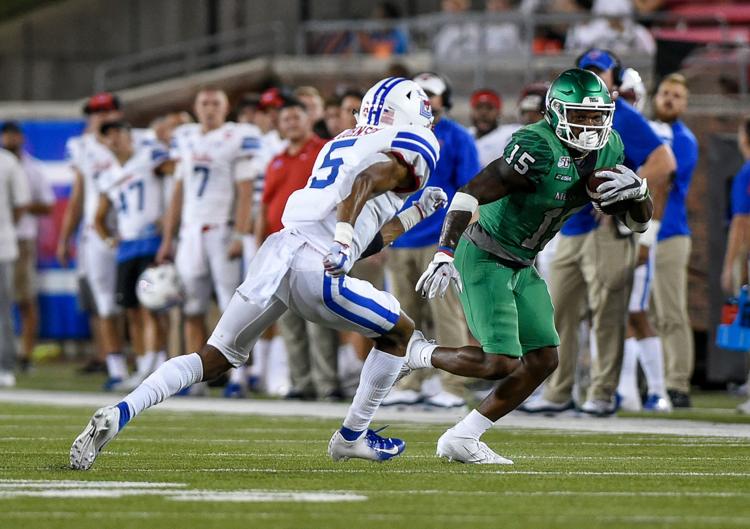 9. Siggers posted three huge games last season
Siggers picked up more than half of his rushing yards in three games last season. He racked up 143 yards in a win over UTSA and 131 in a loss to Charlotte in addition to the 164 yards he gained against SMU.
UNT's opponents were able to key in on Siggers and slow him down in other games. He posted less than 40 rushing yards in three games and missed two others.
10. Patrick Cobbs believed in Siggers
There might not be a person who knows more about what it takes to excel at running back for UNT than Patrick Cobbs.
The UNT Hall of Famer and former NFL running back is now an assistant coach with the Mean Green. He saw something special in Siggers before his breakout season.
"He had a great spring and has a ton of ability," Cobbs said. "When you get the ball in your hands, it's like riding a horse. It all comes back to you."
That was the case for last season for Siggers, who is in position to build on his breakout season heading into 2020.