When former Ryan boys basketball coach Richard Scofield filled out his roster for the 1999-2000 season, then-sophomore Jay Swafford wasn't sure if he should be excited or question his coach's sanity.
"He was notorious for taking chances on guys," Swafford said of Scofield, who died in 2010. "I didn't pass the eye test at all — but he knew I could fill a role. He played three sophomores the year before, and Micah [Mack] and Roy [McKinney] were four-year players, so he took chances on them, too. A lot of us will be forever grateful for him taking a chance on us.
"That group was the perfect definition of what a team should be. You really enjoyed being around all those guys."
With Scofield strategically pulling every string, the Raiders went 30-6 that season and rolled to an upset win over Dallas Madison to win the 2000 Class 4A state championship. On Friday, many of those players will return to Billy Ryan Gym to honor their late coach while also celebrating the 20-year anniversary of that magical season.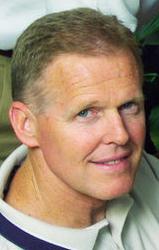 A ceremony will take place during halftime of Ryan's final District 8-5A game against crosstown rival Denton. The game is slated to tipoff at 6 p.m. Swafford, now an assistant principal at the school, said those expected to be in attendance include Greg Boyd, Mack, McKinney, Seo Evans, Dupree Jones, Brett McDade, Cass Starks, the family of the late Tedric Parks, and several former assistant coaches.
Linda Scofield will represent her late husband and announce the creation of the Richard Scofield Memorial Scholarship.
Richard Scofield was the head coach at Ryan for seven years and amassed a 151-72 record in that span while laying claim to the program's lone state title. He left the program in 2003 to take the same post at Liberty Christian. Before his time in Denton, Scofield coached in Liberal, Kan.; Moore, Okla; and Sulphur Springs. The scholarship that now bears his name is open to any senior — boy or girl — who is in good standing with the Raider basketball program.
"On top of commemorating something special like this, we are also playing Denton," Ryan coach Bryce Overstreet said. He was an assistant under Scofield for two seasons before replacing him. "The City of Denton backs kids from Denton, so there will be plenty of people there to show support."
For guys like Swafford, the memories of that season are still fresh. With so many young or unknown players leading the charge, the Raiders weren't taken seriously at first and didn't crack a single state poll until the playoffs. By then, they had rolled through district unbeaten and earned a first-round bye. Ryan eased through the playoffs, winning its first four games by an average of 16.8 points. They beat San Antonio Lanier 72-59 in the semifinals, then beat Madison 80-69.
"All I remember was we were not expected to win," Scofield told the Denton Record-Chronicle just before his passing. "People expected Madison to beat us by 15 or 20. I remember being really relaxed before the game, probably more than I felt I should be. We were really happy to be there and not expected to win."
The state title was a first in any sport at Ryan, which at the time was struggling to find its identity. That next fall, Joey Florence led the football team to its first of four straight state title game appearances, winning two of them.
"Keep in mind that at the time, we were just Ryan High School," Swafford said. "Then you have that unbelievable five-year run of pretty much every sport having tremendous success, and the 'Home of Champions' is born. To be a part of that at the ground level with so many great teammates and friends, it's something we will all cherish for the rest of our lives."