DECATUR — Half of the gym thought Friday night's game between Argyle and Decatur should have been over.
After Decatur made a layup with five seconds left to trim Argyle's lead to three, Argyle did not touch the ball for the inbound pass. By rule, the clock should have run out.
But an official blew an inadvertent whistle, stopping the clock and causing a few minutes of chaos. Argyle thought the game ended. Decatur thought there was still time left.
After a lengthy discussion, officials put 3 seconds back on the clock. But ultimately, none of it mattered.
Despite Argyle missing a pair of ensuing free throws, Decatur's half-court heave didn't fall as Argyle escaped with a wild 36-33 win at Decatur High School.
"Decatur did not call a timeout," said Argyle coach Russell Perkins of the controversial sequence. "There were less than five seconds left when it went in. We didn't touch it. And [the official] blew the whistle.
"He said we had to inbound it because there was an inadvertent whistle. They did right. I think I'm right, but I'm not. It's just unfortunate to end the game like that."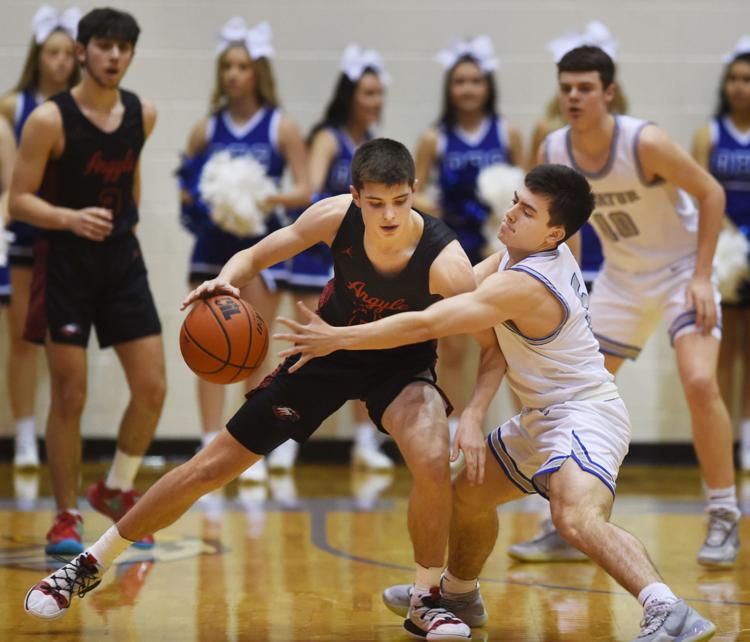 It isn't the first time a game between Argyle and Decatur has ended with a wild spectacle. When the two teams played last year in Decatur, Argyle lost on a 3-pointer at the buzzer that clinched the district title for Decatur.
"It's just two teams that play so hard," Perkins said of the matchup, which has become a rivalry over the years. "I think [Decatur coach Drew] Coffman and I do a lot of the same things. We know each other well. We all do stuff that we don't do that often to make it different. They're so good with what they do. But our kids executed down the stretch. We had lots of different kids make important plays."
Nate Atwood led Argyle with 12 points, as Argyle bounced back from a tough loss Tuesday night at home against Krum.
Argyle improved to 23-3 overall and 2-1 in District 8-4A with the victory.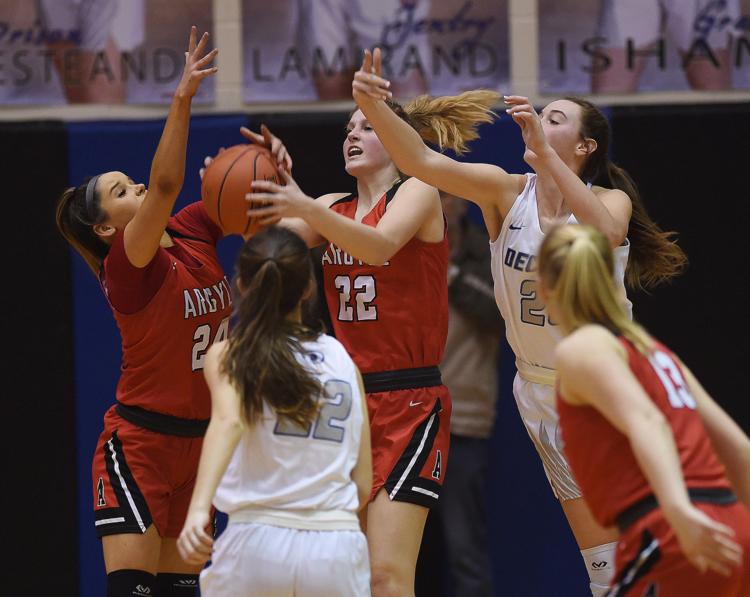 Lady Eagles' second-half defense, McKinney's 31 points propel Argyle to win
In the first half of Friday night's District 8-4A clash, Decatur had its way offensively, particularly from beyond the arc.
Decatur buried five 3-pointers en route to a 19-point second quarter, leaving Argyle trailing at the intermission. Argyle coach Chance Westmoreland knew clamping down on defense would be pivotal down the stretch — and so did Rhyle McKinney.
In addition to pouring in a game-high 31 points, McKinney's lockdown defense helped Argyle hold Decatur to just four points in the third quarter. And as a result, Argyle held on for a critical 51-47 victory at Decatur High School.
"The deal with Rhyle tonight compared to some of the other games is she played great defense," Westmoreland said. "People are going to see the 31 points, but we won that game because she played great defense. If she does that, she's one of the best, if not the best two-way player in the state, in my opinion."
Argyle started the third quarter on a 10-2 run, punctuated by a step-back 3-pointer from McKinney. Argyle outscored Decatur 12-4 in the third quarter and 22-16 in the second half.
"We came in at halftime and coach [Westmoreland] told us we have to pick up our defense team-wise," McKinney said. "I realized coming out that was a big role I was going to have to play, and on offense, too. I just tried to make stops for my teammates."
Argyle improved to 24-5 overall and 4-0 in District 8-4A with the victory.