Denton baseball coach Toby Rumfield and his son, sophomore Justin Rumfield, left the baseball field together on March 26 just as they had after countless games over the years.
Fatigue wore on the two of them after a long day on the diamond at Denton High School and an even longer couple of weeks.
Less than a half hour before, though, was a moment the Rumfield family will never forget.
Trailing The Colony 3-0 entering the bottom of the seventh inning, Denton's lineup was having a hard time figuring things out at the plate. But after Mason Davis scored and Christian Davis and Caden Greanead got on base, Justin Rumfield was determined not to let previous struggles deter him with the game on the line.
"In my second at-bat, that pitcher struck me out," Justin Rumfield said. "But I was on him, so I wanted one more chance. I told the team, 'Give me one more chance,' and they got me that chance."
Before Justin stepped into the box, his dad called him over.
"Just stay in a groove. Be smooth. You'll get to it," Toby Rumfield said.
Justin stepped to the plate, took a curveball for a ball, and then found a fastball to drive into left field and over the fence. It was a three-run home run that won the game in walk-off fashion for the Broncos and sent everyone in purple and white into a frenzy.
"Throughout the entire game, we weren't able to get anything going," Toby Rumfield said. "In the last inning, we got some guys on base and then [Justin] got a pitch to drive, and thank goodness it went over the fence."
While they celebrated on the field, Toby Rumfield's wife, Kari, was in Temple with his mother, Laverne, rejoicing as well. Those two were watching the GameChanger website, which has live play-by-play of the games.
It was a moment the family needed after a sorrow-filled month of March. Toby Rumfield's father, Shelby Rumfield, died unexpectedly March 10 at the age of 72 in Temple, where he spent 33 years as a coach at Temple High School.
Kari was in Temple to help Toby Rumfield's mother get through the tough times, and the big hit from Justin Rumfield certainly helped.
"When Justin hit the ball, the first thing I could think of was my father," Toby Rumfield said. "It was exiting because my dad was in heaven really happy because he loved coming to watch his grandkids play.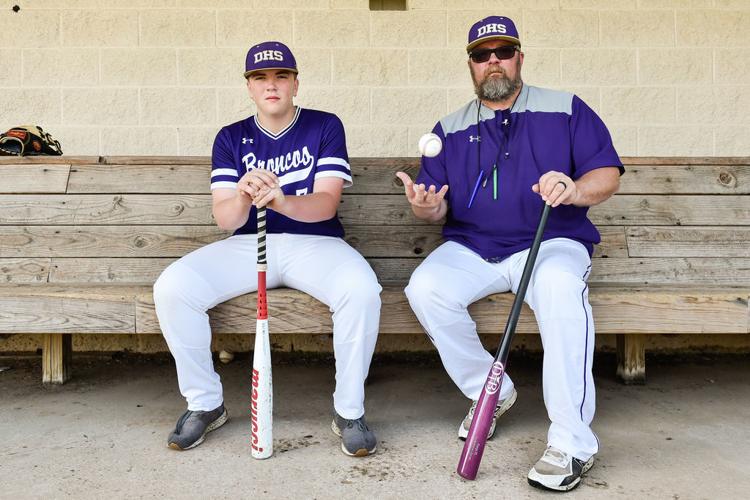 "I just kept yelling 'Thanks dad. Thank you.'"
On the drive home, the two went through the home run and the positive aspects of the win, but were quick to bring up areas where Justin could improve moving forward in the 2019 season.
The father and son were eager to get back into the batting cages not even an hour after the walk-off, which encompasses the Rumfields' approach as a family.
"I'm the hardest on my own kids," Toby Rumfield said. "Sometimes I have to back off because I get caught up. I mean, I know I'm his coach, but I'm also his father, but I've always done that with my kids. I'm always the toughest on them."
Toby Rumfield oldest son, T.J. Rumfield, was ranked the No. 3 third baseman in Texas after his senior year at Temple and is a freshman playing at Texas Tech. Justin and T.J. Rumfield both had their dad as their coach, but Justin Rumfield still has two years left after this sophomore season .
After spending 13 years playing baseball in the minor leagues, along with 11 more years coaching and scouting in professional baseball, Toby Rumfield finally lived his dream when he coached T.J. Rumfield at Temple. He continues that dream now in his first year at Denton with Justin Rumfield.
"I was 38-years old when I took my first college class," Toby Rumfield said. "The reason I was motivated to do that was because I wanted to coach my kids in high school. It wasn't easy, but it's something I always dreamed of. My dad was my high school coach, so these bonds that we're making and time we're spending together, there's no way to describe it."
This is the first season for the two in Denton after Toby Rumfield decided to come to Denton in hopes of coaching only baseball and without assisting on the football staff. He got his wish, while also inheriting a senior-heavy and talented roster, which included the 2018 District 5-5A MVP in Jan Cabrera.
There are 13 seniors on the team, and that type of maturity was evident by how the players responded to a new coach and continued their winning ways. One unique thing Toby Rumfield brought to the team was an emphasis on the weight room, more than most baseball teams. The players became better athletes as a result, and the added strength has shown at the plate and in the field.
As for Justin Rumfield, he stepped right in and was a reliable bat from the start for Denton. The chemistry of the team was always there, but it's only strengthened as the season continues.
"It's a very special bond with this team," he said. "When we moved here, they made me feel at home. When we go into games, we always have our heads high because we've played good teams in tournaments so we know we can compete with anyone."
The Broncos have done more than just compete with teams as they are 8-0 in District 8-5A and 16-8 overall. They have won their past six games without the services of Cabrera, showing the depth on the roster. Denton has four district games remaining and hopes to have Cabrera back from a wrist injury before the start of the playoffs in a couple weeks.
The hopes and expectations for this year's team are understandably high, and Toby Rumfield said he is eager to capitalize on the talent of the 2019 roster in the playoffs. Even looking past this year, the he said he is equally antsy to continue building his culture at Denton.
"It's just continuing to have that blue collar [mentality]," Toby Rumfield said. "The weight room is our edge during the season and the offseason. We're always going to work on our skills and fundamentals, but taking our game to the next level comes in the weight room and we'll continue to do that."
The expectations fall on Justin, too, as the coach's son. While he's put up a strong sophomore season, he's prepared for this team to make its run in the postseason.
And if Justin's walk-off home run showed anything, don't expect the Rumfields to be shy of the moment.
"We're looking for the long haul in the playoffs," Justin Rumfield said. "That's my goal — to go to the [championship]. Throw anyone at us, when we have Jan or Austin [Wheeler] on the mound, we can beat any team in Texas."