PRINCETON — Aubrey could not have asked for a better start to Thursday night's Class 4A playoff game against Sunnyvale.
Sophomore Jaxon Holder stepped to the plate in the top of the first and blasted a leadoff home run over the right field wall to give the Chaparrals the lead in Game 1 of a best-of-three area-round series.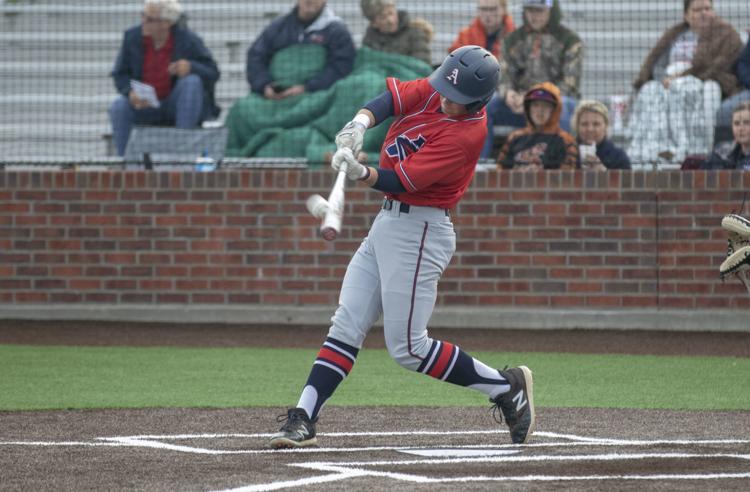 What happened from there was far from ideal for Aubrey.
The Chaparrals gave up four runs in the bottom of the first and four in the second as the Raiders grabbed control of the game, and Aubrey stranded eight runners on base as Sunnyvale pulled away for a 13-3 run-rule victory in six innings.
The teams will return to Princeton for Game 2 at 5 p.m. Friday, with Game 3, if necessary, to follow.
"We just left too many guys on base and made too many mistakes on the basepaths," Aubrey coach Nate Henry said. "We're getting guys on base but we just didn't run the bases very well, and that's something we've been good at all year. It was unlike us."
After Holder's home run in the top of the first, Jaeger Self added a one-out triple off the left field wall to give the Chaparrals a chance to build a cushion for starting pitcher Parker Brogdon. But Aubrey failed to bring Self in to score, and Brogdon was never able to get into a rhythm with a tight strike zone enforced at the plate.
Stranding Self on third in the first set the tone for several missed opportunities. The Chaparrals had four players thrown out at third. Aubrey also made three errors in the field that led to seven unearned runs.
Brogdon was pulled from the mound after he threw 1 2/3 innings and gave up seven hits and eight runs, four of which were earned. Bryce Bacon (1 1/3 IP), Aidan Ryan (one inning) and Brett Pierce (1 1/3 IP) finished the game out of the bullpen.
Hayden Hood went the distance for Sunnyvale, allowing eight hits while striking out nine in six innings. Hood also had three RBIs for the Raiders.
The only offensive bright spot for Aubrey after Holder's home run came in the top of the fourth, when Ryan drove in two runs with a double to left field.
The Chaparrals will lean on sophomore ace Zak Taylor to deliver a win in Game 2 in order to keep their season alive. Taylor (9-1) racked up seven strikeouts in four innings of work during his last outing, a Game 1 win over Dallas Carter in the bi-district round.
"We're very confident in Zak," Henry said. "Zak will be Zak, and this won't faze him. Pressure doesn't bother him, and we'll have a lot of confidence in him to go out there and get a win to force Game 3."
Sunnyvale 13, Aubrey 3 (6)
Sunnyvale 440 302 — 13 11 1
WP — Hayden Hood. LP — Parker Brogdon. 2B — Aubrey: Isaac Ashlock, AJ Prince, Aidan Ryan, Sunnyvale: Andrew Lyon, Hayden Hood. 3B — Aubrey: Jaeger Self. HR — Aubrey: Jaxon Holder.