ARLINGTON — Kelly Dozier sat three rows behind the Kansas City Royals dugout Thursday at Globe Life Park in Arlington, watching as one of the Denton area's top players of recent years continued to put together the best season of his career.
Dozier has been there for all the ups and downs of his son's rise in baseball. He watched as Hunter Dozier starred for Denton, saw his rise as an elite college player at Stephen F. Austin and was a sounding board during the long climb through the minors after the Royals selected him eighth overall in the 2013 draft.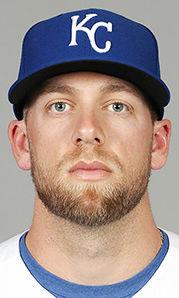 "It's been a lot of ups and downs," Kelly Dozier said. "That's the nature of the game. A lot of the game is the mental aspect of it and how you deal with it."
Hunter Dozier has found a balance this season, which is one of the reasons he is in the midst of a breakout campaign. The Kansas City third baseman was hitting .314 with 11 home runs following the Royals' 4-2 win over the Rangers on Thursday night.
"I gained some confidence last year and have a better approach this year," Hunter Dozier said.
That approach involves focusing not so much on the numbers that are inherent in the game and more on the process that it takes to succeed.
Dozier doesn't spend a whole lot of time worrying about his batting average. He focuses on making each at-bat productive and hitting the ball hard.
"I try to not worry about the results," Hunter Dozier said. "I can't control them. I focus on the process and having good at-bats. I try to stay away from looking at the numbers that are posted on the board."
The results have been impressive. Dozier hit .229 in 102 games with the Royals last year before emerging as an elite player this season.
Dozier entered Friday ranked third in the American League in slugging percentage at .589 and fifth in OPS (on-base plus slugging) at .987.
"He's putting it together," Royals manager Ned Yost said. "He's starting to get his feet underneath him in terms of what it takes to be a big leaguer. He's not thinking as much and is allowing his talent to come forth. He's tremendously prepared every day."
Dozier lined out in his first at-bat Thursday before drawing a walk. He left the game after the fourth inning with tightness in his right side.
Dozier's status will be a day-to-day decision, which could cut his homecoming series short. Kelly Dozier was one of several family members and friends on hand for the opener of the four-game set. Several were wearing Dozier jerseys.
Hunter Dozier lives in the Dallas-Fort Worth area in the offseason and was looking forward to playing in front of them at a ballpark he knows well.
"This is the stadium where I grew up watching the Rangers play, and I get to stay at home when we come here," Dozier said before the game.
Dozier is carrying on a long tradition of Denton-area players who have gone on to play in the majors. Javy Guerra is pitching for the Washington Nationals.
Guerra was drafted out of Ryan, as was Austin Jackson. The outfielder played for seven teams in nine seasons and spent time with the New York Mets last season.
Hunter Dozier played for former Denton coach Marty Green, who died in March. He credited the Denton baseball community for his rise in the game.
"This whole area has good baseball," Dozier said. "There is good competition that helps produce a lot of good athletes."
Green and Dozier's other youth coaches helped him in the formative stages of a career that appears to be taking off this season as he adjusts to playing in the major leagues.
Kelly Dozier and his family were in Arlington on Thursday to see him continue that process.
"Hunter always wanted to play in the majors," Kelly Dozier said. "It's been fun to watch it all come together."