There were no tears, no outbursts in frustration, just pure, sharp, shock saturating the locker room.
It was merely moments after Denton suffered a 3-1 loss to Boswell in the first round of playoffs on Oct. 30, 2018. The loss snapped a 16-game winning streak and handed the Lady Broncos just their fifth loss of the year, abruptly ending their 35-5 campaign.
Words eventually emitted from the leaders on the team, coinciding with head coach Cassie Headrick's thoughts.
"We're going to pick ourselves up," Headrick said after the match. "We came out very nervous, timid, and it started this morning in practice. You could just feel it. Now, all we can do is learn from it."
The past 50 weeks have been about doing just that — learning from it.
Headrick has had her nose in books to continue improving as a coach, while players participated in club seasons and ample open gyms. Now, they find themselves in a similar position with a similar team.
While they've left the loss in the past, there's always a piece of it that will never leave.
"It was devastating," Headrick said. "We've moved past it, there's no question, and learned a lot from it, but it's always kind of been in the back of our brains."
The team only lost two players from that locker room, returning Sydney Soto and nine other seniors along with juniors Taylor Thomas and Leah Stolfus and starting sophomore setter Abby Folsom.
It's the same team, same coach and the same memory of that night.
"We had this picture of greatness, and to see it shut down so early, it's like 'Wow, that really just happened,'" Thomas said. "It stuck with me for a long time."
Nearly a year later, Denton is using last season's crushing ending as fuel.
The Lady Broncos followed up 2018's undefeated district championship run by clinching the District 8-5A title with a win over Braswell on Friday. The team has lost four sets in 10 district matches and is again appearing to hit its stride.
Soto, Stolfus and Thomas are putting down double-digit kills in seemingly every match, the defense is flying behind Emma Sawko and Maria Martin, and the team's passing has continued to speed up heading into the final two regular season games and playoffs.
"It's definitely been different," Soto said. "Last year, we were building a lot and this year we've already put everything together so we're building on that foundation. A district title means a lot to us, because it's harder to stay at the top than it is to get there."
While Denton (31-9, 10-0) knew what they were to expect in district, the non-district season was the bigger challenge for Headrick to assemble. The first 30 matches of the season were pivotal to her team's growth, and challenging the team was essential.
Last year, though, the challenges were few and far between.
In 2018, Headrick and her team inherited a schedule consisting of tournaments and matches against only a handful of teams to the caliber of Boswell and most teams in Boswell's district. The Lady Broncos faced only seven 5A teams and two 6A teams last year and Headrick knew that needed to change.
Almost immediately after the season, she started making calls.
Northwest's Jennifer Chandler was first, as Headrick asked to be in their tournament with several of the best 5A and 6A teams in Dallas-Fort Worth, and she got in. She then reached out to see what tournaments teams in District 7-5A play in, and eventually got her team into a very good San Marcos tournament.
Quality teams like Decatur, Flower Mound Marcus and Liberty Christian soon rounded out the non-district schedule and, in the end, Denton faced seven 6A teams and 16 5A teams while cutting down the number of 3A teams faced from six to one.
Finally, the schedule the team needed was in place.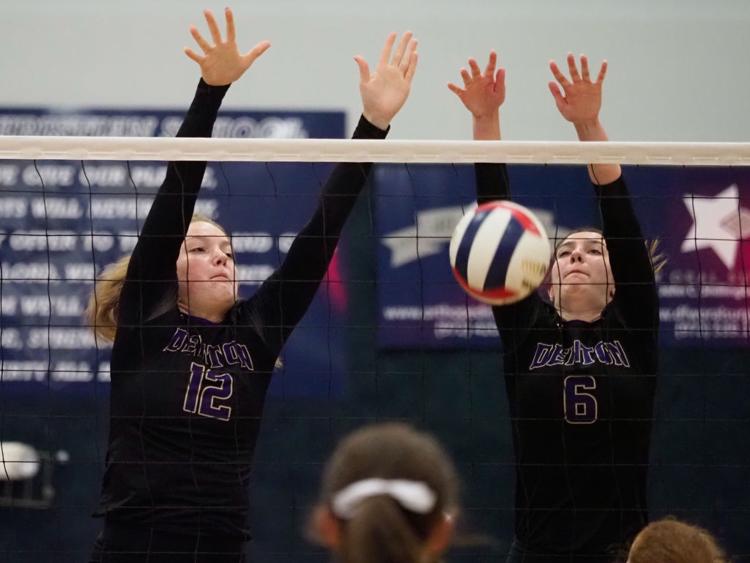 "Non-district helped us a ton," Thomas said. "Going from playing smaller schools to playing teams like Marcus and Sachse has definitely been a step up. The competition level was much higher, so when we get into the playoffs, the teams we see aren't as much of a shock as they were last year."
From approach to experience and scheduling, the Lady Broncos are a different team from last year, in spite of the repeat names on the roster.
For them, the goal is clear.
Facing one of the deepest volleyball districts in the area poses an undeniable opening round playoff test for Denton, but the past year has included an abundance of learning.
Now it's time to put the lessons to use on the court, once again as district champs, and once again in a high-stakes playoff setting.
The first-round playoff opponent is still unknown with a week of the regular season left, but the Lady Broncos promise to be ready this time around.
"I'm really proud of them, because this has been a hard year," Headrick said. "They all have a goal. They set that goal. And they're not going to be satisfied unless they get that goal."