CELINA — If Argyle wants a chance to get to the state tournament in Austin, the Eagles must first win a do-or-die game in Abilene.
It hasn't happened to Argyle much over the last few seasons, but after dropping Game 1 of the Class 4A Region I final to Stephenville 2-0 on Wednesday night, the two-time defending state champs suddenly find themselves on the brink of elimination.
The loss is the Eagles' first playoff defeat since 2017 — and even though this is unfamiliar territory, Argyle is not short on confidence.
FINAL: Stephenville 2, Argyle 0.

Stephenville wins Game 1 and takes a 1-0 series lead in this best-of-three 4A Region I final. Trace Morrison's 2-RBI triple was the difference.

It's Argyle's first playoff loss since 2017. Game 2 tomorrow at 7 at Abilene Christian. #txhsbaseball pic.twitter.com/n2g1CFbYtp

— Reece Waddell (@ReeceWaddell15) June 3, 2021
"I just told them we expect to win two games," Argyle coach Ricky Griffin said. "Don't come get on the bus if you don't expect to win two games. We've been winning two games in a row all year long.
"I love what we have left on the mound. We're going to hit the ball better than we hit it tonight, and if we do that, I think we win two baseball games."
Game 2 is set for 7 p.m. Thursday at Abilene Christian University. Game 3, if necessary, would be back at Celina High School at 7 p.m. Friday.
Argyle had a chance in its half of the first inning to take an early lead, loading the bases with just one out. But Tyler Abrego rolled over on a pitch, bouncing into a 5-3 double play that extinguished the threat.
The Eagles loaded the bases again in the sixth and seventh innings and were unable to capitalize on any of the opportunities. Colton Roquemore popped out to end the sixth, and JC Davis hit into a game-ending double play in the final frame.
"Sometimes you're going to meet a kid that throws great on the night, and that's baseball," Griffin said of Stephenville starter Bryson Dill, who scattered just four hits. "He really kept us from playing our game. We've been able to get people on, bunt the ball and put pressure on people. He kept the first runner off base all night. You just have to tip your cap."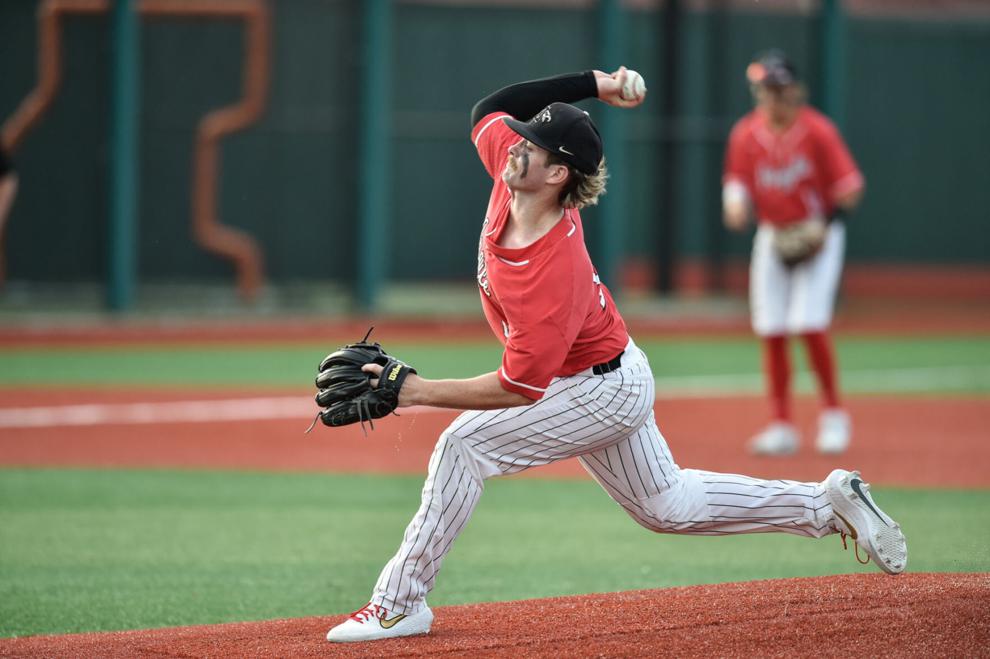 Argyle ace Trevor Duck, who has been phenomenal in the playoffs, ran into trouble early. Duck worked around a jam with two runners on in the second inning, inducing a 5-3 double play to retire the side.
But Duck quickly found himself in hot water again in the third after issuing a leadoff walk and hitting a batter. And this time, he was unable to wiggle out of trouble.
T3: Trace Morrison delivers for Stephenville with this 2-RBI triple down the line in right.

The Yellowjackets have been threatening — and they finally break the seal.

There's action in the Argyle bullpen. Eagles trail 2-0, still no outs in the inning. #txhsbaseball pic.twitter.com/LP4HoJ20bp

— Reece Waddell (@ReeceWaddell15) June 3, 2021
With two runners on, Stephenville grabbed the lead courtesy of a two-RBI triple from Trace Morrison. The Yellowjackets' leadoff man roped a pitch from Duck down the line in right, and that proved to be the difference, as Argyle left more than 10 runners stranded on base.
"We had bases loaded three times, and we just didn't come up with a hit," Griffin said. "That last hit was a line drive that goes up the middle, and we had one of our best hitters up next. I thought we had a chance to win it right there, but again, their kid made a play."