Denton ISD athletic director Joey Florence was gracious enough to sit down with the Denton Record-Chronicle's sports department for a series we like to call 10 Questions with Coach!
DRC: How proud are you of the coaches, athletes, administration, etc. at all Denton ISD schools for having made it through a challenging 2020-2021 school year with COVID-19?
Florence: I am beyond proud. I admire them and respect them. It was a challenging year for everyone, but our coaches — like they do — rise up. Proud isn't even the right word. It's an incredible group of people, and I couldn't be more proud of them.
Looking back on your seven-plus years as AD, what accomplishment are you most proud of?
One of my first objectives seven or eight years ago was that there was a typewriter on the front desk in the athletic office. One of my objectives by the end of the first year was to no longer be typing up vouchers and get into the real world and start doing things online. I hadn't seen a typewriter since probably my freshman year at Rockwall High School in 1982. The problem was that I did fail a little bit. It took me two years to convert a very antiquated accounting system. I'm being funny, but it was [a big accomplishment]."
If you could come back and coach one more high school football season, which school other than one of the four Denton ISD high schools would you choose?
That's a good question. I think I'd like to go coach at Rockwall-Heath because that's where I grew up. One of my best friends growing up, his boy is the quarterback. So I'd go coach him.
There's a fake "Coach Flo" Twitter account. Why doesn't the real Joey Florence have one?
Well, because it took me forever to get on the Facebook. And now it's the Twitter and the Instagram, and I only have so much capacity to grow. I only got onto Facebook to keep up with the kids I coached and their families. I could do that on Twitter, I guess, but I just don't see the need.
All my mentors have passed away, but if I could have anyone, there's no doubt that it'd be my dad. He's the reason I am who I am and the reason why I got into coaching. If it's someone who's still living, I'd probably ask George Strait. Why not? I grew up listening to him. He doesn't know me, but if I'm a really big deal, maybe he introduces me. I don't know.
There's an old photo in our archives of you holding a lunch pail after the 2001 season. Tell us about the lunch pail?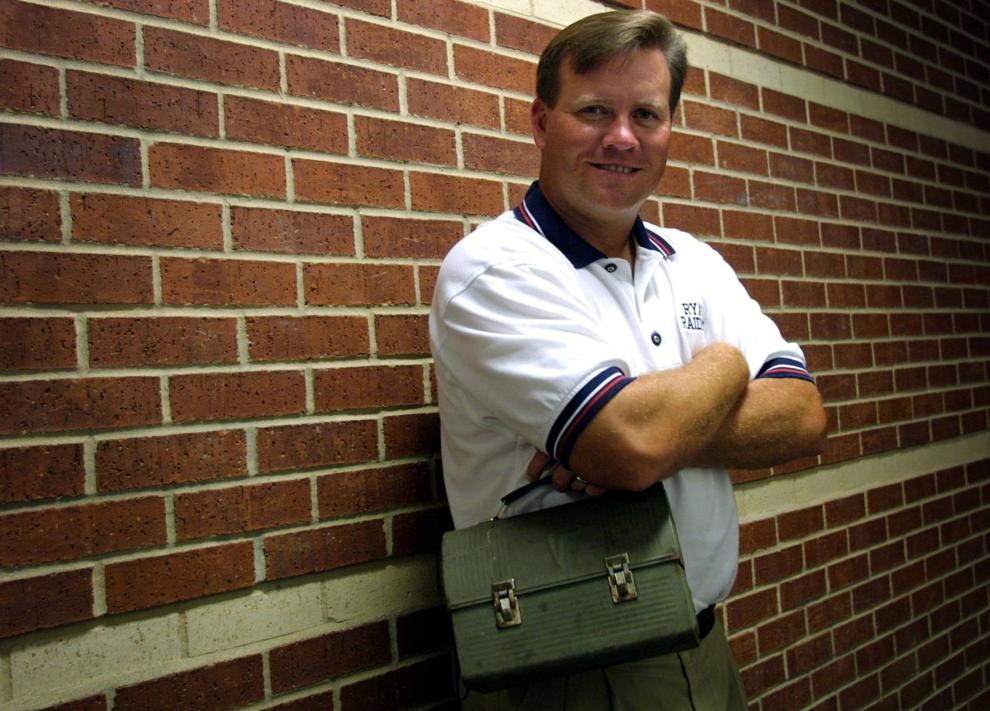 In 2000, we were Cinderellas. And after that season, I felt like if we had the right attitude, we might have beat Bay City [for the state title]. We all sat down and talked about what it's going to take. We decided that it needed to be a change of attitude. We want to have the right mindset that we're the best team in the state, but you also want to have the mindset that you're still going to show up and go to work every day. This country was built on those people who would bring a thermos and lunch pail to work every day. So that's what we decided. I don't remember where I got the lunch pail, but I will say this, it was a symbol that we know we're the best team in the state, but we're going to go to work every day until we finish our business. Our kids took to that. We took that with us to every game and put it under the bench. It symbolized the right attitude we needed to have to be successful.
We can tell you really pride yourself on throwing out the occasional zinger or one-liner to tease certain people. Who is the one person who really knows how to put you in your place?
That's Mrs. Florence. There's no doubt. I told her that things were going to change once I got inducted into the Hall of Honor; she was going to have to show me more respect. That hasn't worked out too well. She's my No. 1 fan but also my No. 1 critic. She's heard all my lines, and she's not buying anything I'm selling. I promise you that.
Your wife wants Whataburger for dinner. Your daughters want a juicy steak. But your grandson "Hootie" wants McDonalds. Where is the Florence family going to dinner?
Chicken Nuggets. He's in charge. That's not even a debate. He's got [my wife], too.
If the 2001 or 2002 state champion Ryan Raiders, coached by you, faced off against the 2020 state champion Ryan Raiders, coached by Dave Henigan, who wins and why?
Well, first of all, I'm going to win the game within the game against coach Henigan. Hypothetically, though, I don't play hypotheticals with the Ryan Raiders. But there's no doubt which would be the best-coached team. I don't know who wins, but I know who'd be the best-coached.
Dave Henigan. Cody Moore. Rodney Webb. Billy Miller. You have to rob a convenience store with one, spend a week on a deserted island with one, skydive with one, and wrestle one. Go!
Alright, I'm wrestling Rodney Webb because I'd tucker him out pretty quickly. I'd probably spend a week on the deserted island with Henigan because he's from the beach and he'd know what to do. I'd probably rob a store with Billy Miller because he's lightning fast and a tremendous athlete. We'd probably get in and out pretty quickly. With Cody Moore, we'd probably have to get a kid-sized parachute put on him, but I think we'd be OK on that, too. Those are all great guys, by the way.