North Texas wide receiver Jaelon Darden picked up yet another honor to cap a memorable senior season on Monday when Conference USA released its all-league teams.
Darden was named to the first team after becoming UNT's all-time leader in receptions, receiving yards and receiving touchdowns in his final season with the Mean Green.
Senior defensive tackle Dion Novil was also named to the all-league first team.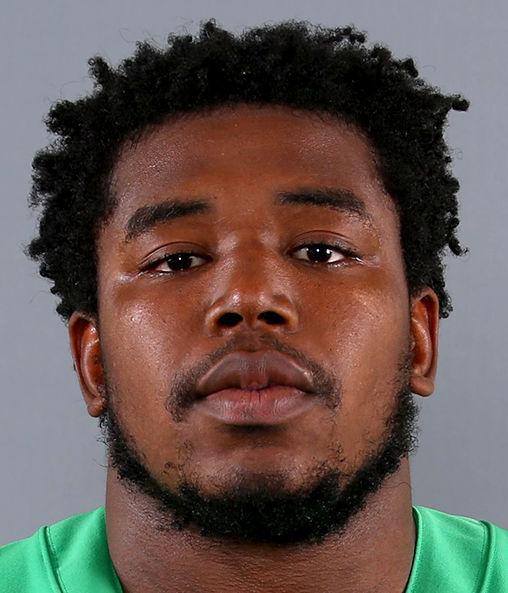 C-USA announced its all-conference teams in addition to its all-freshman team in the hours leading up to UNT's showdown with Appalachian State in the Myrtle Beach Bowl on Monday afternoon.
Darden caught 74 passes for 1,190 yards and a program-record 19 touchdowns this season. The Houston native declared for the NFL draft following the Mean Green's win over UTEP to cap the regular season.
Darden pushed his career marks to 230 receptions, 38 receiving touchdowns and 2,782 receiving yards before electing to sit out UNT's bowl game.
"He's a stud," UNT coach Seth Littrell said of Darden following the Mean Green's win over UTEP. "I'm proud of him, He deserves it because of the amount of work he puts in off the field when no one else is around. He has all the tools. He is one of those players who don't come around often."
The same could be said of Novil, who finished with 37 tackles, 8 tackles for loss and 2.5 sacks in the regular season.
Novil played defensive end early in his career before developing into a standout interior lineman.
"I owe everything to North Texas," Novil said earlier this season. "I came in here not having a high football IQ or good technique and got to where I am right now. It's actually pretty cool seeing the transformation."
UNT offensive lineman Jacob Brammer was named to the second team. The junior started all season at right tackle.
Running back DeAndre Torrey, tight end Jason Pirtle, linebacker KD Davis, safety Makyle Sanders, punter Bernardo Rodriguez, kick returner Deion Hair-Griffin, deep snapper Nate Durham and offensive linemen Anterrious Gray and Manase Mose were all named to the honorable mention team.
UNT also had four players named to C-USA's All-Freshman Team, a group that included tight end Jake Roberts, cornerback Upton Stout and defensive ends Gabriel Murphy and Grayson Murphy.
The league will continue to announce its postseason honors, including its MVP and coach of the year, in the next few days.