Aeria Bellamy was in her customary spot in the stands watching her son play for Arlington Lamar a few years ago when panic washed over her.
DeShawn Gaddie leaped into the air to break up a pass, came down and crumpled to the turf.
Gaddie, who is now a sophomore cornerback at North Texas, will never forget looking up and seeing his mother racing toward the field as he tried to work a cramp out of his calf.
"Nobody could stop her," Gaddie said. "She came out on the field saying, 'Is my baby OK? Is my baby OK?' It was crazy. I was thinking, 'She really got out of the stands, over the fence and onto the field?'
"It's because our bond is so tight. Nothing comes between us."
Bellamy took the lead role in raising her son. Gaddie said he was not close with his father, DeShawn Gaddie Sr., who died of heart complications when his son was a senior in high school.
"My mom is all I've got," Gaddie said. "She's my world and my rock."
That connection is one of the reasons Gaddie landed at UNT, where he has emerged as a key player for the Mean Green. He started each of UNT's first two games and is expected to play a vital role again Saturday when the Mean Green (1-2, 0-1 Conference USA) host Charlotte. The 49ers (0-2) lost their conference opener to Florida Atlantic 21-17 last week.
Bellamy will make the drive from her home in Grand Prairie to cheer on her son and his team as she always has over the years.
Gaddie described his life growing up in simple terms. There were other relatives around to help, but it was usually just him and his mother. They tackled challenges together.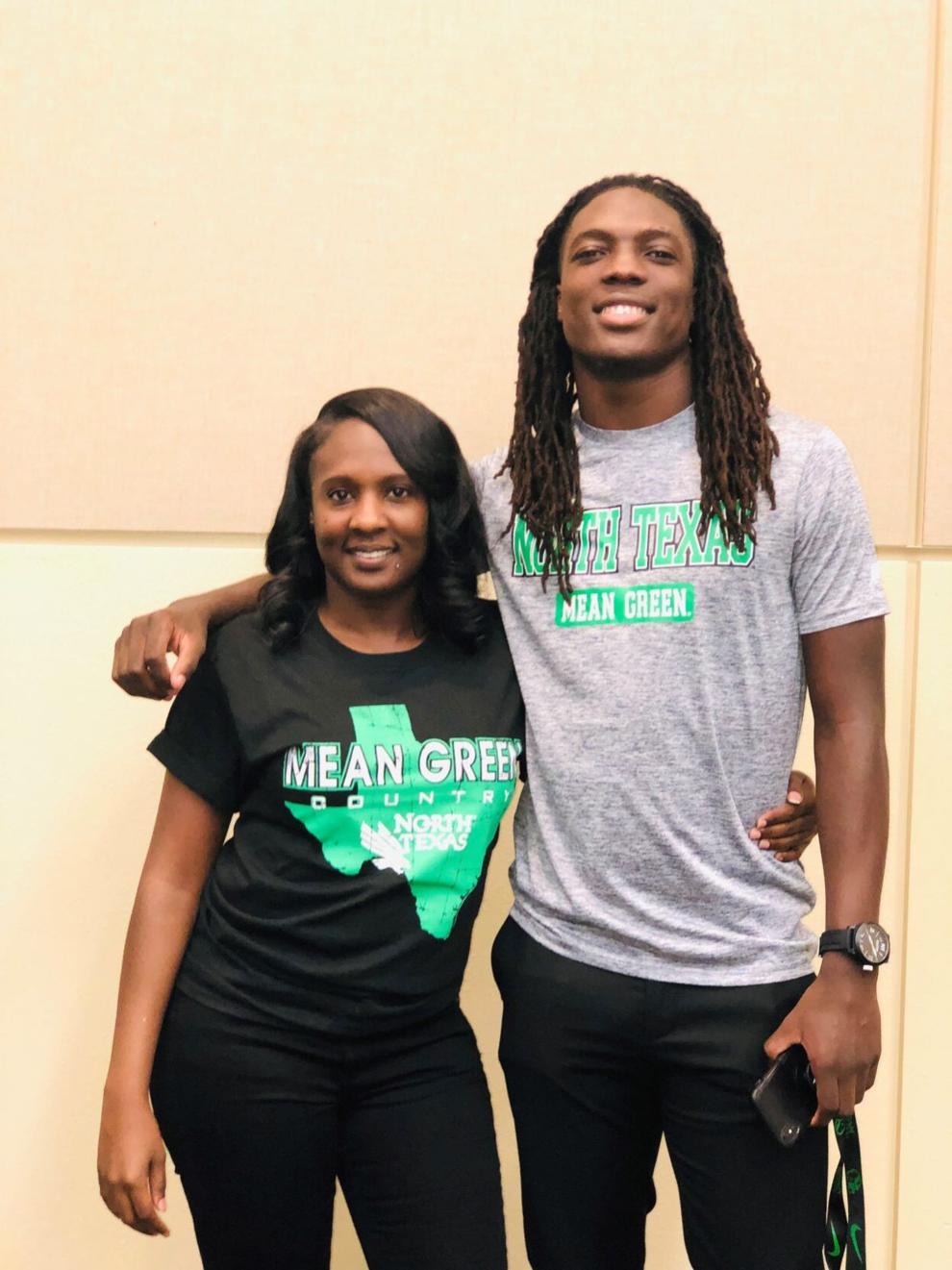 "A lot of people say I have a weird obsession with my child," Bellamy said. "I didn't think so at first, but I honestly do. I didn't want kids, but then I got pregnant. I had DeShawn and thought, 'Wow, this little person is mine.' I tend to go overboard."
Bellamy gets so nervous at UNT's games she has only recently been able to watch when her son is on the field.
Despite those struggles, Bellamy still remembers the formative stages of Gaddie's career, particularly one game that quickly became a favorite family story.
Gaddie played cornerback in his youth league and was locked up with a receiver who caught a pass.
"He was supposed to tackle him, but just ran along with him," Bellamy said. "We were yelling from the stands to tackle him. I wondered then if football was for him."
Gaddie quickly recovered from that inauspicious start and developed into a standout high school player at Lamar. He was a consensus three-star recruit and was rated No. 84 among cornerback prospects nationally by Rivals.com.
San Diego State, Tulane and Air Force were among the out-of-state teams that offered Gaddie a scholarship.
"At first I wanted to leave the area," Gaddie said. "Then I thought about it more with me and my mom. I wanted to be sure I would be close to her. We have always been close, and I'm still getting to play football and am doing what I love."
Gaddie was one of the highest-rated recruits in UNT's 2019 class and was expected to make an immediate impact. He flashed his potential as a freshman while playing on special teams. He blocked a punt Dominique Harrison returned for a touchdown in a win over Middle Tennessee.
"DeShawn is a true athlete with speed and size, is really talented and has gotten comfortable on the field," UNT safety Cam Johnson said. "I knew he was going to come in and contribute."
That is exactly what Gaddie has done through an up-and-down season. He made his debut as a starter, posted four tackles and forced a fumble in UNT's season-opening win over Houston Baptist before a tough outing in a loss to SMU.
UNT's secondary struggled across the board in a 65-35 loss. SMU quarterback Shane Buechele threw for 344 yards and four touchdowns.
Gaddie didn't start last week in UNT's loss to Southern Miss but finished with four tackles and broke up a pass.
"The more reps he gets, the more confidence he gets," UNT coach Seth Littrell said. "He's done some really good things, and he would tell you there are things he wishes he could have back.
"I like his mental side of the game. He wants to be great. The more opportunities he gets, he'll continue to prove that he's the type of player we thought he was when we recruited him."
Bellamy remembers UNT's coaches putting in a lot of time trying to convince her son to stay home and play for the Mean Green.
"North Texas was on him and adamant about him coming to play there," Bellamy said. "I asked him about it. He told me he chose North Texas to stay close to me. I told him later that he didn't have to do it. I would have gone anywhere to see him play, but I'm glad he chose North Texas."
That decision came as no surprise to Lawona Aldridge. Gaddie's grandmother has seen the relationship he and his mother have developed over the years.
"He's her world," Aldridge said. "Everyone knows that."
Bellamy credited her family for helping her raise Gaddie, who Aldridge described as a "happy go lucky kid" when he was growing up.
"I had to step up even more since his dad wasn't around, but there were things I couldn't teach him," Bellamy said. "I made sure he was around my father and other good men."
Those relatives played a role in his growth, but Gaddie leaned on his mother more than anyone and credited her for helping him develop into a promising young player for UNT.
"She always told me whatever you put your mind to you can do," Gaddie said. "She's my No. 1 supporter and the only supporter I need. As long as she's happy, I'm happy."