North Texas linebacker KD Davis was named to the All-Conference USA first team on Tuesday, when 12 Mean Green players were honored by the league.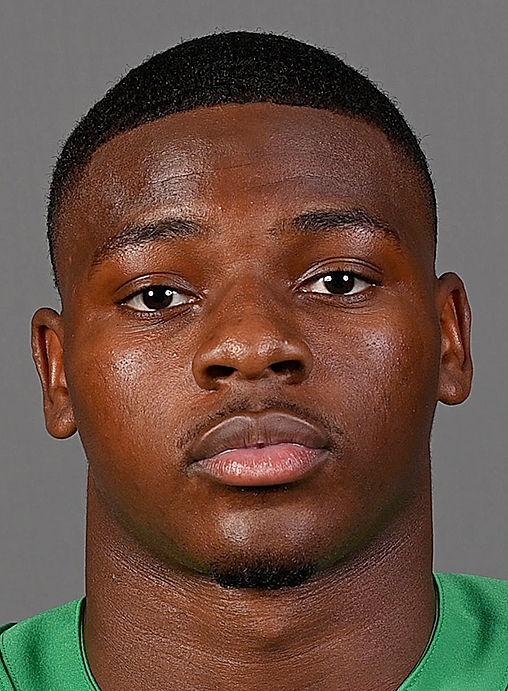 Davis led C-USA in tackles with 107 and tied for second with 15.5 tackles for loss while helping spark a turnaround by UNT's defense under first-year coordinator Phil Bennett.
UNT allowed 27.5 points per game in the regular season, down from 42.8 a year ago.
That dramatic improvement helped UNT earn a berth in the Frisco Football Classic. The Mean Green will face Miami (Ohio) on Dec. 23 at Toyota Stadium.
UNT had three players named to the second team, five to the honorable mention team and three more to the All-Freshman team.
The group helped UNT win its last five games of the regular season to become bowl eligible at 6-6.
"It's been a lot of fun to work with these guys," UNT coach Seth Littrell said following UNT's upset win over previously unbeaten UT-San Antonio to cap the regular season.
Running back DeAndre Torrey, offensive lineman Manase Mose and defensive tackle Dion Novil helped lead UNT on its late run and were named to the second team.
Torrey leads UNT with 1,215 rushing yards and became just the sixth player in program history to clear the 3,000-yard mark in career rushing yards this fall. He ranks fourth in program history with 3,228 yards and is tied with running backs coach Patrick Cobbs for second in UNT history with 36 rushing touchdowns.
Mose has helped clear the way for Torrey while starting 47 straight games. Novil has 45 tackles, including 7.5 tackles for loss and 3.0 sacks, and has also played a key role in UNT's rise defensively.
Tight end Jason Pirtle, offensive lineman Jacob Brammer, defensive end Grayson Murphy, kicker Ethan Mooney and deep snapper Nate Durham all received honorable mention recognition.
Pirtle ranks second among UNT players both in receptions (38) and receiving yards (351). Murphy has posted 12.5 tackles for loss and 7.5 sacks, while Mooney has made 11 of his 13 field goal attempts.
Running back Ayo Adeyi, offensive lineman Gabe Blair and defensive tackle Roderick Brown were all named to the All-Freshman team.
Adeyi has rushed for 479 yards and six touchdowns, including the game-winning 1-yard plunge in overtime against Rice.
Brown has recorded 4.0 tackles for loss and 3.0 sacks. Blair moved into the starting lineup at left guard in the third week of the season and has helped power UNT's running game.
The Mean Green rank third nationally with an average of 245.2 rushing yards per game.