Phil Bennett was in his lone season as Oklahoma's secondary coach in 1998 when a freshman fullback caught his attention.
Bennett was working with Sooners defensive coordinator Rex Ryan and loved to blitz. The pair kept sending their best at a group of fullbacks during a drill and were enjoying a whole lot of success up until a new player entered the fray.
"They put in this little guy from Muskogee, and I'm telling you, he'd rock your world," Bennett recalled last week.
That guy was North Texas coach Seth Littrell.
Littrell developed a bond with Bennett based on their tough-minded nature and a love for the game over the course of their one season together at Oklahoma. That relationship has endured for more than 20 years and took a turn recently when Littrell called Bennett for advice on who he should hire as his next defensive coordinator after mutually agreeing to part ways with Clint Bowen after one season.
"One day he said, 'Coach, why don't you come back and do this?'" Bennett said. "I thought to myself, 'It's two hours and 15 minutes from where I'm living, I'm in good shape and I feel without question that I could help.'"
Littrell and UNT's athletics department as a whole are banking on it. Littrell hired Bennett as his defensive coordinator late last month. The move will cost UNT $350,000 per year under the terms of a two-year contract that makes Bennett one of the highest paid football assistant coaches in program history. Bowen was also making $350,000 per year.
Littrell has the Mean Green humming offensively. UNT averaged 34.4 points per game last season and has ridden its offense to bowl berths in four of Littrell's five seasons. Far too often a floundering defense has prevented the Mean Green from taking the next step.
UNT was blown out by Florida Atlantic 41-17 in the 2017 Conference USA title game and was crushed in each of its last three bowl appearances. Appalachian State hammered UNT 56-28 in the Myrtle Beach Bowl back in December.
That loss left UNT at 4-6 and with its second straight losing season after its defense coughed up 42.8 points per game.
The Mean Green are going to have to do a whole lot better than that if they are going to get over the hump and win the C-USA title or a bowl game. UNT is 0-4 in bowl games under Littrell, who has been fishing for a way to field an effective defense for years.
Bennett will be the fifth defensive or co-defensive coordinator to work for Littrell in six seasons. He'll be by far the most decorated and experienced of those coaches.
Bennett worked as a defensive coordinator at nine schools before landing at UNT, including national powers LSU, Texas A&M and Kansas State. He'll get his first chance to work with UNT's players on the field when the Mean Green open spring practice on Monday.
"His wealth of knowledge and experience will benefit our entire program," Littrell said in a statement announcing the hire. "Nobody can argue his credentials. He has led top-10 defenses at the highest level of college football and has a proven track record of turning those units around. I couldn't be more excited."
The question is if Bennett can succeed where so many other coaches have failed under Littrell. Bennett has little doubt that he can.
"I feel very strongly that we can have success," Bennett said. "I saw where North Texas was and have been in similar situations. I can bring in the people and the know-how to do it. I can bring stability, knowledge and success."
A long road back
Bennett, 65, hasn't coached since he left Arizona State after the 2017 season, at least not in official capacity.
He has worked as a consultant and advised his friends in the coaching profession.
To understand where Bennett has been and his enthusiasm for coaching now, one must look back to the summer of 2016 when he was the defensive coordinator at Baylor.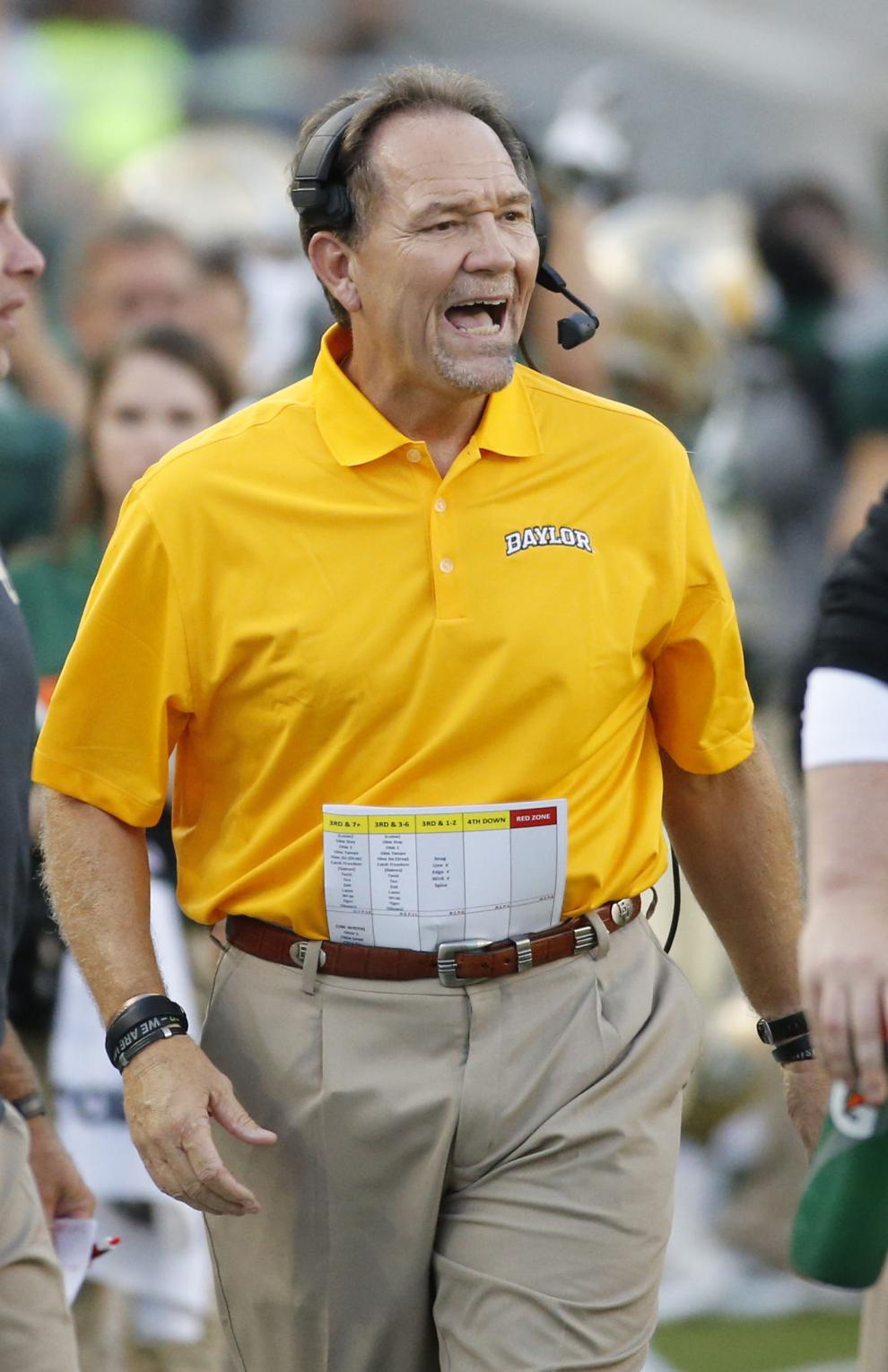 Bennett enjoys staying in shape and riding bikes. He was out riding in the country on a summer day when one of his hands slipped off his handlebars, sending him head over heels. Bennett kept right on coaching after a tough fall but knew by late in the 2017 season when he was working as the defensive coordinator at Arizona State that he needed to address his health issues.
Arizona State head coach Todd Graham was fired after the season and was replaced by Herm Edwards.
Edwards offered Bennett a chance to remain on staff. Bennett turned the opportunity down.
"I had some numbness in my arms and my knee hurt," Bennett said. "I physically felt like I needed to have some things done."
Bennett had neck surgery, knee surgery and back surgery to rectify issues he believes stemmed from the accident. He started to feel a whole lot better once he cleared those hurdles and was intrigued when Littrell asked him about getting back into coaching.
"I always thought that if something close to home in the state of Texas came up, I might have an interest," Bennett said.
UNT is a perfect fit due to his connections to Littrell. Bennett plans to jump in with both feet. He's in the process of buying home in Argyle.
Tackling the challenge
Bennett has one goal in mind as he begins his tenure at UNT.
"I'm not coming to North Texas to lose, period," Bennett said. "I'm coming to win. I told our kids the other day. If our offense continues to get better and scores 32 points a game in conference like it did last year and we do what I think we are capable of, it's going to be a lot of fun."
Bennett's take on how UNT can improve defensively is simple. He's known for running a 4-2-5 system but will be flexible.
"It's going to be multiple," Bennett said of the scheme he will employ. "My biggest deal is I want my 11 best players on the field.
"Where I differ from a lot of people is, I don't dwell on size. I'm a speed guy. I go by the philosophy that speed kills. And I want movement. I want guys who can run."
UNT had just one first- or second-team All-Conference USA selection on defense last season in tackle Dion Novil.
Bennett knows UNT needs to upgrade its talent but said he has been pleasantly surprised with what he has seen from his players in offseason workouts. He's certainly familiar with UNT after spending the 2002-07 seasons just down the road as the head coach at SMU.
"There is no question it will help to know Texas and Denton," Bennett said. "There are not many coaches I don't know, or they don't know me in Texas. If I've done one thing in my career, it's develop relationships and share ideas.
"I'm very familiar with Denton and what it's about."
Those relationships could help Bennett fill the holes in UNT's lineup that increased since the end of the season, when the Mean Green lost several key players to the NCAA transfer portal. Starting safety Cam Johnson elected to transfer and has since landed at UCLA.
UNT added Rice defensive back Tyrae Thornton and Abilene Christian defensive end/linebacker Kameron Hill as transfers in the last few days. The pair could help fill the voids in the Mean Green's lineup.
Bennett said UNT will be active when it comes to adding transfers to bolster its defense throughout the offseason.
The hope is Bennett will build a defense that can complement Littrell's up-tempo spread system. Playing at a fast pace offensively can help a team rack up points but can also put a team's defense in a tough spot due to the increased number of plays and possessions in a game.
Bennett learned from his time at Baylor that focusing on yards allowed per game isn't the best idea while working with a team with a high-tempo offense. He focuses on yards given up per play and points per possession.
Bennett believes the quickest way to lower those figures is to be sure players are comfortable with the system and play with good technique.
"We're going to be simple," Bennett said. "We're going to be able to get lined up fast. Sometimes as coaches we make things harder than they need to be."
UNT's hope is that simple approach will help it turn the tide defensively under Bennett.
The Mean Green's new defensive coordinator was sold on Littrell years ago due to the toughness he displayed in practice while picking up blitzes. Now it's Bennett's time to return the favor by giving Littrell's defense a lift.
"It's a journey," Bennett said. "Every day you're trying to win the day and get better. I see some kids who are hungry. I'm really looking forward to working with them."