At this point, it's a rivalry.
The Argyle players admit it, but they also follow the lead of their stoic head coach Todd Rodgers.
The Eagles will face Waco La Vega at 7 p.m. on Friday at Baylor's McLane Stadium in Waco in the Class 4A Division I Region II final, marking the fourth meeting between the two sides in the past 15 months.
"It definitely does [feel like a rivalry] because we're both good football teams, but we can't go in just wanting revenge," senior quarterback Bo Hogeboom said. "It's a new team, a new season and we have to go in knowing they're a great team and we have to play very well to beat them."
A healthy amount of revenge would make sense. After all, La Vega did defeat Argyle in this same round last year. It was the same situation too, as the Eagles defeated the Pirates in the regular season in 2018 just as they did this year way back in Week 2.
You can even go back to 2015 to find even deeper roots when La Vega defeated Rodgers and Argyle in the state championship game 33-31.
Still, the focus remains singular.
"It definitely has become a rivalry between us because of how things ended last year, and we have played multiple times," senior running back Luke Farris said. "We just have to treat it like another game, though. We have to play them like we've never faced them before and ultimately the better team will win."
Over the past two seasons, the two teams have only lost to each other. Tension has continued to brew as trash talk and physicality only increases, but it's never turned into a physical altercation — Rodgers won't allow it to.
The two sides know a lot about each other, perhaps too much. The familiarity has Rodgers' eyes glued to screens watching film in search of one tip that can help his team get the upper hand.
"When you play a team that many times you become obnoxiously familiar with each other," Rodgers said. "You're looking for tips or tales for a play or a defense to figure out what they're going to do. But a team like them, there just aren't many mistakes. They're really sound defensively, and it comes down to players making plays on both ends."
The Eagles' offense has continued to light up opposing defenses in a variety of ways, but faces one of its toughest challenges this week in the Pirates. Argyle scored 49 points on La Vega in their first meeting this year, but replicating that performance will be difficult against the Pirates' daunting front seven.
The Eagles' passed for eight touchdowns against Stephenville two weeks ago and rushed for four scores in last week's win over Brownwood. The balance that Hogeboom and the offense have achieved this season has fueled its firepower heading into the region final.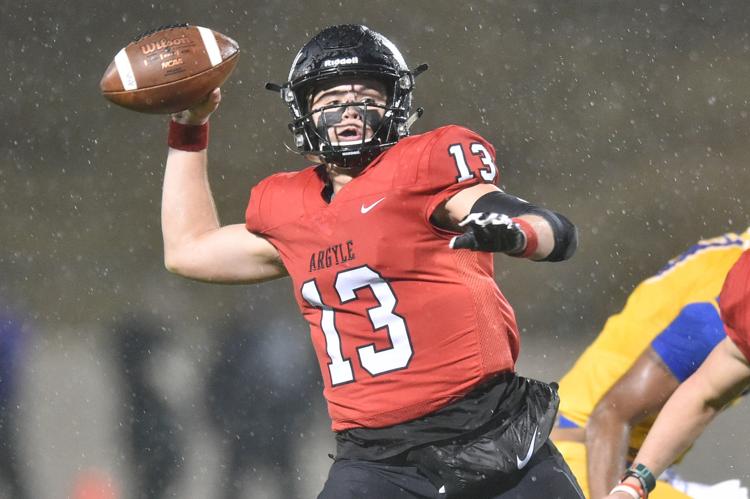 "I'm very confident with the way we're playing right now in all aspects of the game, running, throwing and blocking up front," Hogeboom said. "Up front they're really good in the box. We're just going to go out there, take what they give us and not try to be heroes."
The defense will have its hands full too, but no one at Argyle is expecting it to be easy.
While this year's win is being used for film and learning purposes, last year's loss is far more potent as motivation. The pain that followed that defeat has resurfaced and there's only one way to overcome it.
Don't expect Rodgers and his team to become emotional, though.
Instead anticipate the same level-headed football Argyle has played all season.
On Friday night, the Eagles will once again be one win away from reaching the state semifinals. And once again, La Vega stands in their way.
"I think our kids were motivated last year and they're motivated this year," Rodgers said. "It's about learning from a regular season game and replicating it later in the year when it's lose or go home. It's about finding the right plays and alignments when you play a game like this and this late in the playoffs."