HUGS go to … Denton County Commissioner Bobbie Mitchell and County Judge Andy Eads, who are now battling the very coronavirus they have worked so hard over the past several months to protect their constituents from in Denton County. Both Mitchell and Eads have been instrumental in extending disaster declarations, funneling funding to impacted businesses and residents, and improving and increasing access to needed testing and care throughout the county. We wish them all the best for a speedy recovery.
HUGS go to … the people of Denton for their city being ranked 55th in the Top 100 livable cities by livability.com on this year's list. The website scored Denton based on several variables centered around the economy, job opportunities and growth. Of course, it's people who make that happen, and Denton is full of talented and hard-working ones. Not unlike other cities in the Metroplex area, we have our challenges in economic development and affordable housing, and other issues, but Denton is regularly recognized as an ideal place to live, work and play. Many people say our city is special. This ranking proves that.
HUGS go to … Denton Police Chief Frank Dixon, who celebrated his birthday and second-year anniversary as the chief of police on Thursday. Odds are good Chief Dixon will feel like he has aged much more than two years while at the helm of the Police Department, but we would argue as well that his list of accomplishments similarly exceeds what might be expected for two years' time. We tip our hats and wish the chief a happy birthday and an equally productive track record for the years to come.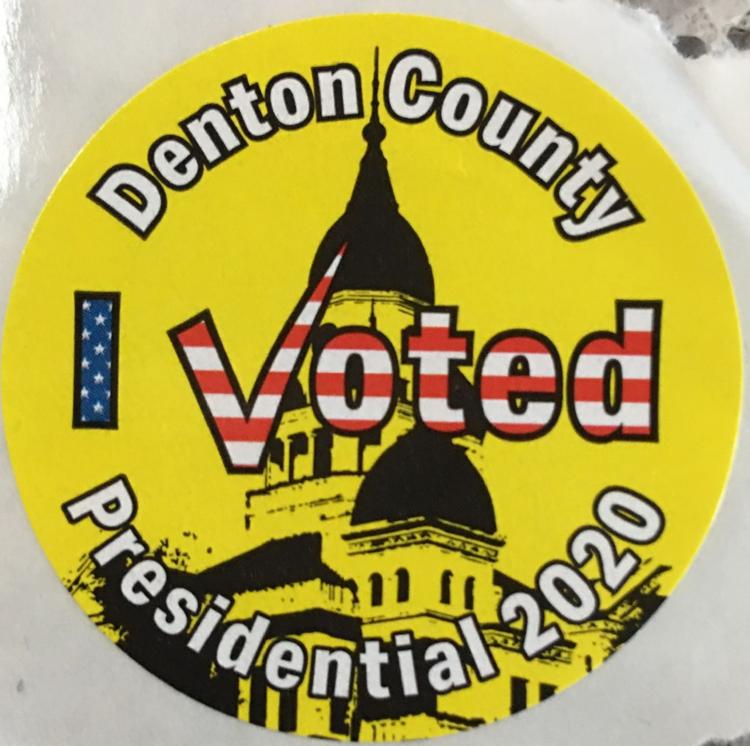 HUGS go to … the Denton County Elections Administration office for providing stickers to those who have voted early that say "Denton County Presidential 2020 … I voted." Some may argue this was a waste of money — to pay for specific stickers like these as opposed to the typical "I voted" stickers that we all have seen before. But perhaps now, more than ever, we need a specific commendation here in Denton County for getting out to vote in this heated election.
SHRUGS go to … Frisco ISD athletic administrators in the District 5-5A Division I District Executive Committee for initially voting to make Ryan High School's football team forfeit two games due to a COVID-19-related shutdown. Frisco ISD originally agreed to make the games "no-contests" but on Oct. 9 changed their decision to a forfeit. It took a swath of public outcry over the weekend and early this week for Frisco ISD to reverse its decision yet again, finally agreeing to make Ryan's one missed game against Frisco Reedy a no-contest after all. Ryan's second game it would have missed against Denton was set to be played Saturday after Ryan's 14-day quarantine expires.
HUGS go to … the road crew responsible for fixing the pothole at the intersection of East U.S. Highway 380 going west and North Ruddell Street. The pothole came to our attention via an Oct. 13 letter to the editor from Richard Sakmar of Denton, who implored the county to "spend an extra nickel and fix the hole." It didn't take long for Mr. Sakmar's wish to come true, with him emailing us Friday to say the pothole had been filled with asphalt. "Don't know what you did or who you talked to, but I want to thank you," Mr. Sakmar said. "If it could, my truck would thank you." A thankful truck is a happy ending, indeed.