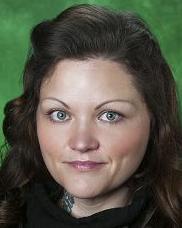 It's time for new discussions relating to Denton's Confederate monument. Generalized disputes over the appropriateness of such relics at large or the "real causes" of the Civil War will never lead to progress. We need monument conversations focused on Denton's history.
According to a 1905 Denton Record-Chronicle report, Denton's United Daughters of the Confederacy (UDC) was organized by and named after Katie Daffan, whom the Texas State Historical Association identifies as the daughter of a first-generation Ku Klux Klan member.
A 1910 Record-Chronicle report further reveals it was Daffan who directed Denton's UDC to erect a Confederate monument. Three years later, the UDC announced plans for a "county tribute to the Confederacy." Subsequent Record-Chronicle reports included regular updates from the UDC's Monument Committee, whose press secretary was also the editor of the paper.
Contrary to modern assertions that the statue atop its arch reflects a memorialization of the "common soldier," UDC updates consistently refer to a "monument to the Confederacy," a "tribute to the Confederacy" or a "tribute to the Confederate cause" with occasional references to soldiers. As it turns out, the soldier atop the monument is so common, an identical figure tops the Confederate tribute on Gainesville's square.
Our mass-produced Confederate lawn ornament sat on Denton's Square for weeks before the UDC dedicated it on June 3, 1918, in honor of Jefferson Davis' birthday, as reported by the Record-Chronicle the following day under the headline "Commemoration of Confederate Deeds."
It was a day for "lovers of the Old South … a day of commemoration of past events and of inspiration for future events …" Obviously, Confederate deeds were commemorated — but the future events inspired need clarification.
Just over a year after the dedication, Denton's all-white Chamber of Commerce partnered with the City Federation of (White) Women's Clubs, a delegated conglomeration of Denton's most prominent and affluent women. Armed with a new right to vote, they led a "city park campaign" designed to forcibly remove and replace Quakertown, a predominately black inner-city neighborhood (see Chelsea Stallings' University of North Texas master's thesis).
Denton's UDC members led the City Federation campaign against Quakertown. A 1929 City Federation historical (in the collection of Emily Fowler Central Library) attributes their successful door-to-door "park campaign" to 100% membership participation from every Federated club and, according to Federation meeting minutes (TWU Women's Collection), this included the UDC.
Federation records show the organization formed in 1913, three months after the UDC's monument announcement with nearly half of the delegates members of the UDC. A Federation bulletin (Emily Fowler Library) published thereafter included recommendations from a UDC member's husband for removing Quakertown.
By 1920, the UDC held three-fourths of Federation officer positions, and they turned full focus on Quakertown, making its removal at least one of the "future events" inspired by the "Commemoration of Confederate Deeds."
Erected five decades after the Civil War, the monument was a response to Quakertown's increasing self-sufficiency, which threatened Neo-Confederate identities. How could they feel superior as Quakertown prospered without white endorsements?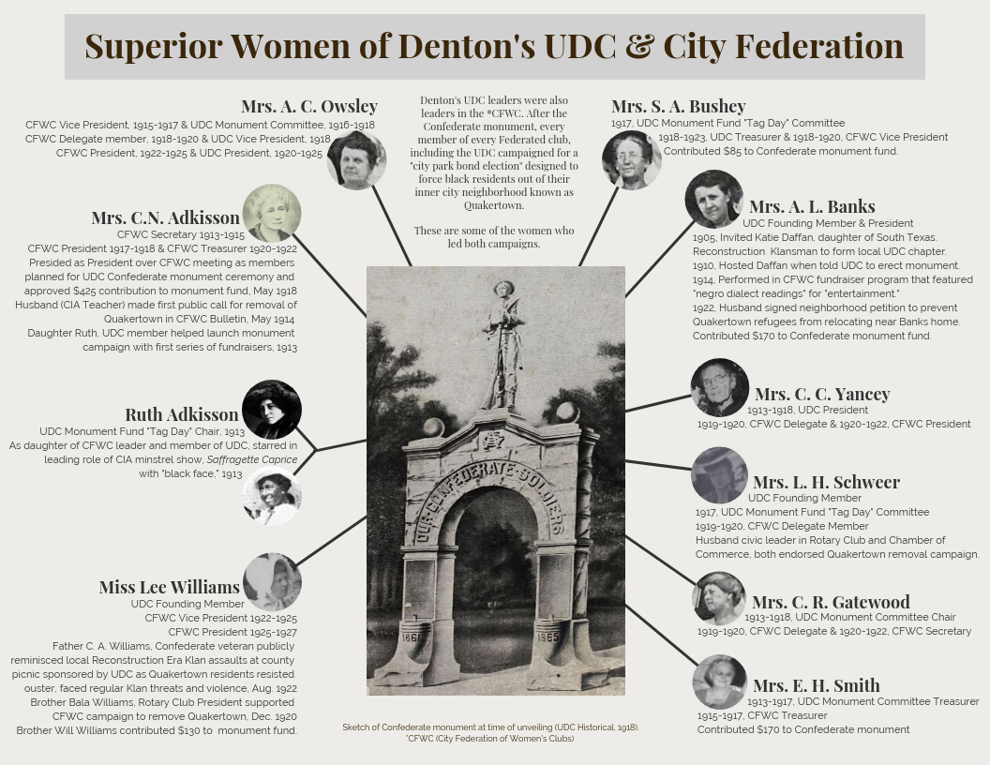 The monument guised their insecurities as remembrances for dead soldiers whose supposed sacrifices weren't even honored by name. To this date, no historical evidence has been provided of a single Confederate soldier from Denton killed in action. The one veteran speaker at the monument ceremony declared "children of coming generations would be proud to hear the story of the Confederacy as related by the monument."
The modern sympathizers' convictions are inspired by this alternative "story of the Confederacy" passed on through generations "as related" by a false Civil War archaeology erected by sore losers with a score to settle in a renewed battle for white supremacy in Denton.
It has been argued that the black community doesn't care about the monument. Why aren't they appearing in droves at public speaking forums?
This argument speaks to the monument's power and influence over modern discourse on race relations. It places responsibility for the monument's continued presence on those whose voices have been most oppressed by its existence and falsely suggests that if they were louder, it would have been removed. It also reflects a profound ignorance of local history.
Citizens of assorted racial backgrounds have consistently resisted the monument since the early 1990s. Initial public outcries were met with a resurgence of Klan activities, particularly a rally targeting the MLK Center on Juneteenth 1994.
Still, resistance continued.
In 2011, an elderly woman told county commissioners how as a child she was unable to use the monument's whites-only fountains. She was told her memory was mistaken. In 2015, a 69-year-old black man was confronted under the monument by a white young man with an AR-15.
Reports of the county's repeated abuses of power to undermine recontextualization efforts spearheaded by black community leaders were published in 2017 and again this year. The monument's false narrative will always speak louder than these stories of injustice it perpetuates.
County leaders overseeing the issue tend toward one of two extreme positions, both hyperfocused on Denton's present. One emphasizes the "memorial" and our community's "great strides," implying white privilege is extinct, while the other suggests that focusing on the past distracts from modern racial injustices. Both positions yield to fears of confronting white supremacy's prominence in Denton history because this forces us all to address its continued influence over our lives today.
Nearly a dozen committees in two decades, three different plaques and everyone is still terrified. It's time for bold, honest, fearless conversations. For some, this means recognizing inherent privileges, admitting apathy, some even complicity. For others, it means an acknowledgment of inherited vulnerabilities to systemic victimizations.
These truths carry unique difficulties, but they are self-evident, nonetheless.
The monument is a symbolic structure by its very definition. Every day it is tolerated is an endorsement of its false history, which invites another century of white supremacy.
The city has offered the monument space in its historic Odd Fellows cemetery, an appropriate setting to memorialize soldiers while facilitating a symbolic process of laying white supremacy to rest in Denton. Such a genuine act compounded with a recognition of white supremacy's role in the county museum could facilitate genuine healing for everyone.