It seems everyone has a Recycled Books, Records & CDs story.
Like many Denton transplants, mine started when I was a freshman at the University of North Texas. I walked into this weird purple building and was immediately overwhelmed. Never before had I seen so much stuff magnificently and painstakingly crammed into one spot. I walked out with six books for $20.
It wasn't until my second trip that I realized there was a whole other section downstairs. Now, on what seems like my 875th trip, I'm still not sure I've been in every room.
The independently owned used bookstore is celebrating its 35th birthday this weekend, offering up sales, shows and readings to anyone who walks through the doors. Owner Don Foster said he never thought the store that started off as a hole in the wall would become one of Denton's most beloved icons.
"We're sort of like what Brave Combo is to Denton," said Foster, referencing the popular polka band in town. "We're an identifying mark. People know us all over."
It's true. Recycled isn't just for Denton. People come in from Dallas and Fort Worth — some even cross state lines — to scope out the store's selection. It's popped up in Buzzfeed listicles and NPR contests. Foster said he's seen articles about the store in Scandinavian and Japanese magazines.
But before all that, Recycled was a tiny storefront on University Drive that opened its doors in 1983. Foster came into the store as a customer looking for records and met the owner, his future ex-wife, Lucy Lovely.
"She wanted to start a store and she decided on Denton," he said. "I grew up in Denton and there were never any good bookstores. Nobody had ever tried anything like this."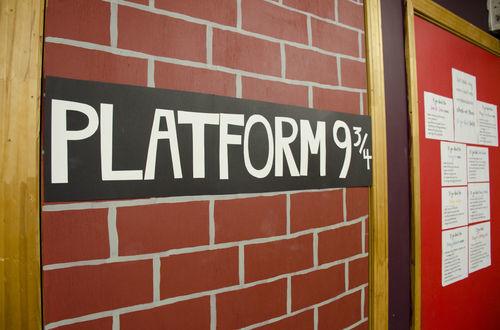 A few years later, Recycled moved to, as Foster put it, "a slightly larger hole in the wall" on Oakland Street next to Texas Woman's University. As the inventory started to expand, employees knocked out walls to make room.
By 1990, there weren't any more walls to knock down, so the store moved into the historic Wright Opera House on the northeast corner of the downtown Square, and it has maintained that residence ever since.
"When we first moved here, everything fit into one one room," Don's daughter, Ivy, said.
That's definitely not the case now. The store is stuffed to the brim with books, records, comics, CDs, movies, sheet music and board games. There's a room for every genre, and handwritten directions line the shelves to help wandering customers weave through the never-ending maze.
But there's a method to the madness. Recycled buys almost everything from its customers, leading to an eclectic mix of everything Denton holds dear.
"There's a personality at work here," Ivy Foster said. "Everything is done with a purpose."
The personality also bleeds down to the staff, about 20 people strong at the moment. Manager Lacey Richins has worked at the store for seven years while she finishes up her degree in elementary education at UNT.
"It's definitely a different vibe, more like a family," she said. "They always told me never to put the store ahead of school. That's not always the case at some places."
Don Foster said despite the store's popularity, paying the always-rising rent can be challenging. But he said no need to worry just yet.
"We'll be here as long as we have a lease."
For more information about Recycled, check out their website at www.recycledbooks.com. If you want to hear some more fun facts (and some ghost stories) about the store, go read this We Denton Do It post at http://wedentondoit.com/blog/2016/1/2/20-interesting-things-about-dentons-oldest-bookstore.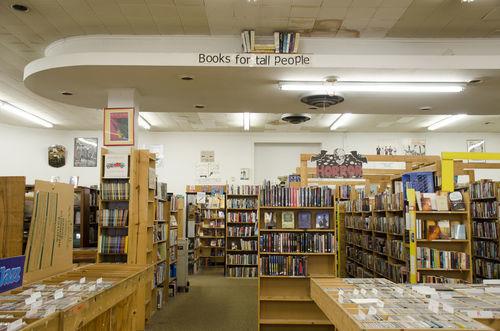 ■
And now, since I shared my Recycled story, here are some of yours:
"One time, I found a space book from the 1950s there and everything in it was wrong. It was amazing." — Denton resident Frank Parks
■
"I haven't lived in Denton in years but I saw an ad about the sale in Fort Worth Weekly and made it a point to come. It hasn't changed at all. It still smells the same. It's very comforting." — Arlington resident Julie Hoskison
■
"The setup is really cool. I've been to Half-Priced Books, but nothing like this." — Kristel Duran, with fellow TWU freshman Ann Nguyen, who were both visiting the store for the first time and said they'd "definitely be back."
■
"I've been coming here for 10 or 12 years and it's always my first stop. I might not find what I'm looking for that day, but it'll be there eventually." — a Decatur man who declined to give his name (he purchased some books about the Civil War and said his great-great-grandfather fought and died in the Battle of Vicksburg).
■
"I don't think I've ever left here without finding something on my book list." — Dallas resident Kat Johnston
■
"There's lots of personality here. I think it brings all types of people together. Something for everyone." — Denton resident Blake Farr
■
"I'm just an old person looking for old stuff. If you're going to find it anywhere, it's here." — Oklahoma resident Kristine Jackson, who found a book about Jeanette MacDonald and Nelson Eddy that she called "a treasure."