100 Years Ago
From August 1919
Big crowd at picnic for returned soldiers
The Victory Picnic given for soldiers, sailors and marines of Denton County who took part in any way in the World War opened Saturday morning with a big attendance. A large crowd of people was in downtown Denton by the time the parade started at 10 o'clock and they continued to arrive at the Normal College Park picnic grounds until after time for the dinner hour.
Many of the military men came in their uniforms and the statement that Denton County was represented in all branches of service was borne out. Insignia of rank ranged from private to lieutenant colonel.
All soldiers, sailors and marines were requested to be registered for the purpose of organizing a county Legion of Honor [American Legion]. Each man registered was issued a tag showing he was in the service. Those tags were good for admittance to the baseball game between Ponder and Denton at the Normal College Park.
The basket picnic dinner was a success. Families were asked to bring enough food for themselves and at least one soldier. The abundance of food saw many local businessmen take their lunch at the park.
The formal program was concluded in the afternoon with the business of formally organizing the Denton County Post of the Legion of Honor. Lt. Col. Alvin M. Owsley was elected post commander. Don West and Joe Caldwell of Denton and Olin C. Emery of Lewisville were elected vice commanders; Edwin Fulton, post adjutant; Owen Smith, finance officer; and Otis L. Fowler, post historian.
A wild west show in the afternoon and a dance under the stars concluded the day of celebration.
Ad
WELCOME SOLDIERS. Each soldier in uniform, furnishing his own bathing suit, will be admitted FREE to the pool all hours of the day or night, Saturday, August 2. CASCADE PLUNGE, the place of pleasure. Phone 990.
The physicians of the county met Tuesday afternoon at the Chamber of Commerce and agreed on prices to be charged for professional services. A few of the most common charges and the new price: Day calls, $3; Night calls, $4; Office calls, $1 to $5; Prescribing over the phone, $1; Country calls, $3 plus mileage at the rate of 50 cents per mile; Normal obstetric care in city, including two after visits, $25; Life insurance examinations, $5 (old line) and $3 (fraternal).
The doctors of the city have long been aware that the fees charged here are far below the average in other towns of the same size and have been working several weeks to bring together the physicians to reach some agreement on the matter.
75 Years Ago
From August 1944
Movie actress finds time to visit hometown
Nancy Gates, Denton's own movie actress, has just completed two months' work on a new picture — but she found time to do war work despite the long hours.
Taking a break from Hollywood, Miss Gates is vacationing in her hometown of Denton. The film, The Master Race, is set for release by RKO probably in late September. It is the first story of occupied Europe. Nancy plays a Belgian girl, who sees her sweetheart, Lloyd Bridges, again after he has spent five years in guerrilla warfare. This is her first romantic lead, and the 18-year-old Denton actress said she was teased quite a bit on the movie lot about her lovemaking.
Nancy came back to her "first love" Saturday night when she sang with Floyd Graham's stage show at the Teachers College. Besides her movie work, Nancy finds time to volunteer at the Hollywood Canteen, where she sings and also dances with the soldiers. She has also worked as a nurse's aide.
This movie is Nancy's sixth picture.
Ad
"Enough of a Good Thing is Enough" Includes the President's Term of Office. In this country of common people neither can one man be indispensable, nor can he deserve a major share of national merit. Like the Church, its guiding predecessor, this country may exist undefiled only through bona-fide group management. Let's exalt our country as we exterminate Hitler! DOLPH EVERS.
A total of 22,000 pounds of wastepaper was collected Sunday afternoon in the fifth salvage drive sponsored by the war aid committee of the Chamber of Commerce, Otis Fowler, committee chairman, said, adding that this makes 40,000 pounds of paper collected during the past month. 18,000 pounds, which was deposited at the paper center and collected by the Boy Scouts, was shipped to Dallas last Saturday.
50 Years Ago
From August 1969
Over 100,000 at Lewisville Pop Festival
The first Texas International Pop Festival at Lewisville's Dallas International Motor Speedway got underway Saturday with a crowd estimated to exceed 100,000 concertgoers by the time Grand Funk Railroad took the stage at 4 p.m.
The Lewisville area has seen a large influx of groups from as far away as Alaska pouring into town. A sizable contingent of bell-bottomed clad campers formed a community on the south end of Garza-Little Elm Reservoir where a free concert was held Thursday night.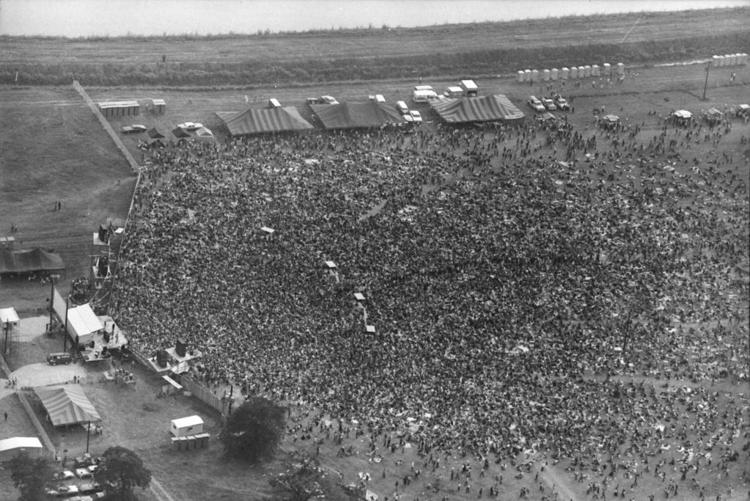 Angus Wynne III of Dallas heads the local festival producers. Mac Pate, festival coordinator, talked about the amount of work expended in preparation for the event. "It's not going to be anything like the Woodstock festival," he said, referring to the recent festival in New York attended by over 300,000, "except the spirit will be there. They didn't plan for the crowds and hardships resulted."
Chief Ralph Adams of the Lewisville police force is in charge of festival security and is working with the promoters of the pop festival. A force of 100 men, including Lewisville policemen and volunteer firemen, will be stationed outside the fenced festival area, working in pairs to maintain safety and order.
Saturday's performers were Canned Heat, Chicago Transit Authority, James Cotton Blues Band, Janis Joplin, B.B. King, Herbie Mann, Rotary Connection and Sam & Dave in addition to Grand Funk Railroad.
Sunday's performers are Led Zeppelin, Delaney & Bonnie & Friends, Incredible String Band and Santana in addition to bands from Saturday's scene, Chicago Transit Authority, James Cotton Blues Band, B.B. King, Herbie Mann, Sam & Dave and Grand Funk Railroad.
The Labor Day schedule has Johnny Winter, Nazz, Sly & the Family Stone, Spirit, Sweetwater, Ten Years After, Freddie King and Tony Joe White. Back for more action will be Delaney & Bonnie & Friends, B.B. King and Grand Funk Railroad.
25 Years Ago
From August 1994
Commissioner balks at computer game ban
Precinct 3 Commissioner Scott Armey doesn't like a new proposal to ban computer games in county employees' offices.
Maybe it's because he likes playing them.
On Tuesday, after County Judge Jeff Moseley submitted a proposal to the commissioners' court to ban computer games on all county computer equipment, Commissioner Armey was the only one to challenge the proposal.
Mr. Armey — who admits to playing computer games on his personal computer during "down times" at work — said it should be up to department heads and supervisors to prevent employees from using personal property on company time.
If commissioners approve the policy, anyone caught playing computer games on company time would face disciplinary action. Commissioner Armey said the policy would too closely resemble "micro-management."
Commissioners Kirk Wilson and Sandy Jacobs support the proposal. Commissioner Don Hill was out of town on vacation.
— Compiled from the files of the Denton Record-Chronicle by DJ Taylor