100 Years Ago
From October 1919
"Burning of trash in the streets or alleys anywhere in the business district is prohibited under the fire ordinance," said City Marshal Swinney, who is also city fire marshal. He added that he was notifying the State Fire Marshal of the hazards caused by an accumulation of trash.
M.H. Lyburn, who has been hauling away trash from the business district in downtown Denton, quit the job Wednesday because of insufficient revenue. Mr. Swinney said a number of firms stopped paying and have resorted to burning the trash. It was said Friday that a committee of business men would try to get Lyburn's subscription list up to $100 a month so he could resume the work of gathering up the trash and hauling it out of town for destruction. There have been complaints from several business houses about the cinders and charred paper from trash bonfires blowing over their stocks.
Renumbering of Denton houses to start
Renumbering of the houses in Denton will be started soon and is to be completed before the first of the year, Mayor H. V. Hennen said Monday.
The streets have already been measured for the new block system and it only remains now to put up the numbers. Delay has been experienced for several weeks because of the inability to secure the numerals, but all except the 1's have now been received and those are expected soon. It is planned to complete the renumbering in time for a new telephone directory to be printed the first of the year with the house numbers under the new system.
County auto club organized
A temporary organization of a Denton County Automobile Association was formed Friday morning at a meeting held at city hall. George Fritz was elected temporary chairman and T.M. Kerbow temporary secretary. Present at the meeting were a number of garage owners, sales agents and automobile owners.
According to Mr. Kerbow, the plan is to charge a membership fee of $1 that will be used for dragging and repairing the highways crossing the county. The membership will use its influence to secure the cooperation of the county commissioners and others in repairing mudholes to keep the roads across the county passable for automobiles through the coming winter.
75 Years Ago
From October 1944
NTSTC adopts Marines as football team
North Texas State's football bleachers will reverberate with pre-war cheers and pep-squad chants Saturday night, Oct. 21, when an all Eagle grid squad in Marine sports uniform takes over the college field against a team from Bryan Air Field.
Coming from Eagle Mountain Lake Marine Corps Air Base, the Eagle Leathernecks have been adopted by NTSTC as the college's proxy on the gridiron. They will play six games at the North Texas stadium against teams drawn from other servicemen's units.
The college's band will set up its music stands in the bleachers again — after a two-years' wartime absence — and a cheering section to support the Eagle team will be made up of North Texas coeds.
Students at North Texas will be admitted to games by presentation of activity tickets plus a tax of five cents. Denton residents and high school students will be charged 50 cents and 25 cents, respectively.
Ad
Imagine! Finding tableware like this! Be first to get a set of lovely tableware—just ask your grocer for a "Premium Package" of delicious nourishing MOTHER'S OATS with a dish inside! Take advantage of this double value today!
TSCW girls learn to fly at Hartlee Field
With the initial stages of flying instructions behind them, 12 students from the Texas State College for Women, who are enrolled in the college flying class at Hartlee Field, should be ready to solo by the middle of next week, instructors said today.
In addition to the regular ground school work the girls are receiving, they are in the air approximately three and a half hours a week, and solo flights can usually be made at the end of eight hours of dual instruction. Before the students can receive a private license, they must each have a minimum of 35 solo flying hours to their credit.
50 Years Ago
From October 1969
Emily Fowler retires from library
The woman who worked 26 years to assure Denton of a fine public library retires quietly this week, her dream fulfilled.
Mrs. Emily Fowler, who served as librarian from 1943 until Jan. 1, 1969 and as librarian emeritus for the past nine months will retire to private life Wednesday — her 70th birthday.
She has remained at the library in her present position while her successor, Mrs. Joella Orr, familiarized herself with the operation of the library.
During her 26 years as librarian, she sought to build a large comfortable and well-equipped library, an ambition which was realized Feb. 2, 1969, with the dedication of the Emily Fowler Public Library, a $240,000 facility in the Civic Center Park.
After receiving her library certificate, Mrs. Fowler returned to her alma mater, Texas Woman's University, in 1942 and worked as chief assistant to the librarian. The following year, she succeeded Mrs. Beth McCullar as librarian of Denton's fledgling public library, then located in the Courthouse basement.
In 1949, a bond issue provided funds for Denton's first real library building. As time passed, the facility became cramped for space, and the result was the remodeling and expansion into the present library building.
When library staff offered to give her a going away party in her honor, she graciously declined.
"Thanks anyway," she was heard to say, "but I want to remember the day the library was opened as the happiest of my life."
To Emily Fowler, anything else would have been anti-climactic.
Vietnam Moratorium Day observed
Vietnam Moratorium Day demonstrations at North Texas State University opened with a mass and nearly ended with mass arrests Wednesday night as police stopped about 150 student activists from marching to downtown Denton.
The group finally dispersed after Police Chief Wayne Autrey said, through a go-between, that nine men arrested would be released and no charges would be filed against them.
A crowd ranging from 300 to 1,000 joined the university's day-long moratorium, including some faculty members. Of the speakers at an open forum discussion, about 80 percent opposed the war, and most called for an immediate withdrawal from Vietnam.
A group of Texas Woman's University students stood in front of Hubbard Hall during the noon hour and observed 15 minutes of silence as a signal of their opposition to the Vietnam war.
Elsewhere in Denton, persons who support the national administration's efforts to end the war honorably flew flags from homes and businesses. Some motorists drove with their lights on during the day as a symbol of support for troops in Vietnam.
25 Years Ago
From October 1994
Local Green Stamp store to close
The S&H Green Stamp Gift Center in Denton is closing its doors after about 30 years of redeeming stamps for household goods.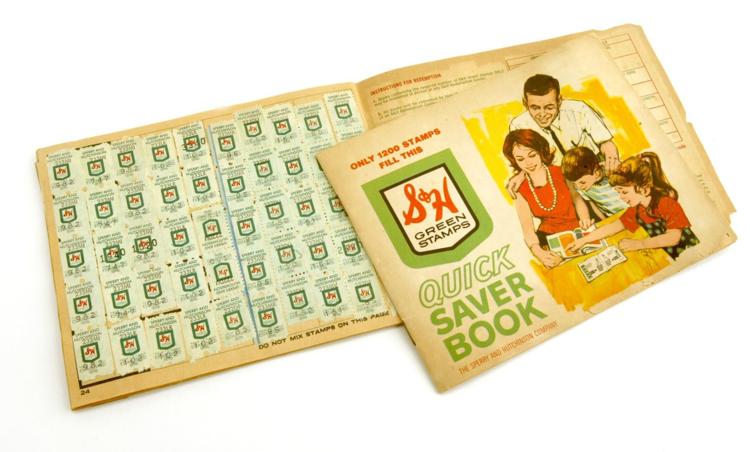 S&H Green Stamp gift centers support supermarkets that use the marketing program, which in Denton had been Piggly Wiggly stores exclusively. When Piggly Wiggly announced its decision to change from Green Stamps to triple coupons, it meant no Denton store would be offering the stamps.
The parent company of S&H Green Stamps, Sperry and Hutchinson Co Inc., is still going strong and will soon celebrate its 100th anniversary.
H.S. Osborne, president of the Osborne Co., which owns the local Piggly Wiggly stores, said his grocery stores had been ready for a change in marketing strategy.
"You don't always do the same thing," he said. "We had Green Stamps for 30 years. We just wanted to try a new promotion. We didn't feel like we could do both."
After Oct. 15, those wanting to redeem Green Stamps can travel to the gift center in Gainesville or order by mail from the Green Stamp catalog.
— Compiled from the files of the Denton Record-Chronicle by DJ Taylor