With three institutes of higher education in Denton, 2019 saw a gamut of growth, tragedy and change.
Here are the top stories of the year from the University of North Texas, North Central Texas College and Texas Woman's University.
NCTC comes to Denton
After years of serving Denton County, North Central Texas College opened its first location in the city of Denton just in time for the fall 2019 school year.
Formally called the First State Bank Exchange at NCTC Denton, the new 45,000-square-foot campus is a big deal for the community college district and downtown. The building is situated at 316 E. Hickory Street, the former home of the Denton Record-Chronicle.
The campus brings a flood of more than 500 students to downtown for classes, and school officials hope this will help increase partnerships and pathways to transfer between the community college and four-year schools in town.
Brent Wallace, chancellor of the college, has been working to get a Denton campus for years, following the opening of campuses in Corinth and Flower Mound. This is now the school's sixth location.
"We love our partnerships here," Wallace said at the grand opening of the building in September. "We've been serving Denton for a long time, but now we have a place to call home."
TWU professor dies on campus
The Texas Woman's University community mourned together this fall when professor Katherine McWain died Sept. 15 on campus.
The assistant professor of English was found dead on the third-floor roof of one of the classroom and office towers, and the Tarrant County Medical Examiner's Office ruled the death a suicide.
Several mental health services were made available to faculty, staff and students to cope with the tragedy, and the community held an emotional remembrance ceremony for McWain.
Feyten alerted faculty and staff to McWain's death in an email the night of Sept. 15 and noted that the professor's death was a suicide. The chancellor said she wanted to be candid with the staff and not shy away from suicide as though it were shameful.
"We mourn Katie's passing with heavy hearts as she was such a talented person who fervently believed in establishing a caring, compassionate culture with those around her," Feyten said in the email. "She was deeply beloved by her students."
UNT System lawyer resigns after using a racial slur
Caitlin Sewell, in her capacity as assistant general counsel for UNT, used a racial slur during a panel discussion Nov. 7.
The session with UNT students was called "When Hate Comes to Campus," and Sewell used the word in an example to show that racial slurs were protected under the First Amendment.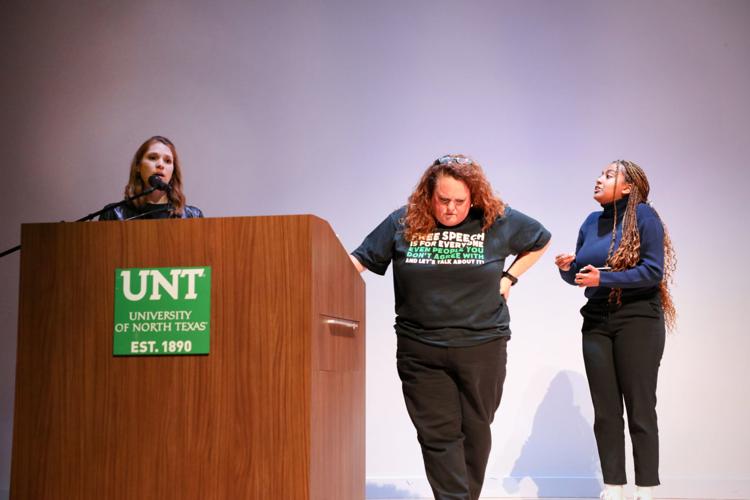 Backlash was swift, and a clip of the audio including the slur caught fire on social media. University leadership made statements condemning the language that night, and the following morning Sewell resigned from her position.
Students from the campus chapter of NAACP, the Student Government Association and the Black Student Union banded together to demand increases to cultural competence, such as requiring diversity training and having a diversity and inclusion strategic plan.
The following week, more than 150 students hosted a sit-in at the UNT Board of Regents to address their concerns, and later Yolian Ogbu, president of SGA, addressed the board during public section to demand action.
UNT lands $30 million donation
With the donation from the Ryan family came naming rights. The business school is now the G. Brint Ryan College of Business.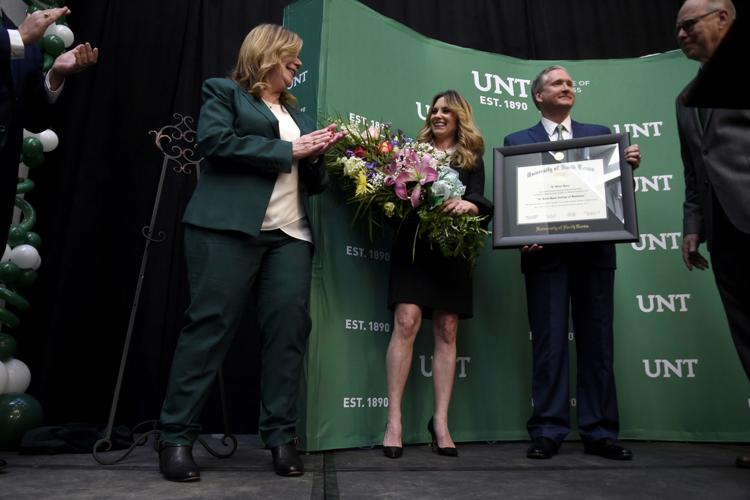 The gift will help fund business research, academic endowments and other "strategic program initiatives," according to a press release. It will create six endowed chairs and fund specific programs that would build the college's prestige: taxation and tax research, entrepreneurship, finance, logistics, information technology, cybersecurity and behavioral accounting.
Ryan graduated from UNT in 1988 with his bachelor's and master's degrees from a five-year accounting program. He is the founder, chairman and chief executive officer of Ryan LLC, a global tax services and software provider for business taxes that has 2,500 employees and more than 14,000 clients worldwide.
UNT, TWU open new dorms and dining halls
As student populations rise at both residential college campuses in town, major construction projects at both UNT and TWU were opened in 2019.
At UNT, Joe Greene Hall opened in August to house 500 students, primarily freshmen. It was also the first building on campus named for a person of color. To attract new students, there's also a new Welcome Center, a meeting point for families to learn about UNT and begin their tours.
This fall, the UNT College of Visual Arts and Design building also had a formal grand opening, featuring art galleries, digital fabrication tools and 3D printers. This fall was the first time students had full access to the building and full services after years of construction on the $70 million project.
On the north side of town, the TWU community got some reprieve from construction with several new buildings opening in 2019.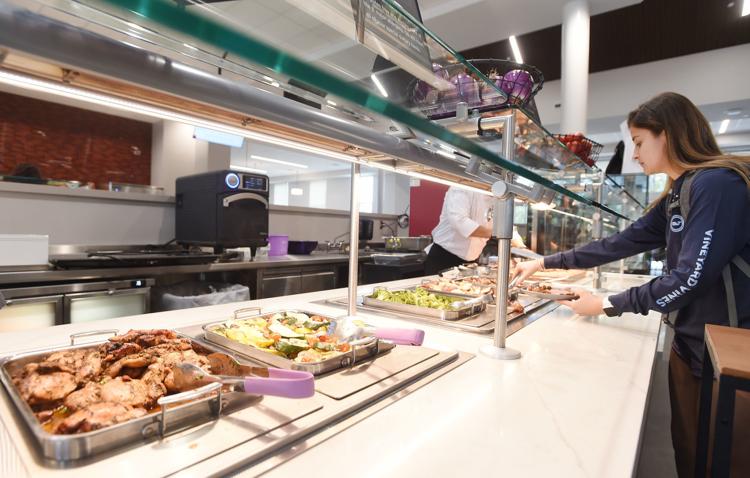 Parliament Village, including Mary's Hall, opened with three halls and 872 beds, primarily for second-year students. With the opening, it was the first time in 13 years all sophomore residents who needed housing could be accommodated on campus.
Just two months later, the campus's first stand-alone dining hall, Pioneer Kitchen, opened. The space is a massive upgrade from The Underground, which was on the basement level of the Student Union building. The new dining hall features a Mongolian grill, allergen-free and vegan options, as well as an in-house bakery that takes orders.