Denton County residents faced brisk winds Saturday in the name of women's rights to join thousands worldwide as they called to attention issues such as reproductive rights, violence and voting in 2020 during the fourth annual Women's March.
The Denton event was a part of a movement of marches organized around this year's theme of "Women Rising." Marches took place around the world with large cities like Washington, D.C., seeing thousands of people, even with a permit capping the capital's march capacity at 10,000 people.
Hundreds of Denton-area residents gathered downtown in support. While the march was smaller in Denton, the message was still the same: Fight for women's equal rights and the rights of minority groups.
"We're not just here for women today," speaker Libby Villari, an actress best known for her role in Friday Night Lights, told the crowd on the Square. "We are here for every race, every religion, every gender, every LGBT community [member] — everyone everywhere."
Once again, supporters donning pink hats and official Women Rising 2020 shirts crowded around the Courthouse on the Square, carrying signs targeting specific issues and expressing those issues with pop culture figures such as Lisa Simpson ("The whole damn system is wrong"), Ariana Grande ("God is a woman") and Leia Organa ("A woman's place is in the resistance").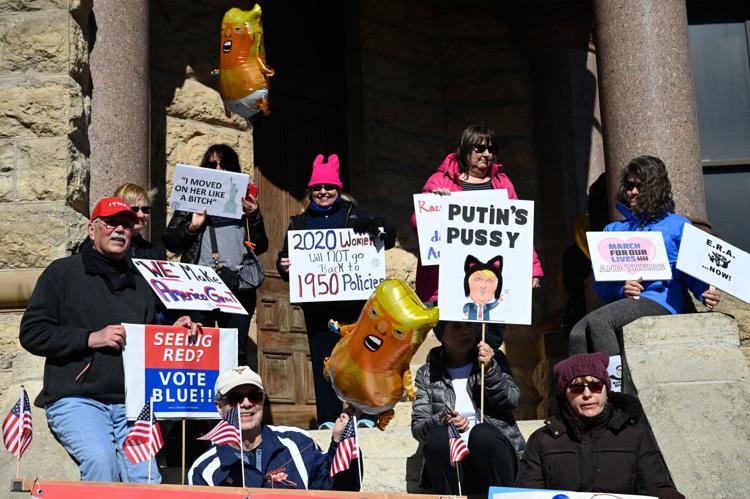 Because 2020 is an election year, the march also served to introduce local candidates to potential voters. Each candidate recognized the need for people with their beliefs to take office to push women's rights forward.
"I may be a man, but you don't have to be a woman to see what challenges women face," said Chris Bell, a Democrat running for U.S. Senate.
The term "Women's March" calls to mind women's rights and civil rights; however, the movement's official website highlights other important issues that affect everyone: ending violence, LGBTQ rights, disability rights, immigrant rights and environmental justice.
These were also the issues speakers, local candidates and attendees spoke about Saturday.
With ending violence, Pam Voorn had a sign referencing Moms Demand Action, a movement fighting for safety from gun violence. Voorn said she couldn't stay silent on the issue anymore after her son, a teacher, experienced a school shooting at STEM School Highlands Ranch in 2019.
"When it hits that close to home, it gets to me," Voorn said. "This is an issue in our country. Our Congress needs to do something [about gun violence] or we're going to vote them out."
Voorn said Americans are continually promised something will be done against gun violence, but nothing has happened with either party.
Some speakers and sign-holders referenced the Equal Rights Amendment, a proposed amendment that would prohibit discrimination based on sex. It was first proposed in Congress in 1923, and after different versions came up throughout the years, lawmakers passed the bill in 1972.
For the amendment to become law, federal lawmakers gave a deadline of March 22, 1979, for three-fourths of the states to ratify it. They then extended it to June 30, 1982.
Because only 35 of the needed 38 states ratified the amendment, it was considered a failure, and five states rescinded their ratification.
Although Virginia this week became the 38th state to ratify the amendment, the U.S. Justice Department said in a statement Wednesday the amendment can't be ratified anymore because the deadline expired more than 30 years ago.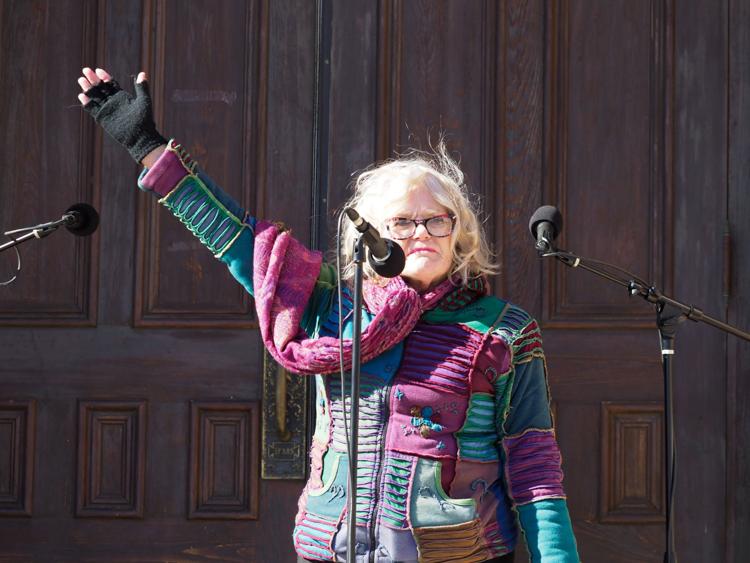 "I really feel like society has stopped moving ahead and gone to sleep about these issues," Denton resident Margo Ways said. "I'm really glad we have something like [the women's march] where we can talk about [them]."
Although hundreds of supporters were at Denton's march Saturday, attendance has fluctuated greatly over the event's three years, from the Square being packed in 2017 to only a few hundred in the last two.
"Now our members dwindle each year because it is hard," Villari said. "It is hard to continue to fight, but we must ... and there is only one way to change this. We must vote. ... We must encourage every single person we know to do the same and victory will be ours."