Less than five minutes went by from when Officer Urbano Rodriguez Jr. turned on his lights to pull over Michele Stacey and when she sped down West University Drive toward the interstate Tuesday morning, leaving behind a critically wounded Rodriguez and a rookie officer trying to keep him alive.
Two days later, Rodriguez was still fighting for his life at a Denton hospital Thursday from bullets fired into his head and leg by Stacey's passenger, Antwon Pinkston, charged with attempted capital murder of a peace officer.
As the Denton Police Department gave no new information about Rodriguez' condition — aside from saying Thursday afternoon he is still responsive — or his work history in Denton, news outlets around North Texas began publishing security camera footage from a pawn shop across the street from the Taco Bell where Rodriguez was shot, showing the beginning of the traffic stop and the end of it.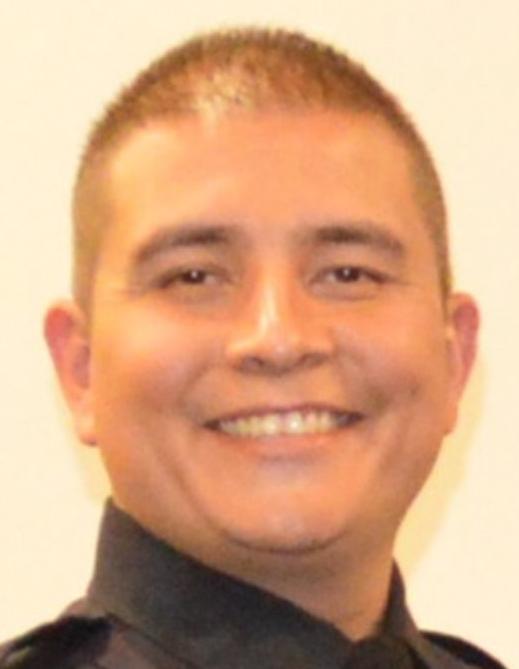 The footage, obtained as well by the Denton Record-Chronicle, does not show Rodriguez getting shot. It was given to the public by Caleb Meadows, the manager of Glen's Pawn Shop, who said he spoke with police detectives some time after the shooting and turned over the footage as evidence. Meadows told one news outlet he hopes the footage from the pawn shop helps in the investigation.
In Pinkston's probable cause affidavit, authorities said they reviewed Rodriguez' body camera footage, which will likely be used as the primary evidence in the case.
The first video shows Rodriguez initiating the traffic stop, turning on the lights on his police SUV to pull over Stacey's car. In the second video, pay attention to the top right-hand corner; there, the car's headlights can be seen navigating the parking lot, making a right (left in the video) onto West University Drive. The third video follows the vehicle out of the frame.
Both Pinkston and Stacey were in the Denton County Jail on Thursday, still on the same charges. Stacey is held only on a parole violation, jail records show. Denton Police Chief Frank Dixon said during a news conference Tuesday that it is possible she could face the same charge as Pinkston, who Stacey said to a Texas Ranger told her to drive away from the scene when Rodriguez was shot.
Stacey was wounded by gunfire when Randy Cole, the Denton officer who responded to the call as backup to Rodriguez, returned fire at the vehicle. Pinkston was also injured. Police characterized their injuries, for which they were treated at a Carrollton hospital before they were taken to the Denton County Jail, were minor injuries.
Denton police spokespeople declined multiple times to make officers available for interviews to address how the department is doing after the shooting, the first of such since 1992.
Spokeswoman Khristen Jones would only say Rodriguez' critical status has not changed.