Lisa Hanson admits the idea was selfish.
After traveling to New York and experiencing Camp Abilities — a weeklong sports camp for blind, visually impaired and deaf-blind students, Denton ISD's Certified Orientation and Mobility specialist returned to Texas with an initiative.
Her mission was simple: Start a Camp Abilities in Denton for local students.
"There wasn't anything like this offered in Texas," Hanson said. "I want my kids to have what all other kids have. It was kind of selfish. I realized there was no reason my students in Texas shouldn't be afforded these same opportunities."
Now, seven years later, the weeklong sports camp has become a mainstay in the Denton community.
Hanson and Denton ISD partner with Texas Woman's University to put on the camp, which runs through Friday. It is open to visually impaired children ages 9 to 18.
Activities are held at various locations throughout Denton, including TWU and the C.H. Collins Athletic Complex parking lot.
"I think it's really important for the university and school district to collaborate," TWU representative Lisa Silliman-French said. "I think that's truly important to bond the university with the school district so we can have these nice programs available."
This year, the camp is hosting 18 athletes from across the state. Campers participate in specially modified activities such as tandem biking, goal ball, gymnastics, swimming and beep baseball.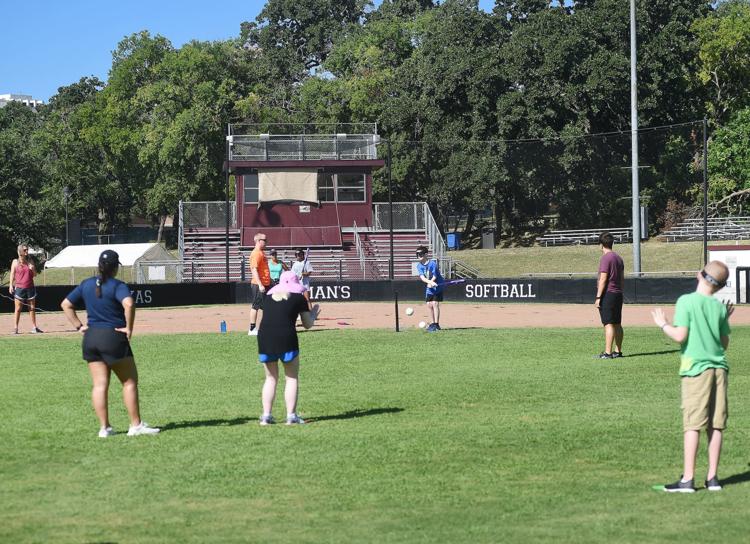 Beep baseball, for instance, is a version of baseball that has been altered for the visually impaired campers. There are only two bases, first and third, and the bases and balls all beep.
With only seven players on the field, teams score points by knocking over a base before the ball is fielded. Hanson said one of the main goals of the camp is to encourage visually impaired students to become more physically active.
"A lot of times, kids with visual impairments are very sedentary," Hanson said. "We want to encourage them to be more physically mobile and active, and participate like their typically sighted peers would participate."
The camp is run by volunteer coaches, with a majority coming from TWU as undergraduate or graduate students. The students prepare for the camp by taking a course taught by Silliman-French.
"We prep them all year to get ready to be a coach for these sports," Silliman-French said. "They're the first layer. Then we have volunteers from across the United States."
Other coaches at the camp include volunteers from Utah, New Jersey and Delaware.
At the end of the camp, participants receive an assessment they are able to take home that shows they are proficient in various physical activities. Hanson said after seven years of hosting the camp, she believes it has positively impacted several students with a visual impairment.
"All week long the coaches have an assessment with them," Hanson said. "They're checking off all these activities. And at the end of the week we send that assessment home for the parents, P.E. teacher, vision and mobility specialist — and whoever needs it gets this assessment.
"I have gotten calls from kids who started coming here a few years ago that don't live in my district. I've had kids call me and ask me to send their assessment again because their P.E. teachers aren't giving them anything to do or aren't including them. They want the recommendation to prove they can do this."