CLARIFICATION: The proposed expansion of North Bonnie Brae Street between U.S. Highways 77 and 380 is still in the early stages, and any plans are prone to change. The initial headline of this article was more definitive than can be established at this point in the process.
Three sets of homeowners learned Thursday they could lose their homes within approximately two years.
The shock came during an open house meeting held at Newton Rayzor Elementary School designed to answer questions about approaching construction on Bonnie Brae Street.
The meeting focused on a northern section of the street that runs past the new Denton High School, which is currently under construction. The section is meant to be finished up in time for the campus to open for the 2022-23 school year.
At that point, the four-lane road will be expanded into a divided four-lane road, which will pave the way for an eventual expansion into a six-lane divided roadway.
City of Denton and Texas Department of Transportation officials were accompanied by representatives of engineering firm RPS, which is contracted for the project.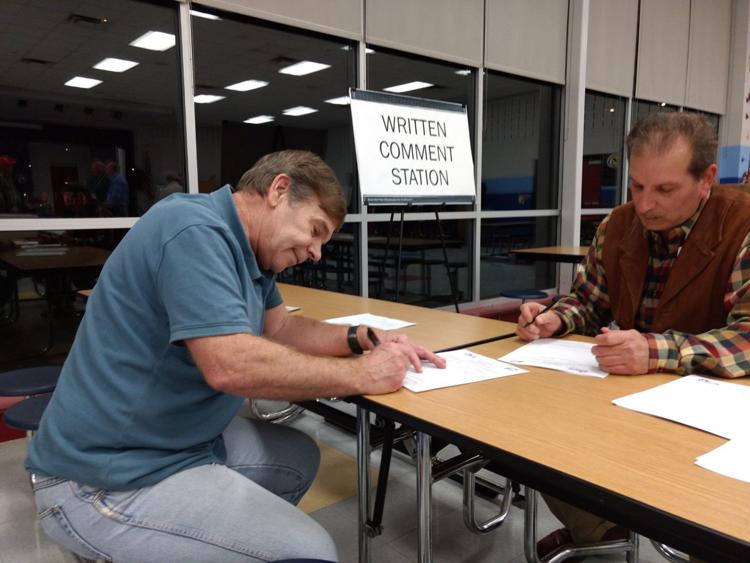 Sprawled across cafeteria tables, families saw an aerial view of schematics showing the impending road construction. Three red boxes with slashes running through them were marked "Proposed Displacement."
Catherine Hobbs, one of the RPS representatives present, said acquisitions won't start until after an environmental clearance comes through. That process probably won't start until May, she said.
Shawn Smith, one of the homeowners, said he knew about the proposed road expansion, but he had no idea his home was on the chopping block until Thursday's meeting.
"[City officials] didn't notify any of the property owners until it was in the paper first," Smith said of the expansion. He was referring to a recent public notice advertisement that ran recently in the Denton Record-Chronicle, announcing the open house meeting.
While he's upset to lose his home, Smith said he's most worried about the neighbors he's lived next to for his entire life. Both husband and wife are in their 90s, he said, and they've lived in the home since approximately 1970.
Their current home is also where Smith was born. His parents, John Linn and Dorothy Smith, sold it to their now-neighbors a few years later.
John Linn Smith said his family bought the lot the new Denton High is being built on in 1937, and he farmed it from 1958 until Denton ISD bought it in 2018.
"The high school is all around us," he said Thursday evening.
While its odd to see the family land be turned into a school, he and his wife said they're not altogether upset about it. Both of them, as well as his brother and sister-in-law, went to Denton High School decades ago.
"We're sort of happy about it," Dorothy Smith said. "We're OK. God always has a plan for every person — every family."
Another homeowner, who declined to provide her name, was less optimistic. Red-eyed after looking at the schematics laid out, she said she's sure the city will pay her what the home is appraised for, but public entities can't pay people for the sentimental attachment she has after 30 years of home ownership.
She said she'll have to hire an attorney to navigate the process.
Homeowners aren't the only ones affected by the proposed acquisitions. Immaculate Conception Catholic Church might lose part of its parking lot and landscaping that's nearly finished.
Mark Lindsey, business manager for the church, attended the meeting Thursday on behalf of the congregation. Since the church added additional parking, it was required to add some foliage to comply with the city's green space policy, but that might soon be torn up to make way for Bonnie Brae.
The future of that effort is up in the air until the setback is announced by TXDoT, Lindsey said. Now it's just a matter of seeing where the pieces fall.
"If the city didn't know, the city didn't know," he said.
Other than that frustration, Lindsey said he's worried about the lack of pedestrian crossings in the schematics he saw. Because some parishioners are forced to park across the street, he's worried a six-lane street will be a safety hazard down the road.
"It's beyond the parking," he said. "Safety is the biggest thing."
Seemingly perpetual growth and rising property taxes were constant undercurrents throughout the meeting. As Denton continues to boom, and with Denton ISD along for the ride, many looked at the Thursday revelations as an eventuality.
Rob Storrie, a homeowner near the proposed construction, said he sees this sort of thing becoming more common across the state: "We're stuck in this growth spurt, and I don't see any retreat."