The walk across the stage at a Denton ISD graduation is a matter of feet. But for two Class of 2018 graduates, the journey to the stage spanned thousands of miles.
Samantha Brandt, part of Braswell High School's first graduating class, spent half of her childhood in Ukrainian orphanages before being adopted by her American parents.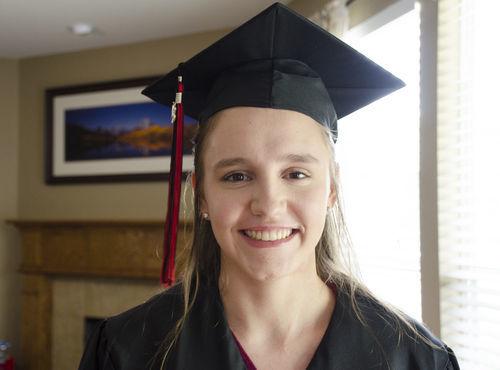 Guyer High School's Gerardo Miranda Mendez illegally crossed the border into the United States with his parents when he was 3 and has lived in Denton ever since. He signed up for the Obama-era Deferred Action for Childhood Arrivals program two years ago and has a permit to work in the United States.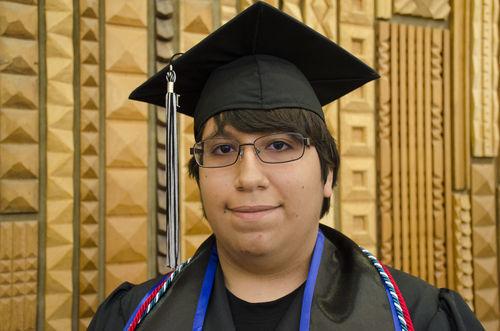 Both students will turn their tassels to the left on Thursday and Friday to signify the end of their high school careers. As they celebrate the milestone with their friends and family, each one stares down the future and the inevitable junctures that lie ahead.
"We have a lot more opportunity here," Brandt said. "Sometimes, people don't understand the position they're in, to be fortunate enough to have certain things and not take advantage of them. Being here gives me a better chance of going to college and starting a career."
Coming to America
When Brandt was born, she lived with her mother in a small apartment in Ukraine. But her mother struggled with addiction disorders and eventually, Brandt and her older sister were taken to an orphanage that Brandt described as "run-down."
"It was in the basement of a building and there was a cage to make sure nobody got out," she said.
Soon after, Brandt was taken to another orphanage that also operated as a school. By the end of her residency in Ukraine, she had lived in three facilities. The shuffle ended just before her 11th birthday when Anthony and Heather Brandt came to adopt the sisters.
"We wanted a large family," Heather Brandt said. "After the third baby boy that we had, I told my husband that if we were going to have girls, we were going to go get them."
Brandt's life in America meant adjusting to new customs and new house rules.
She made friends easily because everyone was curious about her accent, she said.
But outside and inside the schoolhouse, she and her sister struggled with English.
"There was a huge language barrier," Brandt said. "Trying to communicate through Google Translate was not the best way to do it. We studied almost every day to learn basic English. In school, we started off with math because it was the same, but once we got to reading, it got tough again."
Miranda Mendez said his parents don't talk much about their journey from Mexico to Texas, but he knows they came to Denton sometime in December 2003.
Like Brandt, he faced a language barrier when he got to the States, but his young age helped him adapt quickly.
"I was young and had to learn two languages at the same time," he said. "It was a bit difficult. I had separate vocabularies for both English and Spanish, but I didn't have anyone to tell me what words meant, so I had to figure it out on my own."
Forging a path
Once Brandt and Miranda Mendez broke down the language barrier, they seemed to find their niche in high school.
While at Braswell High, Brandt ran track, played volleyball, took Advanced Placement courses and dipped her toes into the art world. Her animation teacher, Larry Schenck, called Brandt "a standout leader from day one."
Over at Guyer High, Miranda Mendez started taking law enforcement classes, participating in internships and volunteering at a local community garden.
His law enforcement instructor, Andrea King, said Miranda Mendez was one of the most respectful kids in her class.
"If you would ask questions, he would always try to give you an answer," she said. "He would do anything for anyone."
After she walks the stage on Thursday night, Brandt will go to Texas Woman's University in the fall to study kinesiology. Once she finishes her degree there, she said she plans to apply to Baylor University's military physical therapy program.
"I've done track for the last six years, but I've hurt myself quite often," Brandt said. "I like what physical therapists were able to do for me and I like helping people ... and I didn't want to be a doctor because I don't think I can handle blood and cutting people open."
Heather Brandt believes her daughter's competitive spirit will take her far in life.
"I think her personality will make her the type to be successful because she's always putting her best effort forward," she said. "She wants to do as well as anyone else, if not better."
Miranda Mendez has found a way to channel his compassion into a career and says he wants to go into law enforcement after graduation.
"My father never really gave me much support but he did tell me to do something useful," he said. "So I thought a lot about that and when I took my law enforcement class, I realized that I could help the most people by being a patrol officer."
But he knows that road will be longer for him than it will be for others. In order to be a police officer in the United States, he'll have to get his citizenship.
He said his plan is to get a job over the summer and save up money while he applies for his residency. He also plans to join the Denton County Community Emergency Response Team to learn new skills.
Once he gets his residency, Miranda Mendez plans to join the military and find a path to citizenship. As his mother smooths out the wrinkles in her son's graduation robe, she said she's worried about him going into the military, but is proud of him for chasing his dreams.
With legal challenges surrounding DACA, Miranda Mendez is uncertain about his future in the country as he prepares to reapply for the program, but he remains focused on his goals.
"There are so many things that could happen with the president and legislation," he said. "I don't know what could happen. I just hope for the best."