All Aubrey High School football coach Keith Ivy could do was watch.
The once muscular, fit 36-year-old was frail and weak, lying motionless on a hospital bed. For nearly three weeks, Ivy had been paralyzed and unable to even speak as Guillain-Barre syndrome ravaged his body.
The persistent beep of his heart monitor pierced through his hospital room while IVs protruded out of his arms. On the verge of death, Ivy looked on as his doctor told his wife, Amber, the news.
Keith had only hours to live.
"She just fell to her knees," Keith recalled. "Obviously, she was very upset about it. My vitals were out of control. My heart was over 200 beats per minute. My blood pressure was dropping. It was such a severe case. They had never seen it get to that point for someone in a long time."
An extremely rare auto-immune disease in which the immune system mistakenly attacks parts of the peripheral nervous system, Keith's body was destroying itself from the inside out.
While there is no cure, treatment is generally effective. Eighty percent of adults who recover from Guillain-Barre are able to walk independently six months after diagnosis, according to the Mayo Clinic.
But Keith was not concerned with being able to walk again.
He was just trying to survive.
"Everything I read said it was terrible, but everyone recovers," Amber Ivy said. "I thought I didn't have to worry about that. Then the doctors came in and said this was the worst case that they had ever seen. They said I needed to call in my family and friends and get my support group together. This was a case that he would not survive."
A downward spiral
Keith Ivy's battle with Guillain-Barre started in March 2009. The only problem was he, and his doctors, didn't know it yet.
On an ordinary Monday at Cleburne High School, Ivy, then the Yellow Jackets' defensive coordinator, noticed something strange. After attending his weekly coach's meeting, Keith went to the weight room for a quick workout.
It only took a few minutes before he realized something was awry.
"I went in there and noticed my hands were numb and I was weaker," Keith recalled. "I was like, 'Something isn't right here.' A couple of days later it started moving throughout my body."
Ivy and his wife than paid their first trip to the doctor, only to be told it was nothing severe.
"We went in and the doctor said he had a viral infection and that he should stay home and rest," Amber said.
But a few days later, Ivy was barely able to climb into his truck. Once inside, he couldn't even turn the key to start it.
"At that point we took him to see a neurologist," Amber said. "They told us it was just anxiety and that he would be fine. Within a day he was in severe pain."
Keith went to the emergency room the next day where doctors performed a spinal tap. Doctors had narrowed his diagnosis down to two conditions — multiple sclerosis or Guillain-Barre.
But while they waited for the results of the spinal tap, Keith was sent home again, still in excruciating pain.
His condition was rapidly deteriorating.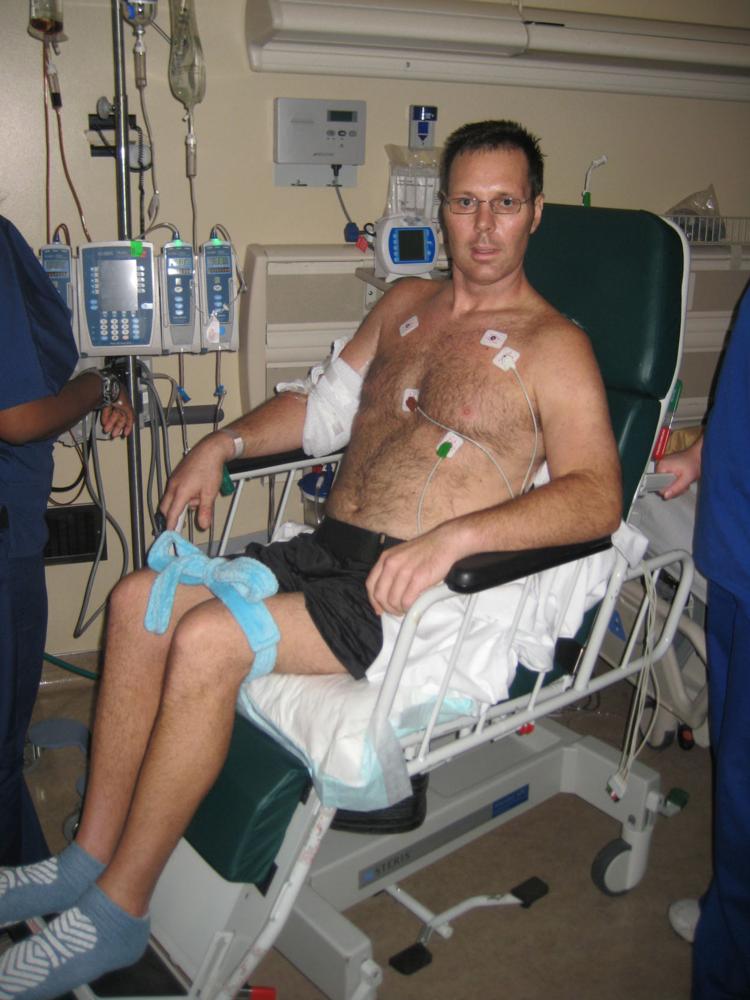 "My body started in a downward spiral," Keith said. "It was going downhill very quickly. I was in a lot of pain. My back and legs ached. I couldn't hardly sleep."
By the time Keith and Amber got to the hospital the next morning, Keith could barely walk.
Keith was admitted and an onslaught of tests ensued, until finally, early one morning, doctors began treating his condition.
Intravenous immunoglobulin, or IVIG, was administered, and Keith's condition started to slowly improve. The treatment, which contains the pooled immunoglobulin plasma from a thousand or more donors, is common today.
But in 2009, when not as much was known about Guillain-Barre, nearly two weeks passed before Keith got his first dose.
"Had that been started three days or a week in advance, I don't think we would have become the worst case anyone had ever seen," Amber said. "We started seeing some improvement after that."
Keith remained on IVIG for the next three weeks. Eventually, Keith wanted to return home and continue his recovery there. While this was against doctor's advice, Keith was reluctantly allowed to return home. An ambulance transported him back to Cleburne.
He was back at the hospital in seven days — and in worse shape than when he left.
"They told us had we not brought him back he would have been dead that night," Amber said.
"They gave him no chance"
Doctors intubated Keith and started him on a feeding tube.
Now completely paralyzed, Keith was diagnosed with Miller Fisher syndrome, an even rarer variant of Guillain-Barre, which includes paralysis of the eye muscles and loss of tendon reflexes.
Doctors turned to a new treatment, plasmapheresis, which separates the liquid blood from the blood cells and replaces it with another solution.
The treatment provided little improvement.
Over the next few weeks, Keith battled for his life with his wife at his side. But on one particularly terrible day, as Amber described, Keith hit rock bottom.
Doctors were unable to regulate his heart rate, blood pressure or temperature.
"I knew I was in trouble," Keith said. "To what degree, I didn't know. I was burning up. I remember they were trying to get an oxygen mask on me and I was fighting it. In my mind I couldn't breathe with it on. I was fighting to get it off."
As Keith laid on what many presumed was his death bed, a doctor accompanied by a nurse came in to inform Amber of the news.
There was nothing more they could do for her husband. Keith would not make it through the night.
A walking miracle
While upwards of 60 friends and family members gathered in the waiting room to pray, Amber remained with her husband.
But as the night turned into the morning, Keith was still alive. Amber went home to take a shower and was soon greeted with a phone call she never expected.
"He was able to call and talk to me on the phone, which hadn't happened in months," Amber said. "I never thought I would hear his voice again."
Miraculously, and to the shock of his doctors, Keith turned a corner.
He was not out of the woods, but his condition, for the first time in nearly a month, was improving. Keith spent the next few weeks in the intensive care unit as some of his motor skills started to return.
The next battle would be getting Keith in physical therapy. Still unable to even sit up on his own, doctors told Amber her husband would have to go to a nursing home.
A few days later, after some lobbying from his wife, Keith was in rehab.
"She was the angel there, without question," Keith said of his wife. "She pushed me every day and inspired me every day, but she was also there when I needed a shoulder to cry on. She was pretty perfect through it all. There's no way I would have made it through without her."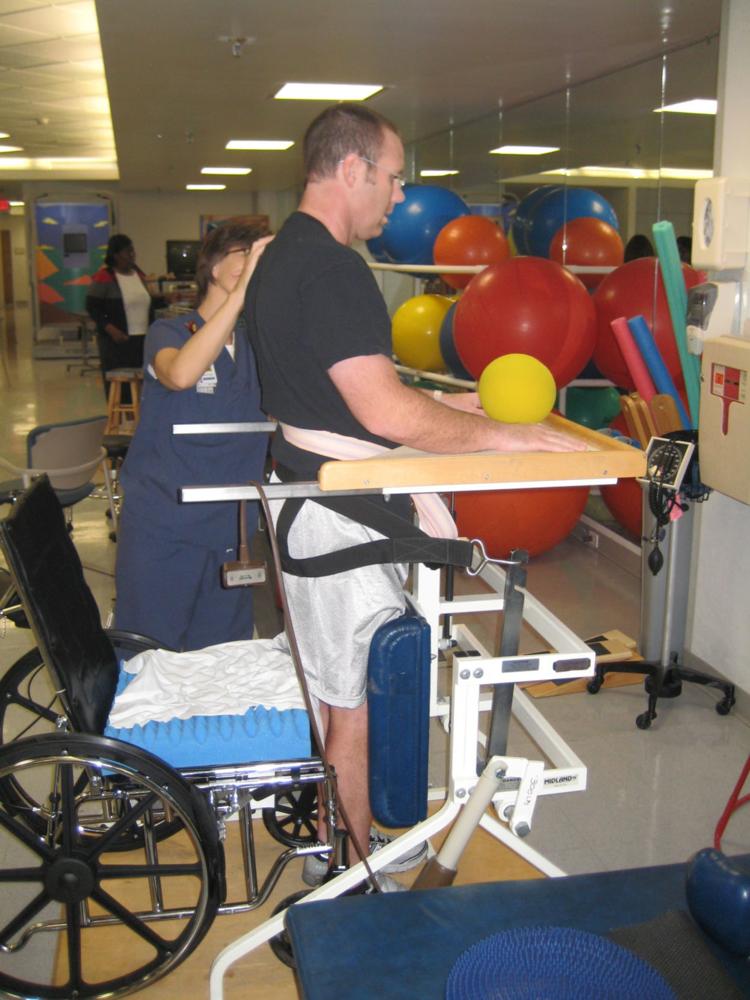 Doctors told Keith it would take upwards of a year in physical therapy for him to walk again, if he ever did at all.
With photos of his two daughters, Addison and Avery, hanging on the walls, Keith completed task after task in less than two weeks.
After a three-month battle that nearly killed him, Keith walked out of the hospital.
"That was fun to watch," Amber admitted. "He did want to prove them wrong. But mostly, he wanted to get back to his kids.
"I fell in love with him in a way that I never loved him before. He's my world. I guess nothing can bring you closer than [almost] losing someone like that. I never knew I could love anyone like I love him."
A blessing in disguise
Ten years have passed since Keith Ivy was given a death sentence from his doctors.
In that span, he went on to become the head coach at Electra and Seymour before landing in Aubrey in 2014. After going 1-9 in his first season with the Chaparrals, Aubrey has posted a 27-25 record since, making the playoffs each of the last four years.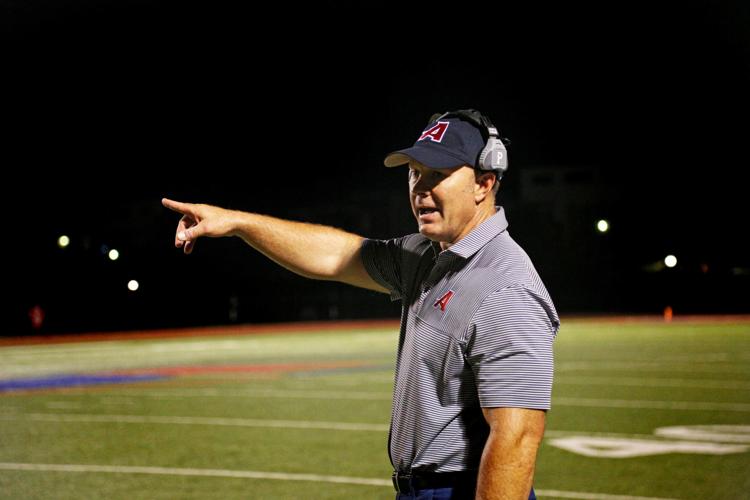 "He's our No. 1 motivator for sure," Aubrey quarterback Jaxon Holder said. "He always finds the positive in situations. He's somebody you can go to for anything, whether it's football or just life. He's the type of coach you want to win for every Friday."
Guillain-Barre is estimated to affect one in 100,000 people each year, according to the National Institute of Neurological Disorders and Stroke. Of those diagnosed, only 3% to 13% are fatal.
For Keith, although his case nearly killed him, he considers his brush with death a blessing in disguise.
Now, upon first glance, there is little to no evidence of the toll Guillain-Barre took on his body.
There is only the reminder it gave him to cherish each moment of his life.
"It gives you a totally different perspective," Keith said. "I never dreamed anything like that would happen to me. But it did. I think it was God's way of teaching me a lesson and slowing me down to make me enjoy the little things and be thankful for everything I have."