Andrew Torget hit his first major obstacle in the ninth hour of his lecture on Texas history. His throat was starting to swell up and it was getting hard for him to speak. He still had at least 15 hours to go.
My first obstacle came much earlier and to a much lesser degree. I had run out of coffee and still had at least 22 hours to go.
Torget and I were both in the University of North Texas Lyceum on Friday and Saturday to set records, he in a more official way than I. The UNT history professor likely set the Guinness World Record for the world's longest history lesson, talking through the origin story of the Lone Star state for 26 hours and 33 minutes.
"During that first and second block, it hit me just how long I would be up here," he said. "But after that, I settled down and got into a rhythm."
Torget will have to wait until official evidence from volunteer witnesses is sent off to the Guinness people, but UNT Libraries officials say he set the record when he hit 24 hours at 9 a.m. Saturday. His record attempt also managed to raise more than $12,000 in donations for the university's Portal to Texas History digital archive.
In the audience, I was composing the world's longest Twitter thread from Torget's lecture. I just didn't have the foresight to tell Guinness. I had taken a history class with Torget when I was a student at UNT but could never snag a spot in his Texas history class. The 30 or so students seated in an area called the "snake pit" were luckier than I was.
Fair warning, friends: this thread is gonna be full of nerdy history stuff for the next 24+ hours. I'm covering the world's longest history lesson attempt by UNT prof Andrew Torget. pic.twitter.com/g6sbmvpNIl

— Caitlyn Jones (@CjonesDRC) August 24, 2018
At least 10 of them had to stay awake for Torget's attempt to count. A few dozed off and got disqualified, but most hung on. Witnesses also had to see them asking questions and engaging the professor.
"Once it gets past midnight, the signals in your brain tell you to sleep but you have to tune them out," senior Jose Huichapa said.
A long-distance runner, Torget understands stamina and has been prepping for this challenge for a year.
He boiled his 14-week class down to 1,600 PowerPoint slides and 500 pages of notes. He said he cut caffeine out of his diet six months ago and tries to keep his vocal cords hydrated. His wife, a speech pathologist, acted as his coach while his two kids served as his inspiration.
Once the lecture got rolling, Torget managed to hit everything from the Karankawa Indians to Quanah Parker, the colonies to cotton, the comebacks of Santa Anna to the rise of Ku Klux Klan.
Torget spent his biggest chunk of time dedicated to the mythic period of the Texas Revolution, detailing each day of the Siege of the Alamo. He was able was to demystify the Republic of Texas for people like me, whose sense of state pride is deeply rooted in its independence.
"Everywhere I've lived, and I've lived a lot of places, there's a moment in history that people who live there strongly identify with," he said during the lecture. "That moment in Texas is the Republic of Texas. What I find incredible is that people don't really know what happened."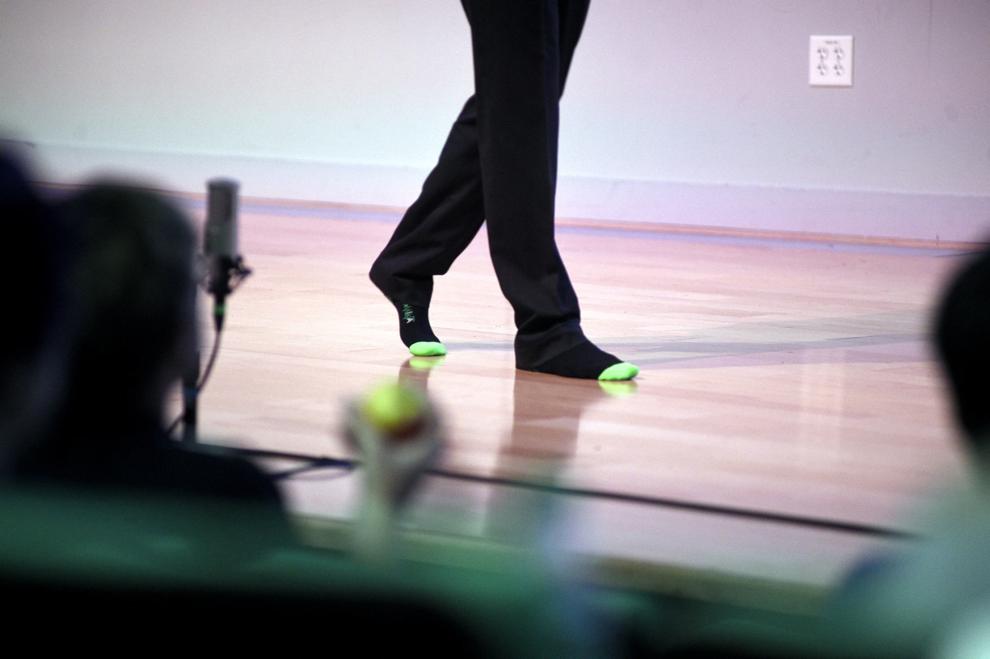 Around noon Friday, Toget took off his shoes and started pacing the stage in green-toed socks. At 10 that night, he rubbed his eyes briefly. When a 3 a.m. break came around, I caught a glimpse of exhaustion cross his face as he bit into a piece of fruit and stared into the distance. It mirrored my own weariness.
If Torget's throat did start to hurt, there was no indication when he got up to teach. His voice never wavered, floating clearly across the space with an ever-present hint of enthusiasm.
Torget made it to the start of the 1940s. Just as Franklin D. Roosevelt was about to start his third term as president, Torget put down his clicker and stated simply, "I think I'm done for the day."
He was met with a standing ovation. Somehow, we had all made it, not because we wrote down names and dates, but because someone told us a tale.
"I was into the story," he said. "I could spend time getting into whatever historical moment we were in and pull through. That's what kept me going."