Extra state money might soon begin flowing into schools with more economically disadvantaged students, as well as into the pockets of teachers.
An optional provision in House Bill 3, the landmark education overhaul signed into law by Gov. Greg Abbott at the end of the 2019 legislative session, allows schools to apply for state money for exceptional teachers.
The plan is fairly simple in theory: Better teachers receive a bonus for their achievements, and more money is given based on the campus's rate of economically disadvantaged students.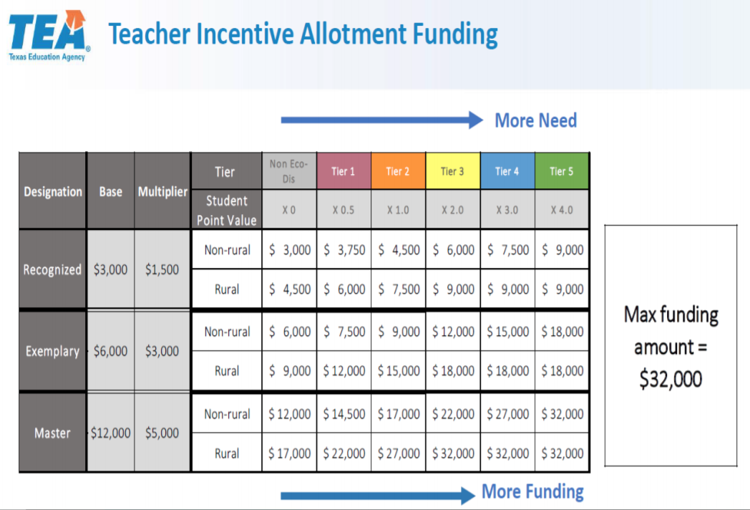 Experts and state officials are still fleshing out exactly how the sprawling law's text will translate into actual changes.
At the highest end, teachers could net $32,000 in state money by working within the incentive allotment system in HB 3. According to the law, 10% of the money would go to the district, but the remaining $28,800 would have to go toward employee pay at the teacher's campus. It would not, however, have to go directly into the pockets of that particular teacher.
During Tuesday's regular meeting of the Denton school board, board member Charles Stafford said he thinks the system would lend itself to a greater emphasis on teamwork as opposed to a corporate ladder approach to education.
Hopefully, the possibility of extra funding for oneself, one's colleagues and one's district would lure high-performing teachers to schools with more students who are economically disadvantaged. Based on Texas Education Agency information, for example, the same high-performing teacher would bring in an additional $20,000 in state money by transferring from a wealthy to a poorer campus.
Tuesday night, board member Jim Alexander said the program might be the most important step toward equity the Texas Legislature has made in a long time.
At the same meeting, Superintendent Jamie Wilson said he grappled with how this optional teacher incentive allotment might work to benefit teachers and students.
Wilson has been a vocal opponent of merit-based pay increases for teachers before, but the provision in HB 3 exists in a different form than typical proposals.
In a May 2019 opinion article published in the Denton Record-Chronicle, Wilson argued that tying paychecks to test scores is insulting to teachers.
"To assume student performance on a one-day, high-stakes test should determine a teacher's salary or a performance bonus for the school district undervalues the merit of a teacher," Wilson wrote at the time.
The difference with the teacher incentive allotment is that school districts would have some flexibility in how they build their criteria. They could measure factors such as student performance, family surveys and teacher leadership. The Texas Education Agency would then approve or deny the process.
Uncertainty surrounding the sustainability of HB 3 has circulated before it was even signed into law. Skeptics worry the state simply can't afford everything it has promised going forward, and Denton school board members made clear Tuesday night there isn't any certainty funding for merit-based bonuses, an optional component of the law, could last.
Tuesday's proposal wasn't up for a vote, and board members have at least a few more months to think things over.