It's a stressful job being a 911 dispatcher listening to distressing calls all day, but two Denton dispatchers say they've learned how to handle it after more than 10 years of service.
The city of Denton's Public Safety Communications Division of 28 people receives hundreds of calls throughout the 24 hours in a day. Working with eight computer monitors each, at least four of the city's 911 dispatchers work calls from the second someone dials 911 to getting an emergency response, and work with officers on a call to run information during a 12-hour shift.
It's a stressful yet rewarding job, said two supervisors with the city of Denton's Public Safety Communications Division.
"The most rewarding thing is when something good happens at the end of a call," said Jenny Dooley, a supervisor with the division who has 15 years of experience at her multitasking fingertips. "I've been here for a very long time. I come in, and I have a job to do. I can't [fall] to pieces on the phone. I have a responsibility to the other people on the line."
They're involved in a 911 call from start to finish. They're trained not just in processing calls but also in running the names of people police detain to accurately identify them (and see if they have active warrants) and on talking people down from mental health crises.
On calls with people who are potentially suicidal, supervisor Deiva McCarthy said they try to keep callers calm to set the scene for when help arrives. A lot of it is repetition and using calming techniques such as asking callers to breathe deeply but avoiding telling them to calm down. She said callers typically don't like being told to calm down.
"We let them know that we do care and we're going to get them help," McCarthy said. "A lot of times, it's just being that voice on the phone, keeping them calm and reassuring them that we're there for them and trying to get them help."
While she doesn't handle 911 calls, Sherri McCarthy at Denton County MHMR is a licensed professional counselor who goes out and meets potential clients dealing with a mental health crisis for assessments after MHMR receives a referral.
These assessments used to be in person, but she said MHMR is trying to keep their employees safe from COVID-19, so many assessments are virtual now.
"The first thing is that to be in this field, you have to have already practiced staying calm," Sherri McCarthy said. "When people are brand new, it jars them a little, but we're trained just like police officers and EMTs. They see horrible things all the time, and it does wear on them, but they're taught to stay calm."
Keeping her goal in mind — wanting to help the client get better — helps Sherri McCarthy stay calm. She also compared it to almost getting into car crashes.
"It's upsetting when you're in a near car accident," she said. "You're calm during the whole thing, and then when it's over and you pull over to the side of the road, you start shaking and crying after. Which is good, because you need to stay clear-headed in the midst of trying to swerve around it."
Over the past 30 years as a professional, Sherri McCarthy said she uses ironic humor to manage the stress, saying, "Oh this is a good day. This is fun," when it's been a challenging day.
"MHMR is also really good at helping us with self-care," she said. "This is the only facility in my 30 years of employment that addresses the issue of self-care for mental health workers. … They are generous with paid time off and understand that sometimes you need to take a mental health day."
Although they're supervisors, Dooley and Deiva McCarthy still handle calls in their roles, but they're also keeping an eye on everyone else. Both were stay-at-home moms before they decided to apply for dispatcher positions.
Deiva McCarthy always wanted to go into law enforcement, and Dooley decided to fill out the lengthy application, despite not wanting to do so initially, after her now ex-husband lost his job. They have a combined 27 years of experience.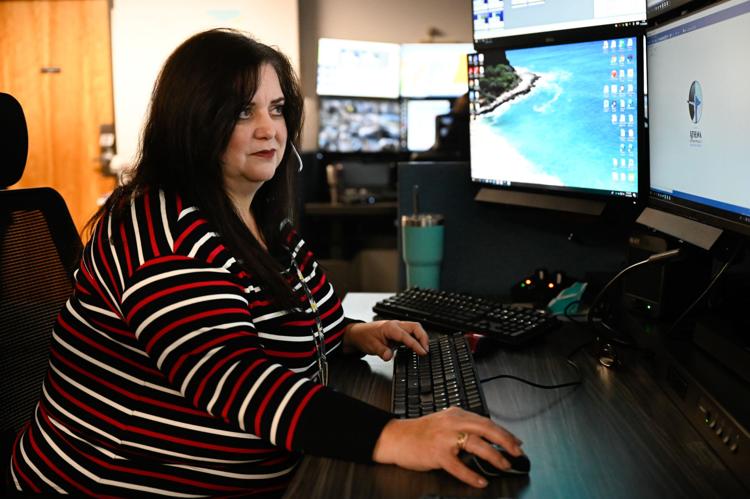 After working as dispatchers for all these years, they've learned how to manage the stresses the job can bring and manage their own mental health after particularly distressing calls.
"I listen to books on tape, I paint," Deiva McCarthy said. "On the way home, I listen to books on tape to focus on that and not rerun calls [from work]. … I go to church and pray."
On particularly hard days, she said she talks to her husband or talks to her kids whenever children are involved in calls, although hers are all grown up.
"Usually, if it's a super hard call, and I've had plenty, I will ask someone to take my radio channel for five minutes," Dooley said.
The most stressful parts of the job involve not having enough information, McCarthy said. Not knowing someone's exact location and having that delay of information, for example.
"People may have unrealistic expectations," she said. "Not every [cellphone] has a great ping."
She brought up movie scenes where a dispatcher is looking at a screen and can see the caller. This isn't reality.
Public Safety Communications Manager Paul Bradley said the division also piggybacks off of the Denton Police Department's briefings because they're involved in the same calls, just in a different way.
"We definitely have briefings on major calls, and we are a part of those," McCarthy said. "We're able to sit down with the officers and all talk about the call, and it kind of helps to know other people might be feeling the same way you are."
Dooley said the whole job is rewarding, but it's especially rewarding when people are safe at the end of the day.
"The most rewarding thing is making sure the officers go home safe and making sure the citizens are helped in a timely manner," Dooley said. "You get a call where someone is suicidal or they've lost a child, and digging for information to make [a solution] come to fruition is the most rewarding to me. It's making sure you do everything you absolutely can."