Bryce Bell has just turned 2, but he is unable to hold his head up or walk unassisted. He wasn't expected to survive this long.
Bryce was diagnosed with an incredibly rare, terminal disease known as Menkes syndrome early in life.
Kasey Bell, Bryce's mother, said the first sign of his illness reared its head when he was only 4 months old, when her youngest son had his first seizure.
Even though both she and her husband work in medicine, she said the experience was terrifying.
"I think you become used to treating other people, but when it's one of your own, it's very scary," she said.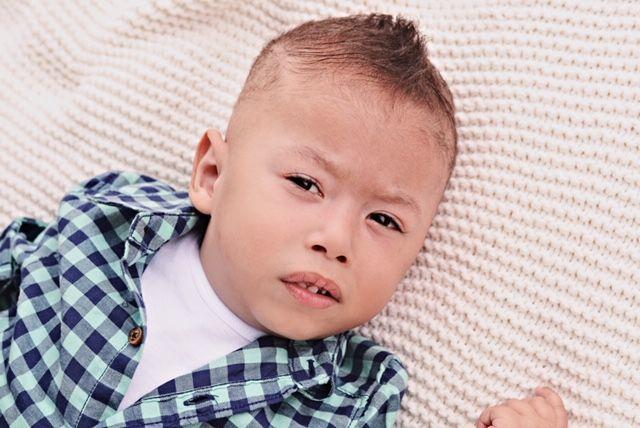 She said Bryce is completely dependent, can eat or drink only through a feeding tube and has low muscle tone, among other symptoms. He still has daily seizures, despite frequent treatment from specialists.
The majority of children with Menkes syndrome die within their first decade, according to the National Institutes of Health. No cure is currently available, and treatments seem preventive at best.
Despite the high cost of health care for her youngest son, Bell said she isn't receiving any state support.
"I can't get him qualified for any state government funding because I make too much, and my husband makes too much," she said.
For the past few months, she has maintained her career as a triage nurse from home in order to remain flexible for Bryce's frequent hospitalizations. Her husband, Delante Bell, is a firefighter and paramedic with the Denton Fire Department.
Kasey Bell said she has been arguing with state agencies for months to obtain additional health care coverage, but she has so far been unsuccessful. For now, the Bells rely on fundraising efforts to pay for medical equipment, medicine, hospital visits, appointments with specialists and everything else that accompanies a child with a terminal condition.
This Saturday will mark the second annual Bryce Brave Benefit Softball Tournament, a primary fundraising effort for the Bells. The tournament was originally scheduled for April but was postponed due to rain. Corey Byrom, along with Chris Phillips, helped organize the first tournament this past year.
The event grew out of Denton firefighters' infrequent softball games and steady support of the Bells: "Just kind of when we heard that Bryce was sick — we all play softball together as a department a couple times a year," Byrom said.
About 20 teams came together to raise about $5,000 last year, but Byrom isn't holding his breath for a repeat of that this year.
"This is a makeup day, and we've already had teams back out because of a game close to Father's Day," he said. "As of right now, we have about 12 [teams registered], whereas we had 20 last year."
Whatever happens, the Bells are grateful for "our firefighter family and everyone else involved in donations and setup for this tournament," Kasey Bell said.
Registration costs $300 per team and $20 per game. The losing team's $20 will go to pay the umpire for each game. Games will likely kick off between 8 and 9 a.m. Saturday, and updates will be available through the event's Facebook page at https://bit.ly/2WsL6DD.
Registration is open through 7 p.m. Thursday. Those looking to participate can call Byrom at 903-821-9774 or Phillips at 940-367-8987.