While the University of North Texas hit major goals set by administrators like increased retention last year, UNT President Neal Smatresk laid out what he wants to improve during his annual State of the University on Thursday.
He also outlined the accomplishments since last year: an all-time high in research expenditures, $74.7 million; raising $60 million in donations and pledges; and an enrollment of 39,320 students this fall. Plus, the university nearly hit it's retention goal three years early: 80% retention was the goal for 2022, and the retention rate is now 79.3%, Smatresk said.
"Last year, we had a huge push around retention. It was a top issue," he said. "We go the extra distance to help our students succeed, so what I have to say to everyone here who helped contribute to that, whether you gave a scholarship, helped a student with financial aid, whether you were in class and reached out to the student who was struggling a little bit, you really made a big difference."
The beginning of the presentation was a victory lap, while he spent the bulk of his time outlining goals for the upcoming academic year and beyond.
Smatresk envisions the UNT of the future as a strong research university, alongside peers like the University of Connecticut and Louisiana State University. The plan to get there is through continuing efforts in research from interdisciplinary studies to expanding lab space and capabilities, Smatresk said.
He also talked about master planning in Denton and in Frisco to envision the campuses of the future, without getting into details of how the process will work. But he did voice some of the thoughts that are balancing in his head as officials work toward a new master plan: How does the current disruption in traditional education, like online learning, impact what the students of the future need?
Looking forward at that, Smatresk also talked about building cultural competence on campus, as the student body is increasingly composed of minority students. When he brought up cultural competence, the audience erupted in applause.
"We need to treat first-generation college students and ethnic minorities with the kind of support that will help them on their path to academic success," he said.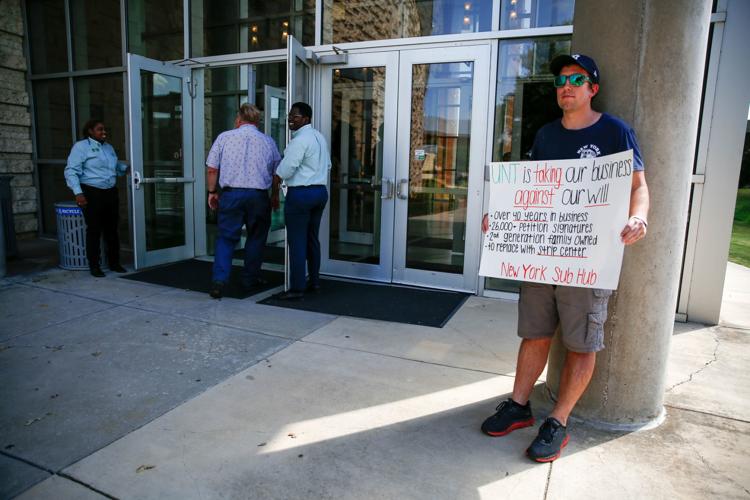 As nearly 700 attendees walked into the Murchison Performing Arts Center to listen to the address, they passed Hunter Christiansen, owner of New York Sub Hub. UNT officials are working to buy the property that houses his business, and have been authorized to use eminent domain if a deal isn't reached.
His fiancee wrote out on the poster board, "UNT is taking our business against our will" with additional bullet points. The goal was to raise awareness and try to fight back, Christiansen said.
The move landed him a meeting with Smatresk, and the two chatted and shook hands. The positive interaction left Christiansen hopeful a deal to save the business could be reached, he said.
"I think we agreed that we'd both like to sit down and come up with a creative solution, that's what I took from it," he said. "I've wanted to be civil about this the whole time and try to work something out with UNT, so that's why I just wanted people who were going to be there to see what we were going against."