AUBREY — What's the best part of living or working in Aubrey? No matter who you ask, the answer is the same: "It's the people, by far," says Library Director Kathy Ramsey.
"I think there's this pocket of really good people, a little bubble in this part of the county that's just great, great people," she says. "They really want good things for themselves and their neighbors."
This growing city — about 12 miles northeast of Denton at the junction of U.S. Highway 377 and FM428 — already extends its support and services well beyond its official borders. But its many caretakers are more than up for the challenge.
A big heart
"Aubrey is a dynamic small town with a big heart and room to grow," says Mayor Janet Meyers. "Our best attribute is our people."
She points out a few of the organizations that embody the city's big heart: The Aubrey Historical Society was started in 2010 by volunteers who now operate a downtown museum chronicling community history. Keep Aubrey Beautiful provides free summer concerts, promotes recycling, picks up trash and puts on the long-running Peanut Festival every October. The Aubrey Education Foundation gives scholarships to teachers and graduating seniors. H.O.P.E., a food and clothing ministry, serves anyone in need every second Sunday.
Meyers also credits the passion and patience of the city of Aubrey staff, board and commission members.

"From library, fire and police to water and wastewater, this smart, funny and patient group of professionals has stuck with the city through thick and thin," she said. "Their hard work makes all of our lives easier and safer."
Outside the lines
While Ramsey, Meyers and City Administrator Mark Kaiser all speak to the challenges of Aubrey's recent growth surge, they do so with an appreciation for how surrounding communities are working together, even when the exact lines are still a moving target.
"Trying to understand who we really are is a message we've been working on," Kaiser says. "We're not defined by a postal code or even school district boundaries, but instead a series of boundary agreements with our bordering jurisdictions, which include Denton, Pilot Point, Prosper, Little Elm, Krugerville, etc."
While today's Aubrey is officially about four square miles, its lines will one day include about 40 square miles as defined by those agreements. The generous city already provides services to much of that larger area — 40-plus square miles of coverage from police, possibly double that for fire, and all of Denton County is welcome to check out a library book.
In the past 10 years, the population has nearly doubled from 2,595 in 2010 to an expected 5,000 by 2020, according to Kaiser. And 2,200 of those residents have been added in the past five years. That rate of growth is expected to continue for another five years.
Though most growth has been residential, Kaiser says Aubrey's expanding labor pool is also drawing interest from employers, including an out-of-state manufacturer that has recently expressed interest in the area. "Hopefully, this is the first of several facilities we'll attract," he says.
Kaiser is aware that "we're a small piece of the growth of Denton County. We're proud to be a part of Texas and Denton County, and we feel geographically blessed that we are being given the stewardship of this area. It's our goal to work with everyone around us to provide that critical balance of culture and growth in a cost-effective and authentic way."
Ponies and peanuts
Aubrey was founded in 1867. The name "Aubrey" was drawn out of a hat for the town's post office application, replacing its original name, Onega.
In the 1940s, peanut crops began to replace cotton as a key part of Aubrey's agricultural economy.
"When it came time to harvest the peanuts, the people of Aubrey and the surrounding communities traveled from field to field, working together," according to a historical blog by Denton County History and Culture.
Aubrey's peanut-drying mill still represents that heritage, and a new elementary school has even borrowed some of its architectural details as a nod to the city's agricultural past. The Aubrey Peanut Festival in October, now in its 34th year, celebrates the continuing spirit of neighbors working together for the greater good. Appropriately, this year's theme was "Love, Peace and Peanuts."
"Our citizens, we're all good country folk," Kaiser says. "I grew up farming a lot of this area. ... I've seen it go from the two-lane farm-to-market country roads to what it is today."
Starting in the 1980s, many peanut farms were sold to ranchers or horse facilities. "We are very conscientious that this has long been known as horse country, and we take great pride and want to preserve as much of that as possible," Kaiser says.
Aubrey is home to racehorse breeders, horse trainers, therapy facilities, rodeo grounds and ranches that have been passed along for generations. A recent Texas Highways article dubs the area "a true equine mecca" and shares details of the hundreds of local horse facilities, including the 80-acre Tom McCutcheon Reining Horses ranch, which is part of a six-hour tourist bus tour of the "horse epicenter of the Lone Star State."
Kaiser adds, "We want to find ways to support those operations and allow them to continue to grow and prosper and expand."
Favorite places
"The Aubrey area is meeting the growth in a very thoughtful and supportive way," says Ramsey, noting that the library first opened downtown in 1986 as a place for neighbors to gather.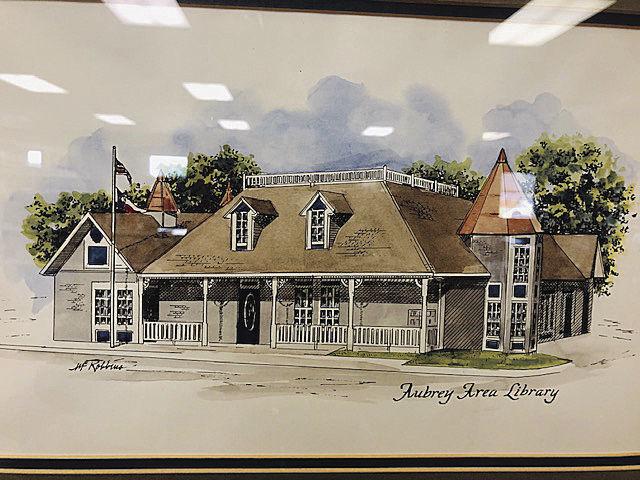 A new location opened in 2006, and today, the 14,000-square-foot library and community center holds daily events such as children's book readings, yoga, senior citizens' exercise classes, book clubs, therapy dog visits and even a Pokemon club. It is also, of course, popular with readers — with 200 new library cards issued in three months this summer.
"We are the library for everyone," Ramsey says. "The nice thing is that, back in the '80s and then again in early 2000s, when they were planning this new library, nobody had an idea of city boundaries. The whole farming community came together to build a library, and they started the Aubrey Peanut Festival to support the library, with a pony auctioned off in one of the first festivals."
The library ran the festival for 20 years then passed it to Keep Aubrey Beautiful.
Aubrey residents Matthew and Stephanie Joyce found the city five years ago when they moved from Missouri. Matthew appreciates the neighborly vibe of those they bump into at favorite restaurants such as World Famous Mom's, Ernesto's for Mexican flavor and Bebo's and Kathy's Café for barbecue and occasional live music.
"Complete strangers talk to you at dinner like family," he says. "People will pull over and help you with a flat tire, and they'll go out of their way to open doors for others."
The Joyces and their two young kids are also big fans of Team Family Farms, an event venue that hosts fall activities such as a spooky trail, hay maze and pumpkin picking and offers year-round feed-the-animals field trips for the kids to help them keep in touch with rural farm culture.
If there weren't enough reasons to love this endearing town, Meyers offers a reminder that Aubrey is about 15 minutes from a boat dock on either Ray Roberts Lake or Lewisville Lake.
"In the summer, it's possible to come home from work, hook up the boat and spend time fishing or skiing before dark," she says. "If you'd rather hike, ride horses or canoe, the Greenbelt is just six miles west. Aubrey is a great place to call home."