FLOWER MOUND — Denton County athletes won their fair share of medals at the recent Special Olympics in Abu Dhabi, Dubai.
Spencer Roberson, 25, and Reyna Taylor, 29, medaled in equestrian events in part because of their many years spent at Stable Strides Farm in Flower Mound.
Another stable regular, Dillon Smith, earned silver and bronze medals in cycling events.
Stable Strides Farm is a nonprofit dedicated to providing therapeutic horseback riding to military veterans and people with disabilities. It operates out of Bridlewood Stables and Equestrian Center.
"Our riders develop skills that give them bragging rights to their able-bodied peers," the program's website says. "We have heard riders speak their first words and seen them become strong enough to take their first steps."
Trainer and program director Mandy Cleveland opened Stable Strides Farms with her husband, J, after years of experience with competition riding, several courses in therapeutic riding and a degree in special education.
She's watched Roberson and Taylor grow from children to Olympians, developing equestrian and real-world skills along the way.
Spencer Roberson
Roberson was diagnosed with autism and attention deficit hyperactivity disorder when he was 3 years old. He and his parents were given a list of activities that might be therapeutic.
"A lot of therapies that doctors give kids, those therapies usually end when school ends in either grade school or high school," said Roberson's mother, Roxanne Roberson. "He just needed a sport that he could do forever."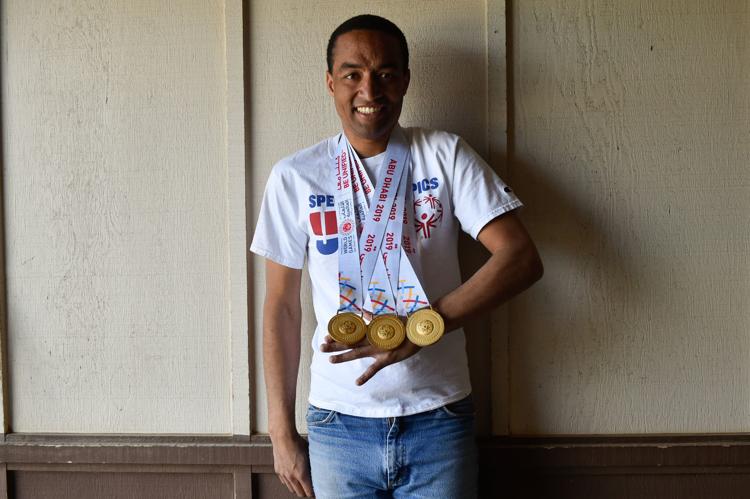 "And this is it, right here," Spencer Roberson said, looking toward Ella, a horse measuring nearly 6 feet tall from the top of her shoulder blades.
Near a horse, even one as muscular and statuesque as Ella, Roberson is calm. He meets her stare and strokes her face. The two have a history.
Any trouble focusing he might have because of his diagnoses fades when he gets into the saddle.
The Sanger resident now volunteers at the Flower Mound program for about 30 hours per week on top of his job at D&L Farm and Home in Sanger.
Although he's done well at competitions in the past, he had never competed on the world stage for the Special Olympics. The experience brought a lot of firsts for him.
In particular, he said he remembers how he felt during the opening ceremony. Athletes exited through a tunnel to take the field while roughly 40,000 fans cheered from the stands.
"When they said 'United States of America,' we heard screaming from all around the stadium," he said. "Like, everybody was screaming. It felt like we all had fans all over the place."
Since then, he's had interview after interview with reporters, and he's the focus for one of ESPN's Game Changers series. With a gold medal in all three events he competed in, Roberson became an instant celebrity in certain circles.
Reyna Taylor
Taylor was diagnosed with autism when she was 4, according to her mother, Yolanda Taylor.
She first rode a horse two years later as part of a therapeutic program with Riding Unlimited. When she was 9, Taylor transitioned to regularly riding with Cleveland at Stable Strides.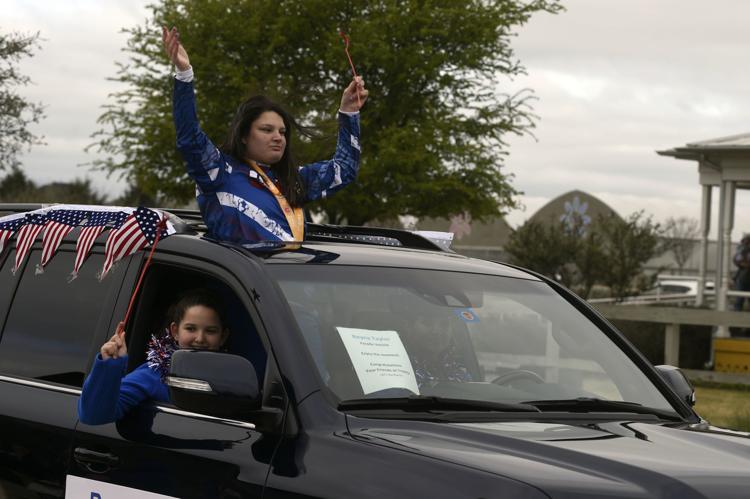 "Horses were drawn to Reyna every time we visited a barn or stopped by a pasture," Yolanda Taylor said. "We called her the 'Horse Whisperer.'"
Even though Reyna Taylor has been riding with Stable Strides for nearly two decades, the Taylor family still lives in Argyle to ensure they can be close to their horses.
On March 16, her first day of competition in Abu Dhabi, Taylor received a technical disqualification in the English working trails event.
"I lost my balance after my foot fell out of the stirrup," Reyna Taylor said via email. "I then had to change horses after my first event because my original horse was continually trying to buck me off during my warm-up period."
Despite the rough start, she went on to win a bronze medal in English equitation. She said she calls it her 'revenge medal' because she earned it after overcoming several obstacles.
"I threw my hands in the air and turned around and gave my coach a hug," she said.
Back home in Texas, she was treated to a parade Saturday in her honor through the Harvest community in Argyle, during which she could be seen pumping up the crowd from a vehicle's open sunroof. City officials declared the day "Reyna Taylor Day."
Beyond similar diagnoses at a similar age, experience from the same coach at the same stables and medals from the same international event, Reyna Taylor and Spencer Roberson have something else in common: They're both ready for the next competition.