The prevalence of injuries in the performing arts was just one of the many things teachers learned during a two-day seminar hosted at Guyer High School.
During the lecture series, researchers and professors from the University of North Texas worked alongside Denton ISD teachers to explain the occupational hazards of their fields.
The seminar, which took place on Friday and Monday while students were out of class, was the byproduct of a collaboration between the UNT Texas Center for Performing Arts Health and Denton ISD. It was made possible in part by a $40,000 grant the center received from the National Institutes of Health.
Yein Lee, a UNT faculty member and physician, highlighted the musculoskeletal problems during a round-robin discussion she led with Denton ISD orchestra teachers Monday afternoon. Repetitive motion, poor posture, stress, overplaying and more can contribute to a variety of different problems for performers, she explained.
"So, [does] almost everybody have issues here?" Lee asked the orchestra teachers, gesturing along the back of her neck and into her shoulders. "You all probably do. Everybody has muscle spasms, muscle weakness, hypertonicity — just achiness. Everybody complains of that."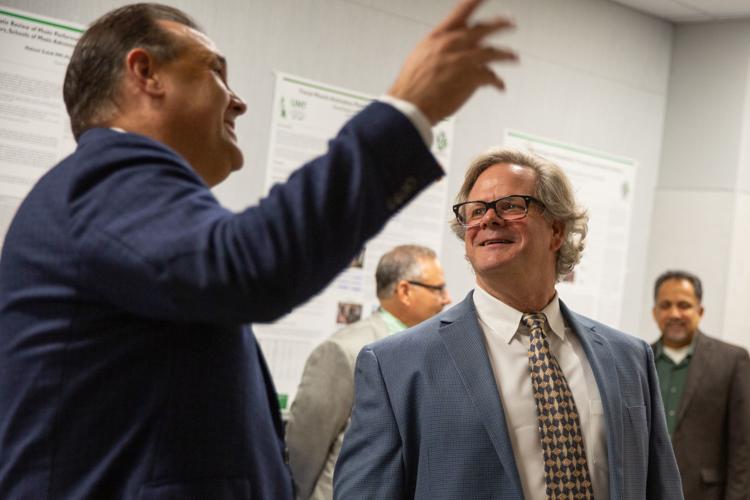 Light chuckles and nods from the crowd were her response.
UNT professors Kris Chesky, who is also co-director of the performing arts health center, and Steve Austin, during talks with the same group, highlighted hearing damage and vocal strain respectively during their discussion time.
At one point, Chesky laid out his vision: monitors in music rooms across the district that can track noise levels in real time. In application for DISD, Chesky would be able to analyze noise patterns and give directors feedback.
Austin explained that directors are prone to vocal strain — even instrumentalists.
The work sessions were simply the latest personification of the ongoing collaboration. Over the summer, center researchers and a team of six DISD music teachers worked together to develop a plan for what changes should come the district's way and how they should be implemented.
The team gave a presentation over what they learned Monday morning.
Since the Texas Education Agency updated its fine arts curriculum requirements in 2013, schools across the state have been required to teach students safe techniques in all performing arts, including dance, theater, music and musical theater. While the new standards were adopted in 2013, they didn't take effect until the 2015-16 school year.
Chesky, along with center co-director Sajid Surve, published an article to mark to change within Southwestern Musician, the magazine for the Texas Music Educators Association, in 2016.
"This is a historic step for music education with national and international implications," they wrote at the time. "In fact, acknowledgment of and accountability to the occupational health concerns associated with learning and performing music impacts the entire field of music education."
The next step is for administrators and teachers across the district to start working what they've learned into their curricula, but that won't happen overnight.
"You have to go slow in order to go fast with curriculum," said Jackie deMontmollin, DISD director of fine arts.
DeMontmollin said DISD teachers have been doing a great job to keep students safe all along. She said educators couldn't be expected to teach from science they hadn't heard of — recent science that very few were even familiar with.
"When we know better, we do better," she said.
Toward the end of their 2016 article, Chesky and Surve wrote, "While some music educators might feel unprepared for the new ... requirements, please know that outstanding resources exist right here in Texas. Getting to this point did not happen overnight or without hard work, persistence, and focused research — and we still have [a] lot more work to do."