Denton's best shop for creative classes and bargain-priced art, craft and sewing supplies is permanently closing after eight years.
SCRAP Denton, a nonprofit creative reuse center, announced the decision online Wednesday afternoon. The center's retail store sells surplus and donated office and art supplies. Artists and educators also hosted educational workshops and programs for children and adults at SCRAP until the pandemic hit.
Although a nonprofit, SCRAP's closure is Denton's first major local storefront to shutter from COVID-19.
Donna Gregory, who opened the shop in January 2012 and served as volunteer director in the early years, said the decision to close was very hard.
Gregory still volunteered at the store once or twice a week and served on the advisory board. The staff and volunteers had regrouped several times since the pandemic began, she said, organizing shopping-by-appointment and offering curbside service.
"We've really been trying to make it work," Gregory said.
But store sales tanked and the nonprofit's main income, the creative classes, couldn't continue in the uncertainty. Nor could the center lay off staff and depend on devoted volunteers to keep things open.
"We didn't want to put anyone at risk," Gregory said.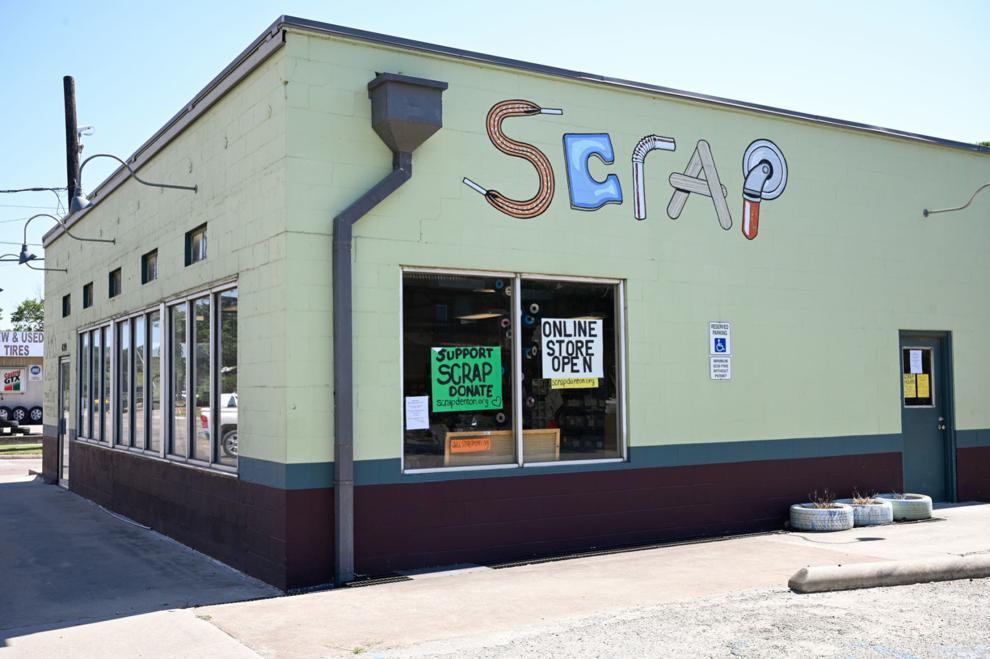 SCRAP had a multiyear lease for its store on Bell Avenue at Prairie Street. Rachel Weaver, the center's director, said they tried every way they could imagine to make the rent, from subleasing to renting monthly. No option proved workable.
"We had a great amount of support after the S.O.S. [sale announcement], but it still wasn't going to be sustainable," Weaver said.
The best option was to end the lease early and reduce the rent for June and July, Weaver said.
The center will still hold the big outdoor sale they announced for June 22-July 1 in the parking lot at 420 S. Bell Ave. But instead of "Save Our SCRAP" to help pay bills, it will be the "Send Off SCRAP" closing sale. After that, the staff and volunteers will reconfigure the inside of the store to create more space for customers to shop and clear the shelves.
SCRAP's mission removed enough creative material from the landfill to warrant at least one grant from the city's Solid Waste Department back in 2017, said city spokesman Ryan Adams.
"I loved the people who worked there," Ellison said. "They were good Dentonites doing good things for the community."
The store will close permanently on July 31, when Denton's artists and artisans will have to find other ways to get affordable materials.
Gregory doesn't think that demand will go away, even if the pandemic forces the resale of creative materials into hibernation for now.
Some people didn't understand what the center was about when it first opened, Gregory said.
"The community loves SCRAP," she said. "We remain hopeful that it may come back someday. It may come back in a different size or form. It will have to rebuild. But it is a hope and a wish for the volunteers and the staff."