Update: At around 12:35 a.m. Wednesday, the City Council voted 4-3 to keep the setbacks at 500 feet and made sure that houses within that distance remain conforming. Voting against were Mayor Chris Watts and council members John Ryan and Gerard Hudspeth. This story will be updated later today.
Hundreds of homeowners packed into Denton City Hall chambers and designated overflow spaces, including Denton Civic Center, as they tried to understand what new reverse setbacks could mean for their homes and property during Tuesday night's City Council meeting.
Council members spent the first part of the meeting seeking to understand the proposals in conversations with city staff as they consider how to increase the distance between gas wells and new homes. There's been contention about how "nonconforming structures" will be treated — city speak for homes that are within the new proposed "reverse setbacks" but are far enough away in current city code.
As they spoke, attendees clutched packets with the presentations explaining four options to increase the reverse setbacks. Sixty-two people signed up to address the council, said Ryan Adams, a spokesperson for the city.
Property owners voiced concerns about what a nonconforming status would mean for their lots and homes, and how it would impact resale, rebuilding in case of natural disaster and home insurance. Overwhelmingly, owners were frustrated and explained their homes were built years before the gas wells were put in place.
"If you have your home destroyed and you want to rebuild your home on another lot somewhere else, the insurance company may or may not cover anything for that house," said resident Marcus Pritchett. "We can lose the value of the lot and the value of our house in one activity."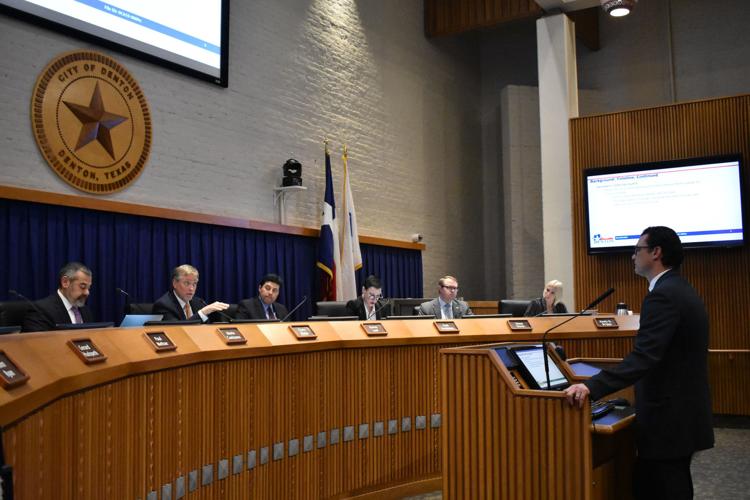 Nonconforming generally means a home can continue to be used but cannot be rebuilt after a fire or tornado. The postcard sent to residents last week didn't indicate what the council had proposed with the prior vote to protect homes already inside the 250-foot distance and extend those protections to those homes affected by the 500-foot distance.
The frustrations with the nonconforming classification was echoed by several residents, who expressed frustration at the process and council's previous vote on the matter.
Although the council voted 5-2 last year to increase the reverse setback to 500 feet, Mayor Chris Watts asked to reconsider the decision. He said he was concerned that affected homeowners weren't notified. Council members agreed to the re-vote, triggering Tuesday night's public hearing.
Tuesday night was also the formal unveiling of a new fourth option for the Denton City Council related to building near gas wells, that would protect properties like Pritchett's. The city attorney's office said it does not support the option, which could treat the owners of undeveloped land differently from current homeowners. But over the weekend, the option to protect current homes showed up on the agenda for Tuesday night's public hearing in response to community outcry.
"Who in their right mind would buy a home that cannot be rebuilt if demolished?" said Dennis Howard, who has lived in his home for 22 years. "I was really agitated when I got that postcard, and hearing the recent proposal for [the new option], I feel what could have been a really nasty situation can be rectified."
Council members apologized to the large audience for making the decision without considering impacted property owners.
"I made the original motion to do this, and one of the things that's become very clear to us is that we messed up," council member Jesse Davis said. "If we do this the right way, all of the things y'all are worried about tonight we will address."
A council vote was expected late Tuesday evening.