Update: This story has been updated with the correct date of the storm.
Both trees and homes in northeast Denton will likely bear the scars of the Idiot's Hill tornado for a while.
Front yards lay bare where trees toppled on April 30, the night of the storm. Broken trees still standing will take a few years to regrow. Bandaged roofs and tarped home exteriors must wait for insurance and repairs. But the bulk of the cleanup is nearly done after city crews returned Thursday to Idiot's Hill, as the neighborhood is affectionately known.
Residents along Roberts Street, Edgewood Place, Northwood Terrace and other streets piled up another round of tree stumps, branches and leaves for pickup and delivery to the landfill, most to be repurposed in the city's composting program.
The storm wasn't large enough to bring out the catastrophic loss calculators at the Insurance Council of Texas, spokesman Mark Hanna said. (The last time that happened was in April 2014, when softball-sized hail and high winds caused $300 million in property damage, primarily in Denton County. Idiot's Hill was particularly hard hit in that storm, too.)
But the storm came with costs, nonetheless. The EF1 tornado destroyed one home, caused major damage to another and minor damage to three more. Another 12 homes were affected, according to an assessment the American Red Cross provided city officials.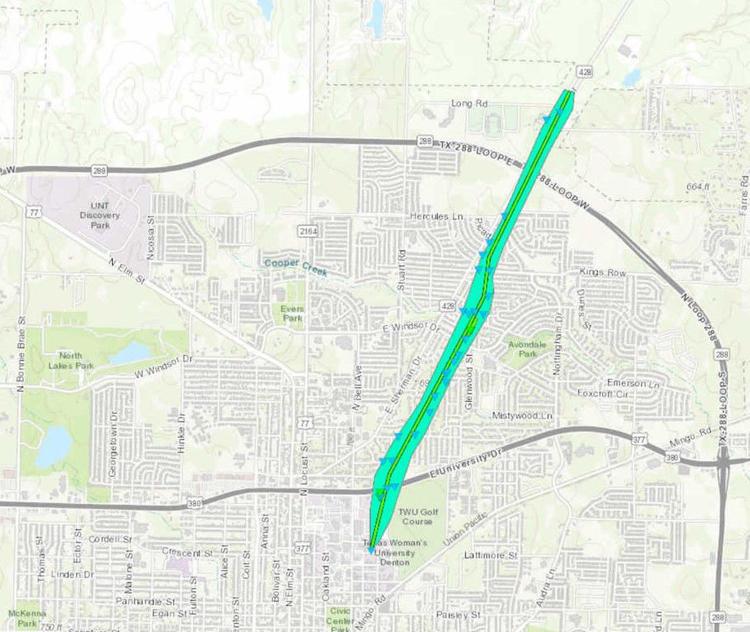 Winds with an EF1 tornado measure from 86-110 mph.
The National Weather Service surveyed the damage after the storm. Meteorologists tracking the tornado along a 3-mile path that loosely followed Sherman Drive from the north end of Texas Woman's University to Water Works Park.
Parks employees had been preparing for sneak peek weekend. The water park lost landscaping and 365 pieces of furniture, suffering other damage that totaled more than $86,000.
The tumble of tables, chairs, loungers, trash cans and lifeguard stands — and whatever else the wind was carrying — damaged the slide in the kid's pool and ripped the canvas tops from a half-dozen shade canopies.
Parks officials said Water Works Park will open on schedule, which includes the afternoons of May 18 and 19 for the sneak peek and regular hours beginning Saturday, May 25. Patrons are encouraged to bring their own lawn chairs through the first week of June.
The Solid Waste Department estimates it removed 314.25 tons of brush and debris from the storm.
Residents delivered another 0.58 tons to the landfill themselves.
Saturday is the last day residents can have debris picked up free of charge.