FLOWER MOUND — Nick Murray likes to go fast.
Three weeks ago, the 16-year-old Flower Mound resident, who has Angelman syndrome, a neurogenetic disorder, flew onto computer screens nationwide after his brother posted a video on YouTube that subsequently went viral.
In the video titled "NICK CAN RIDE!: Introducing Project Angel," Corinth-based motorcycle vlogger Chris Murray gifts his little brother a big surprise: a personalized sidecar tailor-made to accommodate his needs.
The video spread like wildfire. Uploaded June 17, the 10-minute clip has already accrued more than 120,000 views. Plus, Chris Murray's "iamsoulless" YouTube channel and Instagram account have attracted thousands more followers since he made the post.
"This whole thing has been a roller coaster," Chris Murray, 26, said. "I knew people were going to love it — I just didn't know to this extent."
In the video, Chris Murray introduces the audience to his Honda Grom's custom-built sidecar, which is decked out in sleek, neon orange accoutrements. Then, it's time to ride.
Nick Murray beams as he and Chris cruise down the streets of their mother's suburban neighborhood, maxing out at just under 30 mph.
Fresh out of the U.S. Marine Corps, Chris Murray said he's used to physically arduous tasks. Still, transferring Nick, who weighs around 150 pounds, from his wheelchair to the sidecar was difficult.
But the challenge was worth it, Chris Murray said.
"As soon as I got moving, [Nick] literally stops everything and just sits there and laughs and like, zones in — which was awesome," he said.
To create the sidecar, Chris Murray worked closely with Industrial Moto, a custom motorcycle shop in Culpeper, Virginia. The shop's owner, Tyler Haynes, said he was excited after Chris Murray reached out to propose the collaboration. Haynes offered to waive labor and shipping fees if the Murrays could cover the cost of parts.
That's where his "iamsoulless" followers came in handy, Chris Murray said. In less than three days, friends, family and fans raised the necessary $2,700 for the venture, which he and Haynes dubbed "Project Angel."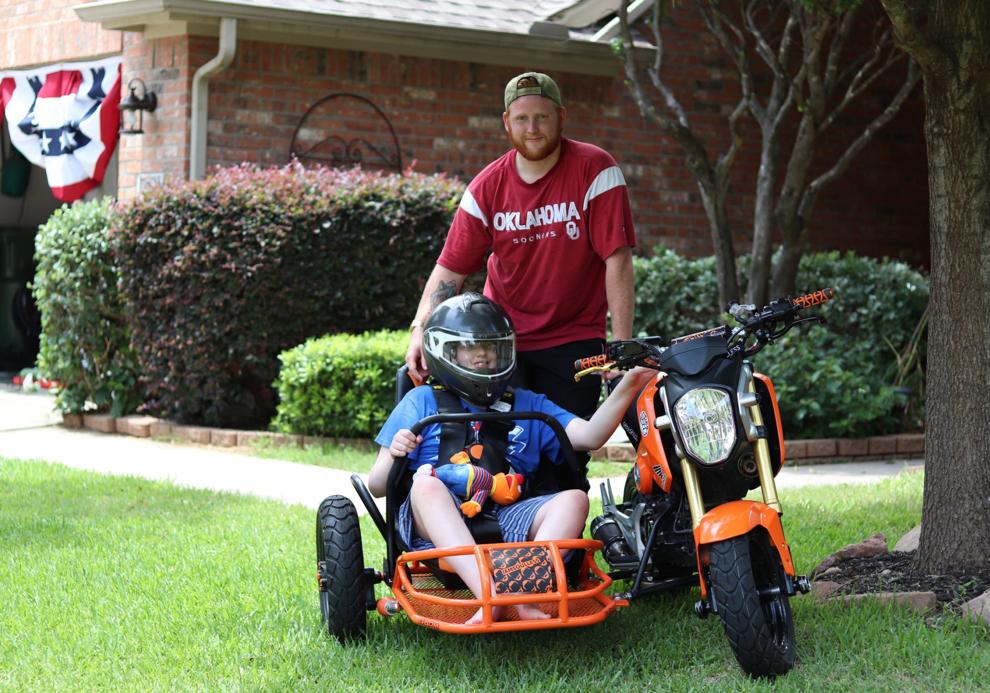 Next, Haynes got to work. Not only did he forge a sidecar that precisely matched Chris Murray's Honda Grom, but he also installed several customized safety features.
It wasn't all logistics and precautionary measures, though; Haynes also gave the brothers a GoPro camera to sweeten the deal.
Haynes said he's thrilled with how the sidecar — and the YouTube video — turned out.
"I can't even tell you how many times I've watched that," he said with a laugh. "It's really moving. Just to do it and see a video of [Nick] riding was worth the whole thing."
A rare neurogenetic disorder closely related to autism, Angelman syndrome affects one in every 15,000 live births, according to the Angelman Syndrome Foundation website. People diagnosed with the condition experience seizures, developmental delay, lack of speech, and balance and walking disorders.
As Nick's daytime caretaker while their mother Kristi Murray works, Chris Murray feeds, bathes and changes his brother's clothes every day.
But he hates that Nick is unable to experience many of the same things he and his other brother can, Chris Murray said. That's the main reason why he decided to launch Project Angel.
"We've always understood that Nicholas is not going to have a life like everyone else; it's just not possible," he said. "The fact that I got this done for him and he has something that his brothers do just blew [my parents'] minds."
In the weeks since he released the video, Chris Murray has been overwhelmed by a deluge of positive feedback from fans old and new. And while this video's success could be the apex of his vlogging career, he said he's already brainstorming ideas for future videos featuring Nick.
Chris Murray said he hopes that the success of the viral video will increase awareness of the disorder and raise money for the Angelman Syndrome Foundation. And he's optimistic that a cure may be around the corner.
After all, scientists were recently able to ameliorate Angelman symptoms among lab mice, he said. Maybe a cure for humans is closer than we think.
"I would love to one day be like, 'Dude, I have something for you that's better than this stupid Grom,'" Chris Murray said. "I want that one day for Nick."
For more information, or to donate to the Angelman Syndrome Foundation, visit www.angelman.org.