Incumbent Jared Patterson will soon defend his spot as Texas House District 106's representative against fellow Republican James Trombley.
District 106 covers eastern and northern Denton County. It includes Aubrey, Cross Roads, Krugerville, Little Elm, Oak Point, Pilot Point, Sanger, The Colony and western Frisco. Additionally, it includes slivers of Denton, Plano and Prosper.
Patterson and Trombley are the only contestants for the seat's Republican primary. On the other side of the aisle, Jennifer Skidonenko is the sole Democrat vying for the position.
Monday marked the final day to register to vote for the primaries, and early voting will kick off Feb. 18 and end Feb. 28.
Voters in the Republican primaries will decide whether Patterson or Trombley will compete against their Democratic challenger for the seat. Election day for the primaries will be March 3. For more information about the election, visit www.votedenton.com.
If he retains his seat following the Nov. 3 general election, Patterson will enter his second term.
Campaign finance reports show Patterson outraised Trombley by nearly $5,000 in one-fifth the time. During Jan. 1-23, Patterson reported $40,955 in political contributions. From July 1 until Dec. 31, Trombley reported $45,584 in political contributions. 
Darlene Pendery, who The Texas Tribune and Texas Monthly have described as a prolific Republican donor, gave Trombley the bulk of his funds with $37,500 donated, according to finance reports filed with the Texas Ethics Commission.
For his part, Patterson received at least $32,500 from political action committees.
A standard background check completed by the Denton Record-Chronicle found that Trombley has no voting history in Denton County, meaning he didn't vote in the most recent District 106 race. He wrote on a candidate application for the race that he's lived in the district for more than four years.
When asked about this, Trombley said his time overseas with the U.S. Marine Corps and later as a military contractor for various American government branches kept him from voting in 2003-17, and he spent much of 2017 with family in Michigan, meaning he wasn't active in the district until 2018 at the earliest.
The Denton Record-Chronicle called each candidate for a question-and-answer session. Their responses appear in the order the candidates appear on the ballot and have been lightly edited for clarity and length.
Jared Patterson
Education: Grayson County College, 2001-02; Texas A&M University, political science, 2002-05
Experience: Rapid Power Management, 2008-present, director of energy services
What do you think will be the big issue during the next legislative session?
Next session, the main topic of conversation is going to be redistricting. There is a battle for the balance of power in the Legislature, particularly in the Texas House between Republicans and Democrats, and the winner gets the pencil and the eraser for our statehouse, Senate, State Board of Education seats, all of our congressional seats, including at least three additional congressional seats that we're going to be drawing into Texas. So that will absolutely dominate the next session.
Where should the dividing line be between local and state governments?
Local governments are created by the states to perform certain functions, and they should be left alone to perform those functions. It's only when local governments step out of bounds, particularly some cities, [when the state must step in]. For example, Denton and the fracking ban that they did several years ago taking away people's property rights. That's when the state has to step in and shift the balance of power back to the people and away from government.
And you saw that this past session when we took away a city's right to fund abortion providers. And we took cities' abilities to raise your taxes over a certain limit without voter approval. And we took away cities' abilities to discriminate against your business based on your religious beliefs. So there are a few examples there [from] this past session that we, as a state, had to step in and put those guardrails up to make sure people's rights weren't being infringed upon by local governments.
As more Democrats are elected, how will you continue to get work done?
I was ranked the eighth-most conservative member of the Texas House [by a Rice University analysis], and I am proud of the conservative record that I have in the Texas House, but I also showed that I could work across the aisle when I needed to. For example, I passed the only tollway accountability bill of the session ... and a Democrat chaired that committee. And I worked very closely with him; [I] even got him to joint-author the bill. And I didn't get everything I wanted in the bill, but I got a lot of reforms to take place and that was better than nothing, so I think I've proven that I can work across the aisle when I need to.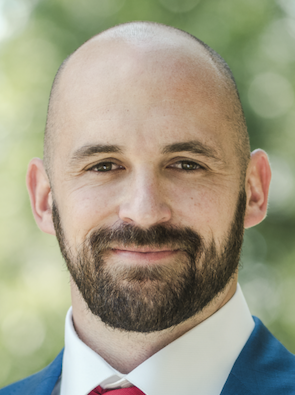 James Trombley
Raised in: Clare, Michigan
Education: FINRA Series 7 and Series 66 certifications
Experience: Edward Jones, 2017-20, financial adviser
What do you think will be the big issue during the next legislative session?
It's going to come down to taxes. We are currently having families in Texas that have built these communities and are getting taxed right out of their homes. We're seeing that more and more often. I just talked to somebody a couple weeks ago: Their daughter is not going to be able to finish senior year because they're going to have to move out of the district because they can no longer afford the taxes.
There's nothing different they did in their lifestyle, it's just the rising appraisal districts and tax rates are really hurting them. That's our biggest goal in our campaign — to attack the appraisal districts. We think it's a very unfair system that we want to eliminate.
Where should the dividing line be between local and state governments?
My thought process on this is we're all here as one team working together. With District 106, the same voters that vote the state rep in, vote the local officials in. So, to put a muzzle or a cap or something on local government is saying that the same voters that voted you in don't know what they're doing when they vote for local government.
So, my thought process on this is, as long as the local government is honest, transparent, educates the public and allows them to vote ... then they should be able to do what they need to do because, again, it's in the hands of local voters. It's when local government is no longer transparent ... that's where we have problems and I think that's where we need to step in and [say], "Look, you're trying to deceive the voters — the local constituents here — and you need to do better and we need to fix this." That would be kind of where my stance is on it.
As more Democrats are elected, how will you continue to get work done?
I'll continue to do the same thing I've always done my entire life. You always represent somebody, it's never just you. I was always on a team, I was in a unit, I was working for the government. We always had a general mission, a goal. The people might change throughout that mission, but you still have to build to find civility, common ground and discuss the issues; use education, knowledge and facts and complete the mission.
I think at the core values between Democrats and Republicans, a lot of us kind of want the same thing, and so you get to the issues, so it's going to be no different. I am a representative of the constituents of District 106. I fight for what they want, and when we get to that point, we need to build bridges and alliances and friendships, and that's what we do. But at the end of the day it's got to be representing the district. Not representing myself, not representing Austin; representing the district.