Bob Cory said a poll worker turned him away because she thought his T-shirt was too political when he tried to vote in person Monday.
Monday marked the first day of early voting for party primary runoff elections, of which Denton County voters have only a handful of candidates to pick between.
Voters have until polls close on July 10 to vote early. Election day will be July 14, and the general election will take place on Nov. 3.
Cory, 77, said he entered the Denton County Elections Administration building to vote with his wife Monday when one poll worker complimented his shirt. Another worker, he said, just stared for a moment.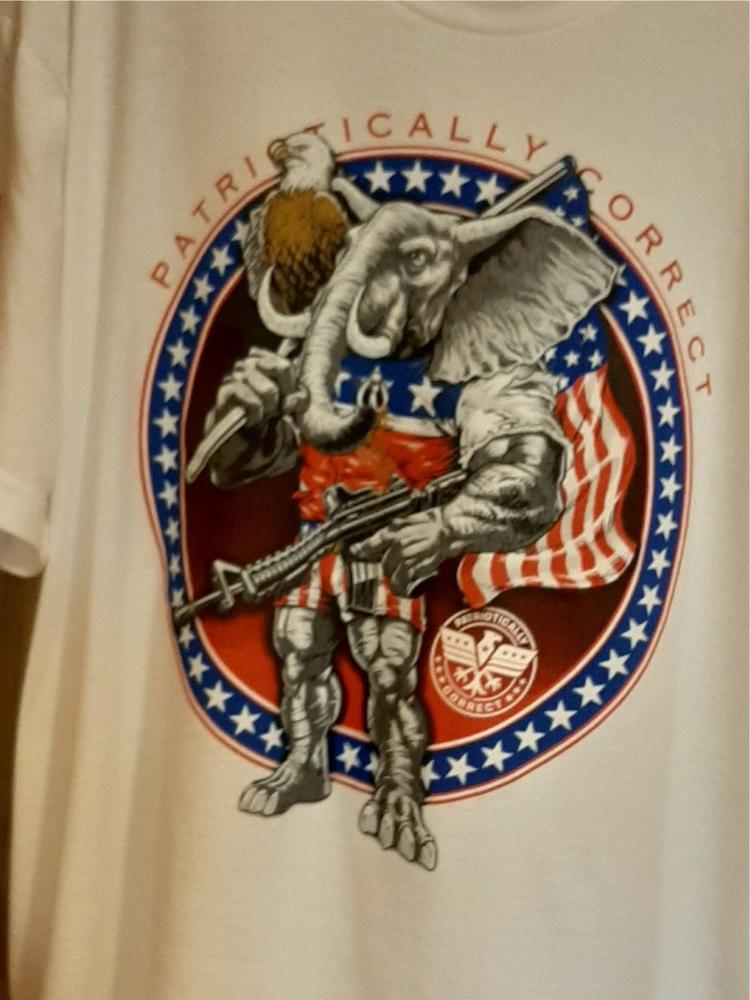 His shirt bore a muscular, anthropomorphic elephant decked out in red, white and blue clothes holding a rifle and American flag. A bald eagle perches on the elephant's shoulder amid a large seal circled by white stars. The words "Patriotically Correct" arch above the image.
Presumably, poll workers thought the image of the elephant was too closely associated with the Republican Party. It's a misdemeanor in Texas to wear political clothing within 100 feet of a polling place. The law is meant to prevent electioneering too close to voters who might still be making up their minds.
"You can't have that shirt in here," he remembered a poll worker saying.
Cory didn't see any problem with the shirt and felt his voting rights were being infringed upon. He said he declined to turn his shirt inside-out or otherwise cover it in order to vote. Instead, he opted to wait outside until his wife had finished voting.
"My wife and I were the only ones in there," he said.
Frank Phillips, elections administrator for Denton County, said a handful of people are turned away for similar reasons each election. He even noticed one post on Facebook of a would-be voter turned away after wearing a Reagan-Bush shirt.
"That's just a good reminder that you can't wear anything political into the polling site, even if it's from a past election," Phillips said.
Overall, he considered Monday a fairly quiet day as far as elections go. He tallied fewer than 1,400 votes by late Monday afternoon. That figure includes all voters across the county.
Toward the end of the day Monday, Democratic voters accounted for just over 60% of countywide votes.
Many voters and political analysts have pointed to the Democratic runoff between state Sen. Royce West and former Air Force helicopter pilot MJ Hegar as one of the most impactful of the primary races. The pair are battling for the chance to take on incumbent Sen. John Cornyn for his seat in the U.S. Senate.
Gov. Greg Abbott postponed and then later extended the window for runoff races amid the coronavirus pandemic.
Phillips said poll workers have disinfectants on hand, as well as face shields, masks, clear plastic dividers and hand sanitizer stations for voters all in hopes of making voting as safe as possible.