Last spring, Emily and Robert Brown's 10-year-old son found himself in handcuffs for the second time in a week.
On April 30, the boy, who has autism and whose name is being withheld at the request of his parents, acted out in his special education classroom at Lee Elementary School in Denton, poking other students and swinging a computer mouse around the room. Fifteen minutes later, he was pinned down on his stomach by a school resource officer from the Denton Police Department and put in handcuffs.
When Emily Brown came to pick her son up, she noticed deep bruises and scratches on her son's head, arms, knees and back. The Browns took the boy to his regular psychiatrist two days later and were told they should remove him from the school immediately. The parents complied.
Despite the risk of injury, restraints are becoming more common in school districts across the state. According to Texas Education Agency data, special education students in Texas were forcibly pinned more than 30,000 times during the 2016-17 school year. Texas also tops the list of states using physical and mechanical restraints in schools, according to the federal Office for Civil Rights.
School officials say restraints are sometimes necessary to protect students and staff members, and state law allows employees and school resource officers to use restraints in emergency situations. But attorneys and behavioral specialists believe schools may be relying too much on restraints as a de-escalation technique.
"It's an ironic statute," said Colleen Elbe, an attorney with the advocacy group Disability Rights Texas. "When you put your hands on a kid, it doesn't work well and certainly doesn't de-escalate a situation."
Part 1: Obstacles
It should be noted that the Browns have not responded to multiple calls and emails from the Denton Record-Chronicle since an initial on-the-record interview on May 15 with the family and their advocates Mike and Deborah Holum of McKinney-based Advocacy Behavior Consulting. As such, it is unclear how the situation has progressed since then or if the boy will return to the district in the fall.
Emily and Robert Brown's son started school at Houston Elementary School in Denton, where they said he was often bullied by other students because of his disability. When he gets mad, they say, he stops speaking and instead scribbles down notes. Eventually, emotions boil over and he lashes out physically.
As they battled ongoing discipline problems at Houston, the Browns contacted the Holums, who said they found several violations of special education law when they analyzed the boy's educational records. Everyone agreed the boy should transfer to another campus with staff members who were better equipped to handle behavioral needs.
When he started at Lee for the 2017-18 school year, the Browns said things got better for their son. The teachers would give him breaks or let him do puzzles when he got upset. Sometimes, Emily said, they would take him on walks in the school's garden and let him pick tomatoes.
"We still had our issues, which was actually a good thing because he was with the people who could help him the best," she said. "We didn't want it to be perfect. We wanted him to have obstacles so they could help intervene."
By the spring, however, things began to spiral.
According to district reports provided by the Browns, their son was physically restrained on April 23, a week before the handcuff incident that left him bruised.
That day, teachers had asked him to quit disrupting other students and offered him a break, the report said. When he wouldn't stop, he was told he would have to go to another room. Then, he tried to kick, hit, bite and spit on the teachers.
Eventually, he was restrained using a "team control position," which requires two people to each grab one arm of the student and lean him forward to throw him off balance. The report says the school resource officer took over the restraint, but it doesn't mention handcuffs.
Emily Brown said she was surprised to see her son wearing them when she came to pick him up that afternoon.
"I told my son, 'You need to sit up and calm down. When you can breathe and say please or ask nicely, we'll take them off,'" she said. "I'm trying to show support. I'm not just trying to be a mom who is raging."
But Mike Holum maintains that the district violated the law when the school resource officer used handcuffs, saying mechanical restraints weren't authorized in the boy's behavioral intervention plan that the school must follow.
"Had I known that, I probably would've gone in there and taken a different stance," Brown said.
Part 2: Answers
Seven days later, the handcuffs came out again.
This time, the boy was poking other students and "goofing off," according to district reports and an email sent to Emily Brown that day by her son's special education teacher. A police press release added that the boy pulled a computer mouse loose and began swinging it around other kids, but that a teacher took it away.
Teachers called the school resource officer to the campus and told the boy he would have to leave the classroom for the safety of other students. When he refused, district reports say the boy was "escorted" to another room by the officer. However, the police press release says the officer picked up the student and carried him. After that, the boy started hitting and kicking.
When they reached the other room, the officer put the boy on his stomach and handcuffed his hands behind his back. Once the boy calmed down, district reports say the handcuffs were removed. When he acted out again and hit his head against the ground, the handcuffs were put back on and the cycle continued until the boy's mother arrived.
Brown said her son went to school the next day because he already had several absences for doctor appointments and she didn't want him to be truant. The following day, the boy's psychiatrist saw the bruises on his body and told the parents to remove him from the school immediately, Brown said.
Afterward, the family said they reported the injuries to Child Protective Services and the Denton Police Department. They said in May that they believe special education laws were broken and questioned the veracity of the reports.
"Our son isn't the perfect angel," Brown said. "He has some disability-associated issues, but at the same time, this shouldn't happen. Whether it's a child with disabilities or a regular child, no kid should come home looking like that."
The Denton Record-Chronicle filed an open records request with the city of Denton to obtain body camera footage from the officer who performed the restraint. The city, citing an opinion from the state attorney general's office, has not released the footage and believes it is exempt from disclosure because it involved juveniles and is part of an ongoing internal investigation into the incident.
"In situations like this, we work with families to put a behavior intervention plan in place and we follow that plan as best we can," Denton ISD spokesman Mario Zavala said in May. "In certain situations, when a student becomes a danger to themselves or others, those specialists or the school resource officer have to intervene. We're not just responsible for that child's safety. We're responsible for the safety of every child in the room."
Part 3: Numbers
The incident at Lee was not the first time restraint was used in Denton ISD, and it likely won't be the last.
"Unfortunately, restraints are very common," said Elbe, the attorney for Disability Rights Texas. "It happens in large and small schools. It happens in high schools and at the elementary level."
Texas law allows staff members to physically restrain special education students if there is a threat of "imminent, serious physical harm" to themselves or others or there's a chance of serious property destruction. But Elbe said those terms are often vague and, in several cases, translate to persistent misbehavior.
The law also states that restraint must be limited to reasonable force and stop when the emergency no longer exists. School employees aren't allowed to use mechanical restraints such as handcuffs, but peace officers who contract with the district, as is the case with Denton ISD, are.
Schools are required to make a "good faith effort" to verbally contact the parents when restraint is used. They must also provide parents a written report within one day of the restraint. In the April 30 incident at Lee, officials sent the report two days later.
According to TEA numbers, Denton ISD met the state average by restraining six out of every 100 special needs students during the 2016-17 school year. At the county level, the number jumped to 14 out of every 100 students.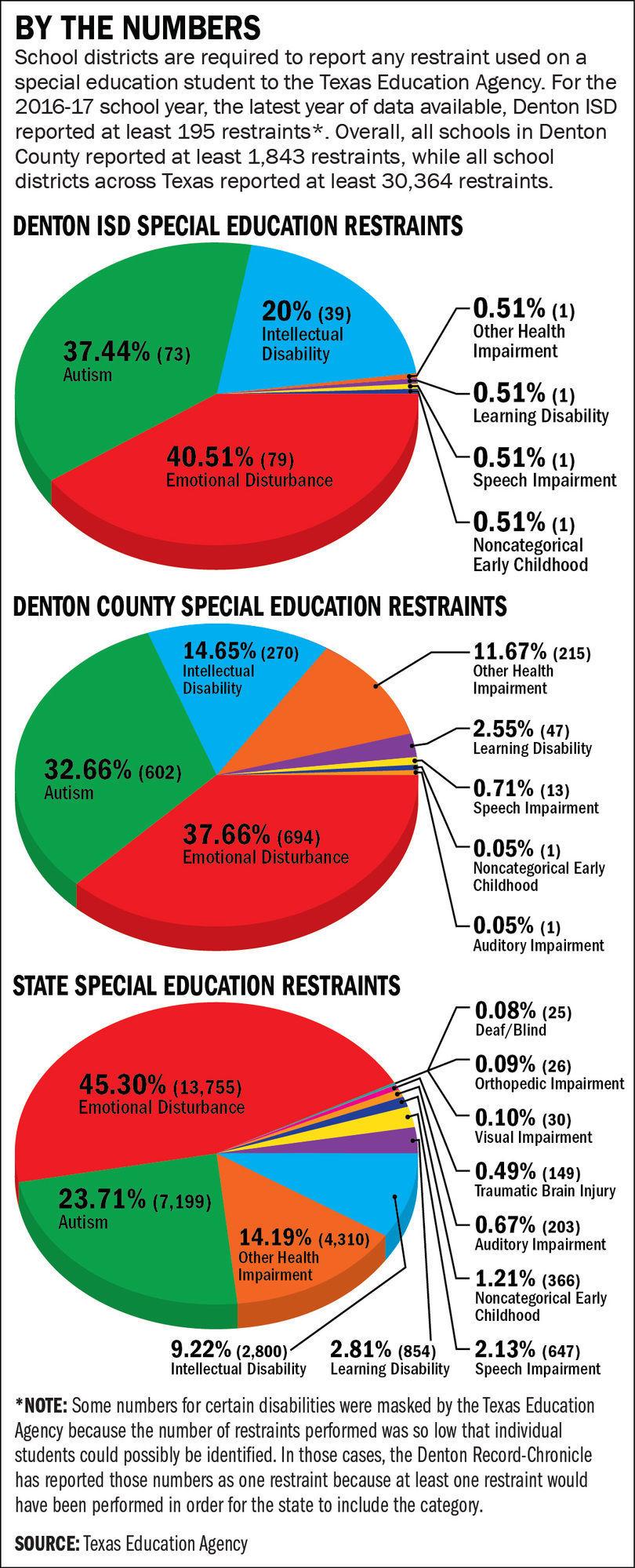 A student's disability could affect their chances of being restrained.
Denton ISD restrained 24 of every 100 students diagnosed with autism and 32 out of every 100 students diagnosed with an emotional behavior disorder. Denton County restrained 38 percent of its autistic population and 59 percent of its emotional behavior population, while the state restrained 12 percent of kids diagnosed with autism and half of the kids who had an emotional behavior disorder.
"If a student was hard of hearing, you wouldn't punish them for not hearing directions to sit down in their chair," said Diane Myers, the chairwoman of the teacher education department at Texas Woman's University. "With students who have emotional behavior disabilities or are on the spectrum, not being able to control their behavior is part of their disability."
National statistics also show that special education students are restrained at a disproportionate rate to their general population peers. A 2015-16 school safety report from the U.S. Department of Education's Office for Civil Rights shows that although special needs students make up 12 percent of all public school enrollment, they make up 71 percent of restraint cases.
Though restraint laws vary by state, Texas still tops the most recent national list for the use of restraint on special education students.
In the 2013-14 school year, the Office for Civil Rights reported that Texas accounted for almost 10 percent of all physical restraints and a quarter of all mechanical restraints nationwide. Texas restrained its special education population roughly 10,000 more times than California, the state with the largest special education population in the country.
Elbe said she's glad that schools are required to report restraint numbers to TEA, but thinks the agency could do more.
"I have never seen TEA step in and address high restraint data in a district," she said. "In fact, I reported to TEA a couple of years ago that Plano ISD falsely reported their restraint data and I was informed that TEA would not do anything about it. They collect the data, but rarely do anything with it."
Part 4: Solutions
The effects of excessive restraint are splattered across a 2014 U.S. Senate report.
In 2013, an Arizona teacher duct-taped a second-grader to her chair because she got up too many times to sharpen her pencil. In 2011, school officials shoved a 9-year-old Kentucky student with autism into a duffel bag. A year later, a New York boy died when he was restrained on his stomach by four teachers because he wouldn't leave a basketball court.
A 2009 Texas Tribune story reported that teachers in Kemp broke a $100,000 surgical device when they restrained a disabled girl several times between 2002 and 2004. Another boy from Killeen suffocated in 2004 after a teacher sat on him when he tried to leave the school cafeteria.
Educators often point out the danger that a student can bring to themselves and others when they act out physically. According to the same Texas Tribune story, a 16-year-old special needs boy from Tyler stabbed and killed his music teacher in 2009. Locally, at least one special education teacher has filed a report with Denton police this year citing multiple injuries from an aggressive student.
"I don't know that everyone really recognizes the severity of some of those behaviors that take place in a school when it comes to the safety of other students," Denton ISD Superintendent Jamie Wilson said. "What we will make sure happens in the future is that everyone has the appropriate training protocols and that we're all up to speed with how those things work."
District officials said their special education staff members are trained in Crisis Prevention and Intervention protocol, a common program used by schools that emphasizes de-escalation techniques. They receive an initial training when they're hired and yearly refresher courses.
In a May 18 Friday report from the city following the Lee incident, the police department said each officer must complete crisis intervention training to get their state license. School resource officers must undergo additional school-based law enforcement training that covers topics including special education needs, conflict resolution and techniques to limit the use of force.
Denton police spokesman Shane Kizer said Denton will host additional state-mandated de-escalation training this fall for officers trying to get their intermediate or advanced peace officer certification. Kizer added that the officer involved in the Lee incident received his most recent special education training in 2016.
Myers, who has studied positive behavior support techniques for two decades, said that any additional training also needs to include a paradigm shift that treats social behaviors more like academic behaviors.
With social behavior, she said, teachers usually tell a student to sit down or stop talking and then move on. When it comes to academics, students are expected to make mistakes. If that happens, she said, teachers show them the mistake, let them practice and provide feedback.
"From a positive behavior support mindset, we need to treat both as if a student just doesn't know how to do it yet and we need to help them learn how to do it correctly," Myers said. "We need to make sure everyone's focus is on acknowledging students when they're doing what they're supposed to be doing. It's not an impossible shift to make because we've been doing research in this area for 20 years and we know it works."
The Browns said in May they remained worried about the long-term effects that restraint could have on their own son. They're concerned that he'll grow up with a distrust of law enforcement that will lead to more problems in the future. They said they want their son to be known for his love of science and his helpful nature rather than as the "problem child" who lashes out.
"He is smart and he is gifted, but we have to channel it in a positive way," Emily Brown said. "If we keep riding this fence between criminal charges and changing the world, then that's too much of a fine line and I can't walk it."