PILOT POINT — Local residents and members of the American Legion Auxiliary at Post No. 550 gathered inside the American Legion Hall, where care packages and supplies for overseas military members were collected Wednesday morning in Pilot Point.
American Legion Post No. 550 in Pilot Point is an organization geared toward military veterans and service members. The auxiliary component of the organization includes daughters, wives and granddaughters of veterans.
The Legion's drive for supplies, in conjunction with Nebraska Furniture Mart and local Pilot Point area churches and businesses, aimed to supply deployed service members with resources this holiday in Afghanistan, Iraq and Kuwait. Items donated included personal hygiene and laundry products, snacks that service members had requested and other items such as hand warmers.
Mary Rawls, Auxiliary president of the American Legion's charter in Pilot Point, said prior to her becoming a member of Post No. 550, its organization would typically purchase items to ship overseas. But Rawls, who was elected to her position in July, said she wanted to involve more members of the community this year.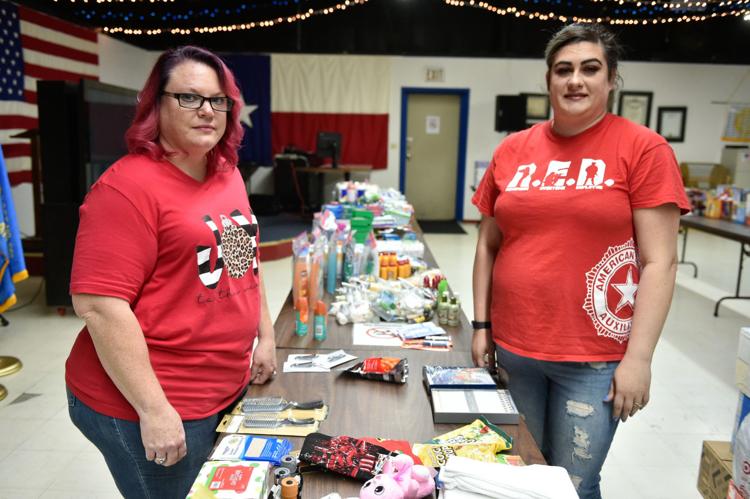 "A lot of people want to donate, but they don't know how, or they can't afford to do shipping," Rawls said. "So we started with local churches and a couple of the banks here in town and put boxes out with [lists] of items that the [service members] requested."
Last year, American Legion Post 550 shipped a total of 42 boxes to military members deployed for the holidays. She said the total cost for shipping the supplies overseas was nearly $680.
Lewisville resident Candi Greenway, a volunteer coordinator for Nebraska Furniture Mart, said she was contacted earlier this year by the Legion in regard to combining their respective donations. Greenway, who acknowledged that last year's drive consisted of nearly 170 pounds of shipped goods, says Nebraska Furniture Mart and the Pilot Point American Legion are expected to either meet or exceed last year's totals.
In the 14 years since she began working at Nebraska Furniture Mart, Greenway said a significant amount of her co-workers and other employees are either veterans or are currently serving in the military. She said an emphasis of NFM is the value the company has placed on supporting military members and their families.
"To be able to send packages over to [service members] and to give them just a little bit of comfort of what they might be lacking during the season, it plays a big role down to the hourly staff members up to the CEO," she said.
U.S. Navy veteran Christine Walker, who was elected commander of the American Legion Post No. 550 in July, has lived in various states and across different places in her life, she said. But Walker, who is the first female commander of the Legion's charter, said there is no better place to call home than Pilot Point.
"I've never experienced a community that genuinely loves veterans and service members as much as they do here [in Pilot Point]," Walker said. "We have three memorials on our Square, and every year the city does a Veterans Day on the Square. I've never been to a community that just immediately steps up; it's phenomenal."
Pilot Point resident Charlotte Petermeier, 75, a member of the St. Thomas Aquinas Church, said she and other members of her church have conducted donation drives in the past for upwards of 15 years. But the reason her church has continued its tradition, she said, is because of the sacrifice of military members and their families.
"The reason we do this is because we know that their service is so important to us," she said. "And we know that they are away from their families, and in our hearts, we know how hard that must be."
Petermeier said not much can be done to repay the debt of our service members' sacrifice, but besides praying for them in church, Wednesday's donations served as another method of giving back. In addition to the monetary value of purchasing goods not readily available, Petermeier said she and a friend had created rosaries to be shipped to service members overseas.
"We were thinking … gosh, there's got to be some service members over there that are Catholic," she said. "And then I got to thinking that some of these soldiers never thought about taking their rosary when they left ... hopefully some of them will want one."