Hundreds of athletes 50 and older are competing this week in the Quad States Senior Open Pickleball Tournament at Robson Ranch.
It's not tennis, it's pickleball. But it's a lot like tennis. And pingpong. And anything else with a racket or paddle.
"Pickleball literally is the sport of mankind," said Robson Ranch Pickleball Club president Ford Roberson. "It just came into its own [success]."
Competitors use specialized plastic or composite paddles, wiffle balls (or pickleballs) and specialized courts that are smaller than tennis courts to play the game. According to the United States of America Pickleball Association, legend has it the sport gets its name from either the name of one of the sports' inventor's dogs, or from the process of choosing oarsmen for a pickle boat — the last boat to return with its catch. However, those legends have yet to be proven.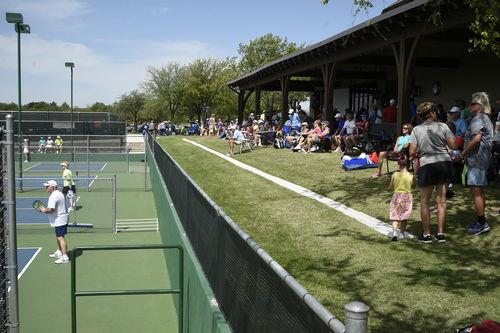 The sport was invented in 1965 and really picked up popularity throughout the last decade or so, after the formation of the USAPA, a nonprofit organization founded in 2005.
Roberson, 67, was an avid tennis player years ago and traveled internationally to compete. Now, though, his sport of choice is pickleball, for which he also travels internationally to play.
He said when he started playing pickleball five years ago with the Robson Ranch club, it had about 145 members. It has now grown to near 500 members.
"This is a big deal," Roberson said of the Quad States tournament, which ends its three-day run Thursday. "It's a great sport for all ages, but it's predominantly played in retirement communities," such as Robson Ranch in far southwest Denton.
Sheila Groves, 67, also travels to play pickleball, coming to Denton this week from Ordway, Colorado. She competed Wednesday morning in the tournament's mixed doubles matches but was eliminated in bracket play by early afternoon.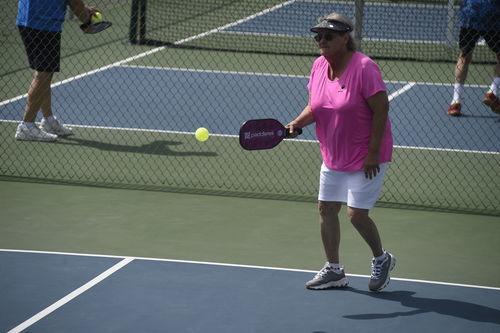 "You're out to win," she said.
Groves has been playing for about six years and is an ambassador for USAPA. After spending several years playing, she said, "After you play somebody for so long, you know how to hit their shots." Because of that, her strategy with tall folks is to "hit it past them."
The sport is so popular among retirees, she said, because "a lot of them do it for exercise."
"It keeps me limber," Groves said. "That's what I like about it."
And that's what Robson Ranch resident Charlie Warner, 70, likes about it, too — the exercise.
"Mostly, it's for people to stay active in their 70s and 80s when you kind of feel like your athletic days are over," said Warner, who started playing pickleball about six months ago. "It's been real good for me. I love it."
Even though the game is mostly popular among retirement communities, those who play it often urge anyone to try it. After all, it is the "sport of mankind," as Roberson puts it.
"This sport takes the skills of tennis, badminton, table tennis — any sport that takes a paddle," Roberson said. "If you're a human and you can hold something, you can play pickleball."
Tournament play continues today at 8 a.m.