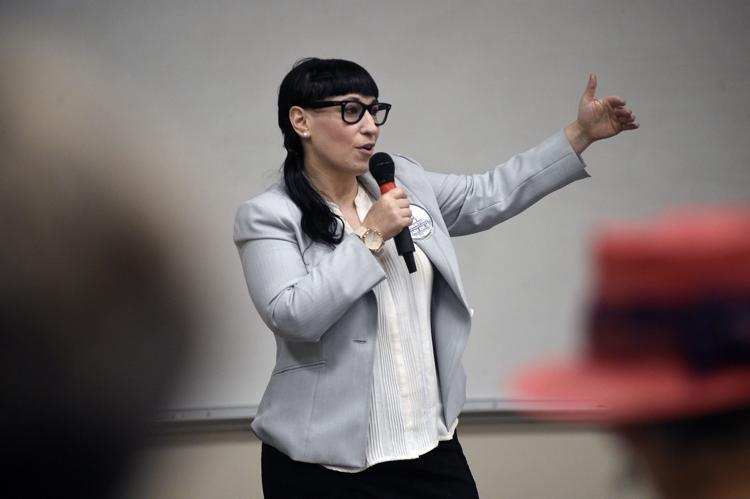 One of two candidates caught in a still-unresolved battle for Denton City Council Place 5 attended a public forum hosted by the Denton NAACP on Saturday morning ahead of the upcoming runoff election.
"What's good is that in America, you get to give your views," said NAACP chapter President Willie Hudspeth, who organized the forum, prior to Saturday's event. "As long as you're respectful — you don't hurt people, you're not cruel — you can say what your views are. I think the forum situation is one of the best ways I've seen in this whole process in the political structure — to just kind of ask those questions."
On the June 16 election day, Denton voters will choose either Deb Armintor or Aaron "Fuzzy" Newquist to replace outgoing Place 5 council member Dalton Gregory. Armintor, an English professor at the University of North Texas, was the only candidate to show up to Saturday's forum in a lecture room at the Denton Public Safety Training Center.
"Democracy takes time," Armintor said during the forum.
As the only candidate at the forum, Armintor stood instead of sat, and walked about the room freely as the few dozen voters in attendance questioned her on topics of public interest, including plans for emergency homeless shelters by winter, lengthy road construction projects and public transportation ridership. She was unencumbered by the formalities of the last NAACP candidate forum, such as assigned seating in front of the crowd and being in the same room as her opponent.
Perhaps the question most tailored to this one-candidate forum was: Do you see being on council negatively affecting your responsibilities for your UNT job?
"No," Armintor said. "In some ways I do the work of the council — not all of it — already."
Armintor said in her work as an educator, while she was once required to publish many of her works of research, she is no longer required to publish as much anymore, freeing up time for her to take on other responsibilities, like running for City Council. Armintor previously made a bid for Place 5 in 2016.
"Since I got tenure, and since I got involved in city politics at the grassroots level, I've had less time for my research," she said. "So what I did was I talked to my [department chairperson] and I said, 'I want my responsibilities to be shifted, if possible.' And that's what they've done. So I don't have as much time now for publishing, but that's OK."
When the Denton Record-Chronicle first reported last week that Newquist would not be attending Saturday's forum, he could not be reached for comment. Newquist told the forum's organizers in an email that he did not have availability in his schedule for a public meeting.
During a phone interview Saturday afternoon, he said he did not attend Saturday's forum because he was "taking care of some things."
Newquist earlier this month trumped Armintor in the four-way race for Place 5, garnering 3,556 votes, or 46.9 percent of the vote on May 5, compared to Armintor's 2,871 votes (37.8 percent). He did not secure the just over 50 percent needed to win, triggering the upcoming runoff — and, subsequently, another candidate forum.

"The last week has been completely structured to make sure I take care of all my priorities in every way possible before I get out of here," Newquist said Saturday, alluding to time out of town he will need in the future for personal responsibilities. "And of course, if I'm in town, I'm going to show up."
When asked if he was in Denton on Saturday, he said he was in and out of town throughout the day. Newquist is a vice president and commercial lending officer at Independent Bank Group and a partner in a real estate services firm. He added that he'll be in and out of town all the way up to the runoff election day. As it turns out, the Place 5 challenger said he is "juggling" several things between work, family, school and city politics, causing him to miss Saturday's forum.
To explain his absence, Newquist said preparations for two things have led to his absence Saturday and in the time leading up to the June 16 election: a banking certification program at Southern Methodist University, which requires a two-week residency once every three years; and an upcoming baseball tournament in Tennessee that his 11-year-old son will compete in.
"Depending on how things are going with my work, and with the campaign, I might have to make a hard decision about how to handle the trip to Tennessee, all the way up to leaving early or not going with my family at all, which frankly would be, I think, heartbreaking for all of us," Newquist said. "They've sacrificed a lot for the campaign, and of course, he's sacrificed a lot — he's put years of his life into baseball, and I know he wants his dad to be there to see him, and I want to be there too, so, you know? The whole thing, too, is just very, very unfortunate."
He said in the upcoming weeks, he may have time to "sneak back to Denton" to do campaigning and block-walking that he's promised constituents, but that otherwise, "generally speaking, I'm tied up."
"It's hard. I not only have to balance the priorities of the citizens of Denton, the voters, my family, but also my employer," Newquist said. "You've got to remember, I'm also a nine-to-fiver. I'm a working guy. So it's very, very important to me to be able to multitask like that, and we're doing as well as we can."
He still offered a plan for squeezing in time for voters.
"If I have five, 10 minutes, to bang out a couple of phone calls while I'm walking from place to place, or driving from place to place, I'll take that opportunity," he said. "As far as having large blocks of time, I don't have them right now because I can't be here."
Newquist described the timing of this election season as "just the most unfortunate, unbelievable case of bad timing that I've ever experienced in my life."
And to those scrutinizing Newquist for his absence, he offered a qualifier and an explanation for why he could not attend the NAACP's forum.
"Well, I mean, had I been elected on May 5th. I had already worked out what I needed to work out in order to attend City Council meetings. So that was worked out, because that was very foreseeable, and very plannable. And of course, once you're elected, making those meetings and representing the people that put you there, your one vote is what carries the most weight, so it was very important that I make that happen," Newquist said.
"Unfortunately, I didn't get elected then, so we have the convergence of several priorities and commitments that are all competing and are all extremely important. We're doing the best we can to juggle right now."
Armintor, in her closing statements at Saturday's forum, expressed both gratitude and concerns to voters in attendance. Though smiling as she spoke her final words at the forum — before leaving to do more campaigning and block-walking, starting from local eatery the Juice Lab that afternoon — she weighed in on her reservations behind the looming runoff election.
"We need to get out the vote. Don't assume I'm doing well just because you like me. I'm struggling. He got more votes than I did," Armintor said. "I believe in democracy, and if he gets more votes in the June runoff, that's the voice of the people."