School and city staff say they are working toward a shared deadline for the August 2022 opening of a new Denton High School campus on the city's northwest side.
The school district's construction liaison said campus construction should be completed by February 2022. And the city's engineer said that, while not yet funded, the widening of North Bonnie Brae Street also could be finished by 2022, if the money can be found.
The Denton school board and City Council heard a short report about the new campus during a joint meeting over lunch Monday at Denton ISD's Central Administration Building.
"We're trying to do everything we can to leverage federal dollars for infrastructure improvements with the new high school," Superintendent Jamie Wilson said.
The district purchased 152 acres just south and east of Stonehill Center, a former outlet mall at North Loop 288 and Interstate 35.
Sloan Harris of VLK Architects, the district's construction firm, told city and school leaders the new high school is likely to be placed on the northern end of the property, since the southern end is in the floodplain.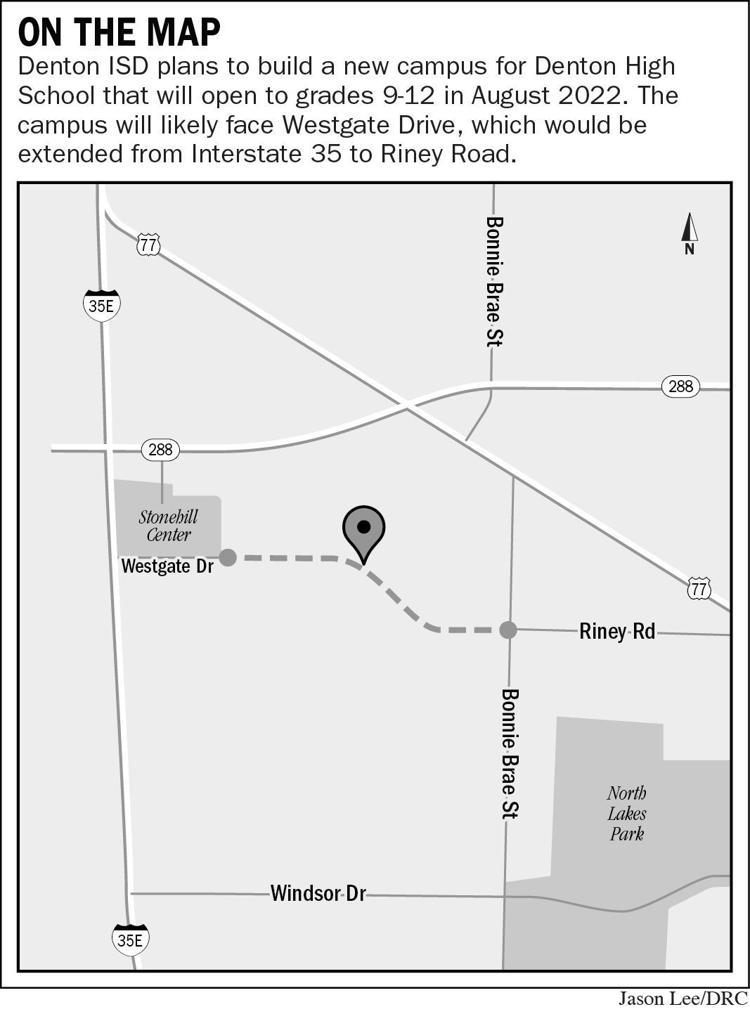 In addition, a producing gas well is located on an adjacent property at the southern end. The district plans to maintain a 500-foot setback between the pad site and its buildings, Harris said.
With that orientation, students, visitors and staff can expect to enter campus at the northern end, likely from an extension of Westgate Drive.
Currently, Westgate Drive ends behind the shopping center. City Engineer Todd Estes told school and city leaders that the road probably would be extended from the interstate frontage road to align with the Riney Road and Bonnie Brae Street intersection.
Only school buses would enter the campus from Bonnie Brae and at the southern end, Harris said.
He told school and city leaders to expect a campus that will look much like Braswell High School, with ballfields, practice facilities and classroom space for 2,400 students.
The school board is scheduled to discuss the campus construction plans in detail in November. Once the designs are approved, construction will begin, likely in July, Harris said.
Estes told school and city leaders widening Bonnie Brae from Windsor Drive to U.S. Highway 77 is not part of the 2014 bond package that is paying for widening farther south.
The schedule to make the improvements is an aggressive one, he said, but doable because state transportation officials are seeking ways to accommodate the eventual widening of I-35 from Denton to Valley View.
"We can do it, but it will cause some frustration for traffic," Estes said.