The new location of the Denton Community Food Center opened Monday with space to store more donations and improve the process of getting food to people who need it.
The new location on Loop 288 has 10,500 square feet of floor space — compared to the previous center's 3,000 square feet — and three layers of racking for storing food, said Mike Paulson, vice chairman of the center's board.
"So, we didn't really have any equipment to handle things," Paulson said. "Now that we've got three layers, we've got lifts and stuff, we can put stuff up on top. It's a different world."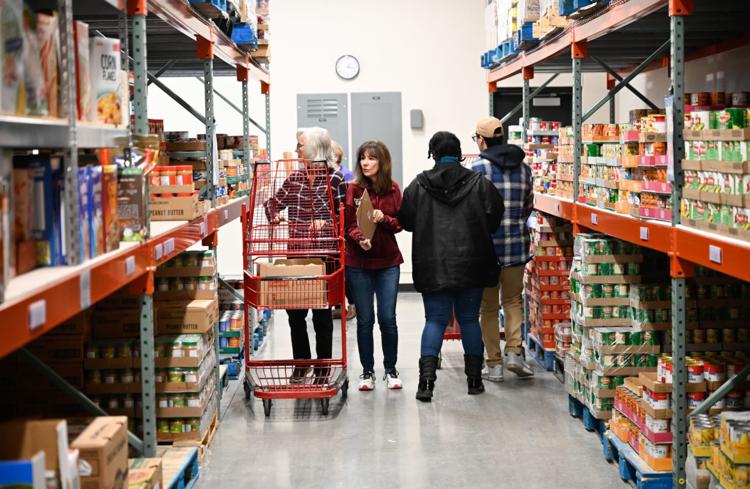 Paulson said the Denton Community Food Center's new space was made possible by grants. The center has added a refrigerated cooler and a room dedicated to salvaging food, as well as an indoor loading dock with an electric loading door.
The process has changed mainly with clients choosing the food they want rather than being given preselected goods.
Dallas Newell, board member and trainer, said when clients were given premade bags of food, they were throwing the items they did not want away or they would give them back.
"And so now, we're learning that a lot of the families didn't like some of the stuff we have," Dallas said. "And so we've had to have a mindset here where, 'Remember y'all — yes, they could have more, but they don't want it.'"
The process starts with clients receiving a list of available food they can choose from. Then, clients are interviewed and must prove they live in northern Denton County and the number of people in their family, and report their income.
The client then gets a family code (the number of people in their household) and finishes selecting their foods with the help of a volunteer. Then, they hand in their interview paperwork and list of desired foods while another volunteer gathers items requested by the client, weighs the food and gives it to the family.
"It's a lot better process," client Kay Reeves said. "You choose what you want, then you go back there, then you come back here, talk to a volunteer and you put your order in and they go and do the shopping for me. ... I love it. It's a lot better."
With a bigger facility, the center can have about 30 volunteers working — compared to the original 10 to 15 — when they're open from 1 to 3 p.m. Mondays through Fridays.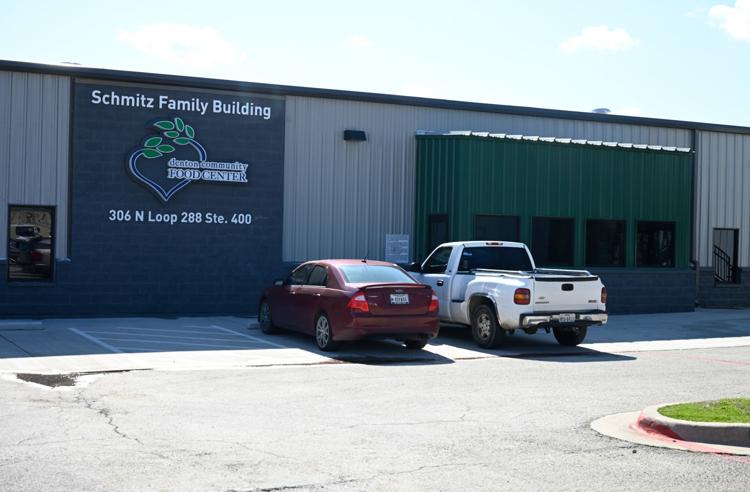 Regarding the first week of opening, Paulson said the process was much smoother than in the past. They did, however, run into a few hiccups along the way.
"The hardest thing we're having with our volunteers, for the first three days we've been open, is some people don't want everything, and they only want some of the stuff we're offering," Paulson said. "Here they've selected what they want, so all of a sudden a family of four may get 10 pounds less ... and older volunteers who have been with us a long time will say, 'Well, that's not enough food.' But it's what they've selected. So it's kind of a two-edged sword."
In addition to weighing food that goes out to families, volunteers must also weigh in food donations to help measure the center's progress. Last year, the food center distributed almost half a million pounds of food, Paulson said.
The food center, now at at 306 N. Loop 288, Suite 400, is a part of the Serve Denton Center, which calls itself the second largest of its kind in Texas. The center's goal is to consolidate resource centers for people in need.
"It really helps me because we don't have that much money and we have to spend it on our bills to be able to survive," Reeves said. "And this year [it] helps a lot where I don't have to go to the grocery store and spend money and take money from a bill to pay for our groceries and everything. So it really helps, it gets really handy and helps."
The food center continues to offer a bookshelf with a variety of donated items for clients to choose from, including children's books.
As of Thursday, Paulson said for the week, the nonprofit had served about 100 people — almost reaching the average of 150 to 190 clients.
The food center hopes to improve by adapting to clients' needs, so Tom Newell, chairman of the food center's board, and Paulson said they hope to make helpful changes in the future.
Newell said some would-be clients cite reasons they can't easily access the center.
"A concept of 'I can't afford to come to you' — I was like, but there's no money exchanged in it," Newell said. "[Some people say,] 'But it's the impact it has on my ability to make a living,' or that 'I have to have child care for the kids,' or 'where you're at.' It's a whole bunch of factors. So that kind of put a different perspective on life for us. We're trying to address some of that."